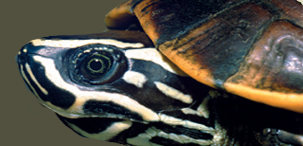 IUCN/SSC
Tortoise and Freshwater Turtle Specialist Group
About the TFTSG
• The IUCN/SSC Tortoise and Freshwater Turtle Specialist Group (TFTSG) is one of the more than 100 Specialist Groups and Task Forces that constitute the working network of the IUCN Species Survival Commission (SSC), one of the 6 Commissions of the IUCN–The International Union for Conservation of Nature.
* * *
• The SSC is a science-based network of some 7000+ appointed volunteer specialists and experts from almost every country of the world, all working together towards achieving the vision of "a world that values and conserves present levels of biodiversity." The SSC's major role is to provide information to IUCN on biodiversity conservation, to provide scientific advice to conservation organizations, government agencies and other IUCN members, and to support the implementation of multilateral environmental agreements.
* * *
• As of April 2017, the TFTSG is Chaired by Craig B. Stanford (based at University of Southern California) with Peter Paul van Dijk and Rick Hudson as Deputy Chairs and Anders G.J. Rhodin as Chairman Emeritus and Executive Vice Chair, with Carla Eisemberg serving as Red List Coordinator. The Group currently has 304 members from 53 nations. Click here for full membership information.
* * *
• The TFTSG was created in 1987 through the merger of two separate pre-existing IUCN Specialist Groups, both originally founded in 1981: the IUCN/SSC Freshwater Chelonian Specialist Group (FCSG) and the IUCN/SSC Tortoise Specialist Group (TSG).
Previous and present chairs of the FCSG, TSG, and TFTSG have been as follows:
Edward O. Moll [Chair, FCSG, 1981–85]
Ian R. Swingland [Chair, TSG, 1981–87; Co-Chair, TFTSG, 1987–90]
Peter C.H. Pritchard [Chair, FCSG, 1985–87; Co-Chair, TFTSG, 1987–90]
John L. Behler [Chair, TFTSG, 1990–2000; Co-Chair, TFTSG, 2000–05]
Anders G.J. Rhodin [Co-Chair, TFTSG, 2000–05; Chair, TFTSG, 2005–12]
Peter Paul van Dijk [Co-Chair, TFTSG, 2012–16]
Brian D. Horne [Co-Chair, TFTSG, 2012–16]
Craig B. Stanford [Chair, TFTSG, 2016–present]
* * *
• The TFTSG provides expertise and science-based recommendations with conservation relevance covering all species of freshwater and terrestrial turtles and tortoises. The TFTSG is the recognized global authority and official IUCN Red List Authority for the determination of global threat levels for these species. The TFTSG works closely with the IUCN Red List Programme to assess, evaluate, and determine appropriate threat level categorizations for tortoises and freshwater turtles on the IUCN Red List, providing new and updated determinations on a constant basis.
* * *
• The TFTSG also works closely with and assists CITES in matters regarding international trade of tortoises and freshwater turtles, including helping to determine trade levels, evaluating the impacts of international trade, reviewing proposals to change turtle species inclusions on the CITES Appendices, and assisting CITES implementation by the responsible national authorities by providing expertise regarding turtle identification, distribution, biology, and overall conservation threats.
* * *
• The TFTSG helped establish the Turtle Survival Alliance (TSA), originally an official and highly successful IUCN Task Force of the TFTSG, and now an independent NGO. The TSA focuses on captive management and prevention of turtle extinctions through range-country and international breeding programs. The TSA is was run initially by Rick Hudson and Kurt Buhlmann, then Rick Hudson and Dwight P. Lawson, and presently Rick Hudson as President with Pat Koval as Chair.
* * *
• The TFTSG has also helped establish the Turtle Conservation Fund (TCF), an initial partnership initiative of the TFTSG, the TSA, Conservation International, and the European Association of Zoos and Aquaria's Shellshock Campaign, that identifies and funds priority turtle conservation projects. The TCF has published A Global Action Plan for Conservation of Tortoises and Freshwater Turtles (available as a Downloadable pdf file here: TCF/TFTSG/TSA Turtle Conservation Action Plan). The TCF is Co-Chaired by Hugh R. Quinn and Anders G.J. Rhodin and is now fiscally based at Re:wild and Chelonian Research Foundation.
* * *
• The TFTSG is closely associated with Chelonian Research Foundation (CRF), the nonprofit organization founded and directed by Anders G.J. Rhodin, Chairman Emeritus of the TFTSG. The TFTSG helps provide peer-review and editing of the scientific professional journal Chelonian Conservation and Biology, the monograph series Chelonian Research Monographs, and the former Turtle and Tortoise Newsletter, all published by CRF in association with the TFTSG and the Turtle Conservancy.
—————————————————————————————————————————————————————————-
The following is a former informational overview sheet for the TFTSG
as presented at the IUCN Species Survival Commission Chairs' Meeting, Abu Dhabi, February 2008
—————————————————————————————————————————————————————————-