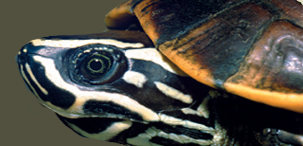 IUCN/SSC
Tortoise and Freshwater Turtle Specialist Group
Actinemys marmorata, 001
Actinemys marmorata (Baird and Girard 1852) –
Western Pond Turtle, Pacific Pond Turtle
R. Bruce Bury1 and David J. Germano2
1U.S. Geological Survey, Forest and Rangeland Ecosystem Science Center,
3200 SW Jefferson Way, Corvallis, Oregon, 97331 USA [[email protected]];
2Department of Biology, California State University at Bakersfield,
Bakersfield, California 93311-1022 USA [[email protected]]
Summary. – Actinemys marmorata (Family Emydidae) occurs in the Pacific States of North America from Baja California Norte north through Washington and, possibly, into southernmost British Columbia, Canada. Recent genetic studies indicate the presence of four groups or clades within the species, although historically there were two recognized subspecies. The species appears to be declining in abundance in the northernmost and southernmost portion of its range, but not in the core of its range from central California to southern Oregon. The primary threats are loss and alteration of both aquatic and terrestrial habitats. These losses fragment remaining populations and, perhaps, magnify the effects of introduced species through predation, competition, and epidemic disease(s). Historically, A. marmorata were collected for the food and pet trades. Most states now protect the species and, in Washington, it is listed as Endangered. Research is ongoing on many aspects of the species' ecology, but not all of the studies are published. Greater effort is needed to protect and manage aquatic habitats as well as nesting and overwintering sites in adjacent uplands.
Distribution. – Canada (?), Mexico, USA. Pacific States of North America from Baja California Norte, Mexico, north through Washington and, possibly, into southernmost British Columbia, Canada.
Synonymy. – Emys marmorata Baird and Girard 1852, Actinemys marmorata, Clemmys marmorata, Geoclemmys marmorata, Chelopus marmoratus, Melanemys marmorata, Clemmys marmorata marmorata, Actinemys marmorata marmorata, Emys marmorata marmorata, Emys nigra
Subspecies . – None currently recognized, previously two: Actinemys marmorata marmorata (Northern Pacific Pond Turtle) and Actinemys marmorata pallida (Southern Pacific Pond Turtle). Genetic data suggest four phylogenetic clades.
Status. – IUCN 2007 Red List: Vulnerable (VU A1cd) (assessed 1996, needs updating); CITES: Not Listed; US ESA: Not Listed.
Citation:
Bury, R.B. and Germano, D.J. 2008. Actinemys marmorata (Baird and Girard 1852) – western pond turtle, Pacific pond turtle. In: Rhodin, A.G.J., Pritchard, P.C.H., van Dijk, P.P., Saumure, R.A., Buhlmann, K.A., and Iverson, J.B. (Eds.). Conservation Biology of Freshwater Turtles and Tortoises: A Compilation Project of the IUCN/SSC Tortoise and Freshwater Turtle Specialist Group. Chelonian Research Monographs No. 5, pp. 001.1-001.9, doi:10.3854/crm.5.001.marmorata.v1.2008, //iucn-tftsg.org/cbftt.
(Adobe Acrobat 6.0 or later required)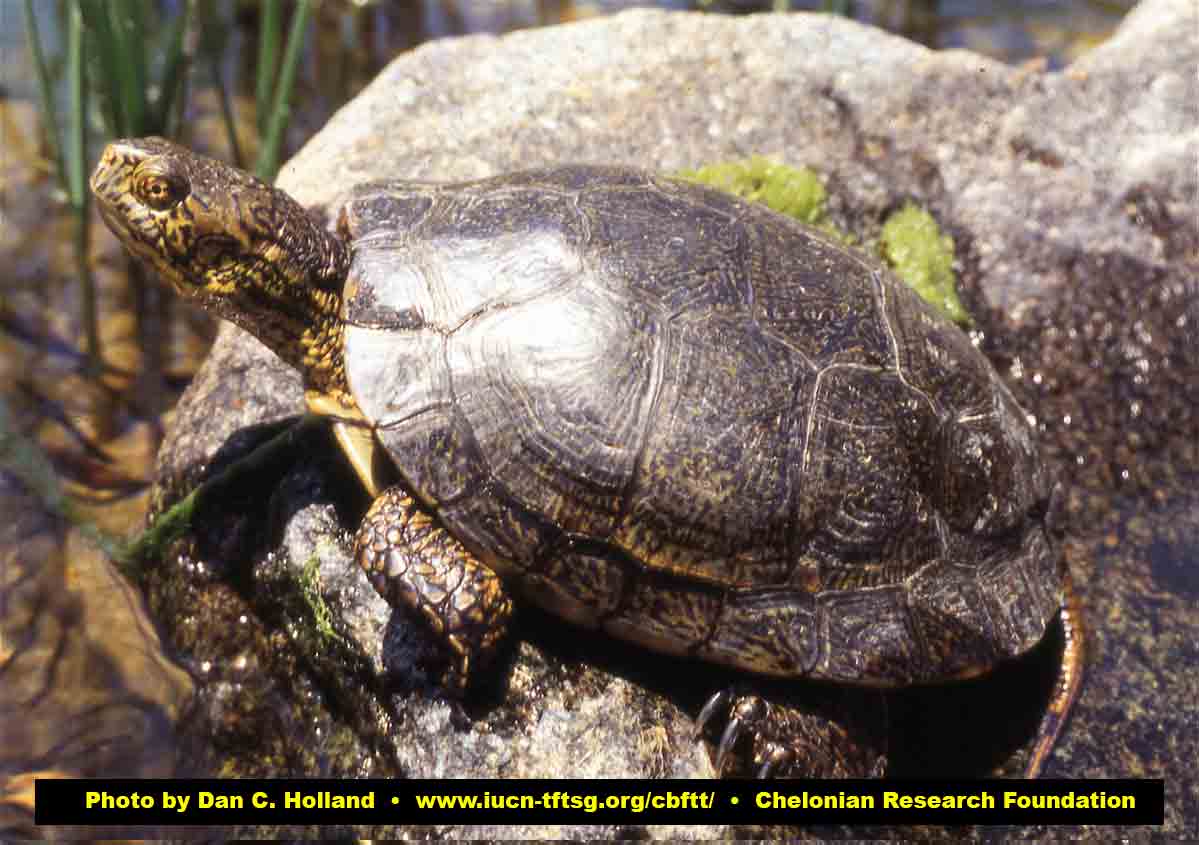 Adult female Actinemys marmorata from Camp Pendleton, San Diego Co., California, USA.
Photo by Dan C. Holland.
Distribution:
Distribution of Actinemys marmorata in western North America. Red points = museum and literature occurrence records based on Iverson (1992) plus more recent and authors' data; green shading = projected distribution based on GIS-defined hydrologic unit compartments (HUCs) constructed around verified localities and then adding HUCs that connect known point localities in the same watershed or physiographic region, and similar habitats and elevations as verified HUCs (Buhlmann et al., unpubl. data), and adjusted based on authors' data.