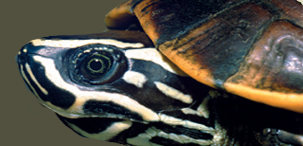 IUCN/SSC
Tortoise and Freshwater Turtle Specialist Group
Batagur baska, 037
Batagur baska (Gray 1830) –
Northern River Terrapin

Edward O. Moll1, Kalyar Platt2, Steven G. Platt3,
Peter Praschag4, and Peter Paul van Dijk5

11941 West Sunset Knoll Lane, Tucson, Arizona 85704 USA [[email protected]];
2Biological Sciences Program, Faculty of Science,
Chulalongkorn University, Bangkok, 10330 Thailand [[email protected]];
3Department of Biology, P.O. Box C-64, Sul Ross State University, Alpine, Texas 79832 USA [[email protected]];
4Turtle Conservancy, Behler Chelonian Center, P.O. Box 1289, Ojai, California 93024 USA [[email protected]];
5Conservation International, 2011 Crystal Drive, Suite 500,
Arlington, Virginia 22202 USA [[email protected]]

Summary. – The northern river terrapin, Batagur baska (Family Geoemydidae), is a large (carapace length to 59 cm) critically endangered river turtle that previously occupied most rivers and estuaries of South Asia (India, Bangladesh, and Myanmar). Populations of river terrapins occurring in Southeast Asia (Thailand, Cambodia, Malaysia, and Indonesia) previously referred to this species are now considered a separate closely-related species, the southern river terrapin, Batagur affinis. Exceptionally large concentrations of this species that resided in the Hugli River of West Bengal in India and the Ayeryawady Delta in Myanmar during the 19th and early 20th centuries are now extirpated. Nesting throughout the northern river terrapin's former range is now extremely rare and the product of only a few scattered survivors. The terrapin's demise has resulted from extensive exploitation of its flesh and eggs, exacerbated by indirect factors, including habitat alteration and destruction (e.g., sand-mining, dam building, water projects, and pollution) that have degraded the turtle's nesting areas and feeding habitat. Recently, remnant populations have also suffered from the introduction of efficient mechanized fishing craft with lethal wide-area nets throughout much of the remaining habitat. Conservation action for the terrapin has been woefully inadequate. Ideally, the species and its eggs require complete protection throughout its range. In India and Bangladesh, extant terrapins now appear to be so few that unless some previously unknown viable population is discovered, the only recourse may be to capture as many of the remaining wild individuals as possible to keep in captive breeding facilities until such time as it is feasible to re-establish a wild population in one or more sanctuaries. Less is known about the species' status in Myanmar. Additional surveys are needed for estuarine habitats in the poorly-known eastern and southeastern river systems in Myanmar to determine if viable populations survive, and if so, to identify nesting sites and critical feeding areas.
Distribution. – Bangladesh, India, Myanmar. The northern river terrapin historically inhabited estuarine habitats from Orissa and West Bengal in India, eastward through Bangladesh to at least the Ayeyarwady, Bago, and possibly the Thanlwin (Salween) and Sittaung rivers in Myanmar. Reports of river terrapin in the Indus and Mahanadi rivers require verification. It is presently unknown if terrapin sightings in southernmost Myanmar represent the northern or southern river terrapin (B. affinis).
Synonymy. – Emys baska Gray 1830a, Testudo baska, Batagur (Batagur) baska, Tetraonyx baska, Tetronyx baska, Batagur baska, Batagur baska baska, Emys batagur Gray 1830b, Clemmys (Clemmys) batagur, Tetraonyx batagur, Batagur batagur, Batagur batagur batagur, Trionyx (Tetraonyx) cuvieri Gray 1830b, Tetraonyx longicollis Lesson 1831, Tetronyx longicollis, Clemmys longicollis, Tetraonyx lessonii Duméril and Bibron 1835, Hydraspis (Tetronyx) lessonii, Emys tetraonyx Temminck and Schlegel 1835.
Subspecies. – None currently recognized.
Status. – IUCN 2009 Red List: Critically Endangered A1cd (assessed 2000); CITES: Appendix I; US ESA: Endangered; Indian Wildlife (Protection) Act: Schedule I; Myanmar: Protection of Wildlife, Wild Plants and Conservation of Natural Areas Law: Protected.
Citation:
Moll, E.O., Platt, K., Platt, S.G., Praschag, P., and van Dijk, P.P. 2009. Batagur baska (Gray 1830) – northern river terrapin. In: Rhodin, A.G.J., Pritchard, P.C.H., van Dijk, P.P., Saumure, R.A., Buhlmann, K.A., Iverson, J.B., and Mittermeier, R.A. (Eds.). Conservation Biology of Freshwater Turtles and Tortoises: A Compilation Project of the IUCN/SSC Tortoise and Freshwater Turtle Specialist Group. Chelonian Research Monographs No. 5, pp. 037.1–037.10, doi:10.3854/crm.5.037.baska.v1.2009, //iucn-tftsg.org/cbftt/.