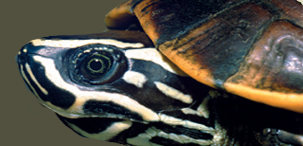 IUCN/SSC
Tortoise and Freshwater Turtle Specialist Group
Checklist
Turtles of the World:
Annotated Checklist of Taxonomy and Synonymy
Anders G.J. Rhodin 1, Peter Paul van Dijk2, and James F. Parham3
1Chair, IUCN/SSC Tortoise and Freshwater Turtle Specialist Group,
Chelonian Research Foundation, 168 Goodrich St., Lunenburg, MA 01462 USA [[email protected]];

2Deputy Chair, IUCN/SSC Tortoise and Freshwater Turtle Specialist Group,
Conservation International, 2011 Crystal Drive, Suite 500, Arlington, VA 22202 USA [[email protected]];

3Biodiversity Synthesis Center, The Field Museum, 1400 South Lake Shore Drive, Chicago, IL 60605 USA, and
Dept. of Herpetology, California Academy of Sciences, San Francisco, CA 94103 USA [[email protected]]
Abstract. – We compiled an annotated checklist of the named taxa of the world's modern chelonian fauna, documenting recent changes in nomenclature and including all primary synonyms. This is an updating and major expansion of our previous checklist, published by Turtle Taxonomy Working Group in 2007. We strive to uncritically record the most recent justified assignment of terminal taxa in a hierarchical framework, and for some generic placements we show competing schemes. The list should provide an impetus for future work aimed at clarifying and resolving areas of taxonomic disagreement and/or uncertainty, and will be continuously updated on the web (iucn-tftsg.org) with new versions published periodically as necessary­—­­this version is current as of December 2008. The diversity of turtles and tortoises in the world that have existed in modern times (since 1500 AD), and currently generally recognized as distinct, consists of approximately 324 species and 140 additional subspecies, or 464 total taxa—and of these, 10 taxa have gone extinct.
Citation:
Rhodin, A.G.J., van Dijk, P.P., and Parham, J.F. 2008. Turtles of the world: annotated checklist of taxonomy and synonymy. In: Rhodin, A.G.J., Pritchard, P.C.H., van Dijk, P.P., Saumure, R.A., Buhlmann, K.A., and Iverson, J.B. (Eds.). Conservation Biology of Freshwater Turtles and Tortoises: A Compilation Project of the IUCN/SSC Tortoise and Freshwater Turtle Specialist Group. Chelonian Research Monographs No. 5, pp. 000.1-000.38, doi:10.3854/crm.5.000.checklist.v1.2008, //iucn-tftsg.org/cbftt/.
Download full pdf article here
(Adobe Acrobat 6.0 or later required)
For a continuously updated web-based version of this checklist, click here.
<