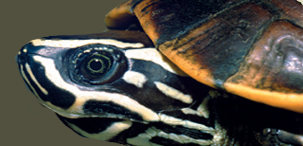 IUCN/SSC
Tortoise and Freshwater Turtle Specialist Group
Turtles of the World Checklist and Atlas
Download PDF (Turtle Taxonomy Working Group 2021. Turtles of the World: Checklist and Atlas (9th Ed.)
Purchase High-Resolution Printed Book (Hardcover or Softcover)
(Available December 2021)
Turtles of the World: Annotated Checklist and Atlas of Taxonomy,
Synonymy, Distribution, and Conservation Status (9th Ed.)
Turtle Taxonomy Working Group*
*Authorship of this article is by this working group of the IUCN SSC Tortoise and Freshwater Turtle Specialist Group,
which for the purposes of this document consisted of the following contributors:
Anders G.J. Rhodin1,2, John B. Iverson3, Roger Bour4*, Uwe Fritz5,
Arthur Georges6, H. Bradley Shaffer7, and Peter Paul van Dijk2,8
1Chelonian Research Foundation, 564 Chittenden Dr., Arlington, Vermont 05250 USA;
Executive Vice Chair, IUCN SSC Tortoise and Freshwater Turtle Specialist Group [[email protected]];
2Turtle Conservancy, 1794 McNell Rd., Ojai, California 93023 USA;
3Department of Biology, Earlham College, Richmond, Indiana 47374 USA [[email protected]];
4Laboratoire des Reptiles et Amphibiens, Muséum National d'Histoire Naturelle, 75005 Paris, France (*Deceased);
5Museum für Tierkunde, Senckenberg Dresden, A.B. Meyer Building, 01109 Dresden, Germany [[email protected]];
6Institute for Applied Ecology, University of Canberra, ACT 2601, Australia [[email protected]];
7Department of Ecology and Evolutionary Biology and La Kretz Center for California Conservation Science,
Institute of the Environment and Sustainability, University of California, Los Angeles, California 90095 USA [[email protected]];
8Re:wild, PO Box 129, Austin, Texas 78767 USA;
Deputy Chair, IUCN SSC Tortoise and Freshwater Turtle Specialist Group [[email protected]]
Abstract. – This is our 9th edition of an annotated checklist and atlas of all recognized taxa of the world's modern turtle and tortoise fauna, documenting recent changes and controversies through mid-2021, and including all primary synonyms, updated from eight previous checklists. We provide an updated comprehensive listing of taxonomy and nomenclature, including type localities, type specimens, detailed distribution maps, as well as calculated presumed historic indigenous ranges, conservation status, and maximum known sex-based carapace lengths for all taxa. We strive to record the most recent justified taxonomic assignment of taxa in a hierarchical framework, providing detailed annotations, including alternative arrangements for a few taxa. We include current published and provisional IUCN Red List status assessments for all species, as well as current listings on CITES appendices. The diversity of turtles and tortoises in the world that has existed in modern times (since 1500 CE) and currently generally recognized as distinct and included in this checklist, now consists of 357 species. Of these, 58 are polytypic, representing 129 additional recognized subspecies (one unnamed), or 486 total taxa of modern chelonians, increased from 478 taxa in our previous checklist. Of these, 5 species and 5 subspecies (one unnamed), or 10 taxa (2.1%), are extinct. We also include a supplementary checklist of 17 taxa of terrestrial chelonians that went extinct during the Holocene from ca. 10,000 BCE to 1500 CE. As of the current IUCN 2021 Red List, 171 turtle species (62.4% of the 274 species red-listed, 47.9% of all 357 recognized modern species) are officially regarded as globally Threatened (Critically Endangered [CR], Endangered [EN], or Vulnerable [VU]). We record additional provisional Red List assessments by the IUCN Tortoise and Freshwater Turtle Specialist Group, allowing us to evaluate the overall current threat levels for all 357 species of turtles and tortoises. Of these, 183 (51.3%) are Threatened (CR, EN, or VU); if we provisionally adjust for predicted threat rates of Data Deficient (DD) species, then ca. 55.9% of all extant turtles are Threatened. These numbers and percentages of Threatened species have increased since our last checklist, although our reclassification of 12 Threatened Galápagos tortoises as subspecies rather than species has moderated the results; the number and percentage of Threatened species increases to 193 (52.3% of 369) if they are considered full species. Turtles and tortoises are among the most threatened of the major groups of vertebrates.
Key Words. – Reptilia, Testudines, turtle, tortoise, chelonian, taxonomy, nomenclature, systematics, distribution, maximum size, sexual dimorphism, conservation status, IUCN Red List, CITES, extinction, Holocene
Citation:

Turtle Taxonomy Working Group [Rhodin, A.G.J., Iverson, J.B., Bour, R., Fritz, U., Georges, A., Shaffer, H.B., and van Dijk, P.P.]. 2021. Turtles of the World: Annotated Checklist and Atlas of Taxonomy, Synonymy, Distribution, and Conservation Status (9th Ed.). In: Rhodin, A.G.J., Iverson, J.B., van Dijk, P.P., Stanford, C.B., Goode, E.V., Buhlmann, K.A., and Mittermeier, R.A. (Eds.). Conservation Biology of Freshwater Turtles and Tortoises: A Compilation Project of the IUCN/SSC Tortoise and Freshwater Turtle Specialist Group. Chelonian Research Monographs 8:1–472. doi:10.3854/crm.8.checklist.atlas.v9.2021.
Download PDF (Turtle Taxonomy Working Group 2021. Turtles of the World: Checklist and Atlas (9th Ed.)
(Acrobat Version 6.0 Required)
Purchase High-Resolution Printed Book (Hardcover or Softcover)
(Available December 2021)

Downloadable pdf's of Previously Published Checklists Available Here
Turtle Taxonomy Working Group 2017: Checklist and Atlas (8th Ed.)
Purchase High-Resolution Printed Book (Hardcover or Softcover)
Turtle Extinctions Working Group 2015 (Fossil Checklist 000e.v1)
(Extinct Pleistocene and Holocene Turtles)
Turtle Taxonomy Working Group 2014 (Checklist 000.v7)
Turtle Taxonomy Working Group 2012 (Checklist 000.v5)
Turtle Taxonomy Working Group 2011 (Checklist 000.v4)
Turtle Taxonomy Working Group 2010 (Checklist 000.v3)
Turtle Taxonomy Working Group 2009 (Checklist 000.v2)

Rhodin et al. 2008 (Checklist 000.v1)
Turtle Taxonomy Working Group 2007b