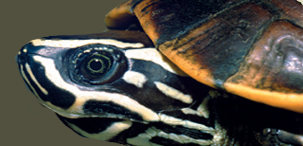 IUCN/SSC
Tortoise and Freshwater Turtle Specialist Group
Chelodina expansa, 071
Chelodina expansa Gray 1857 –
Broad-Shelled Turtle, Giant Snake-Necked Turtle
Deborah S. Bower1 and Kate M. Hodges2
1Univeristy of Newcastle, Callaghan, 2300, Australia [[email protected]];
2Institute of Applied Ecology, University of Canberra, Canberra, ACT 2601, Australia [[email protected]]
Summary. – Australia's largest snake-necked turtle, Chelodina (Macrochelodina) expansa (Family Chelidae), occurs broadly through the inland rivers and billabongs of eastern and southeastern Australia. The species is cryptic in habit, yet occupies waters heavily exploited and regulated by humans. Traditionally considered a riverine species, recent studies demonstrate that it is more frequently represented in permanent lakes and billabongs connected to main river channels. Typical of many freshwater turtles, C. expansa displays delayed maturity and high adult survivorship. It is carnivorous and feeds primarily on fast-moving prey such as crustaceans and fish, but will also consume carrion. The reproductive biology of C. expansa sets it apart from most other turtles; in response to low temperatures, embryos enter a diapause, which enable them to survive over winter in nests, resulting in a year-long incubation period. Chelodina expansa has lower population densities than sympatric turtle species, which may increase its vulnerability to threats. Persistence of C. expansa relies on habitat quality and longitudinal connectivity of freshwater systems in southeastern Australia.
Distribution. – Australia. Found throughout southeastern Australia, in the Murray-Darling Basin, and coastal rivers of southeastern Queensland from the Logan-Albert drainage in the south to the Fitzroy drainage in the north. Offshore populations occur on Fraser, Moreton, and Stradbroke islands, Queensland.
Synonymy. – Chelodina expansa Gray 1857, Chelodina oblonga expansa, Macrochelodina expansa, Chelodina (Macrochelodina) expansa.
Subspecies. – None currently recognized.
Status. – IUCN 2013 Red List: Not Listed [Least Concern, LC, assessed 1996], TFTSG Draft Red List: Near Threatened (NT, assessed 2011); CITES: Not Listed; Australian EPBC Act: Not Listed.
Citation:
Bower, D.S. and Hodges, K.M. 2014. Chelodina expansa Gray 1857 – Broad-Shelled Turtle, Giant Snake-Necked Turtle. In: Rhodin, A.G.J., Pritchard, P.C.H., van Dijk, P.P., Saumure, R.A., Buhlmann, K.A., Iverson, J.B., and Mittermeier, R.A. (Eds.). Conservation Biology of Freshwater Turtles and Tortoises: A Compilation Project of the IUCN/SSC Tortoise and Freshwater Turtle Specialist Group. Chelonian Research Monographs No. 5, pp. 071.1–071.8, doi:10.3854/crm.5.071.expansa.v1.2014, //iucn-tftsg.org/cbftt/.
(Adobe Acrobat 6.0 or later required)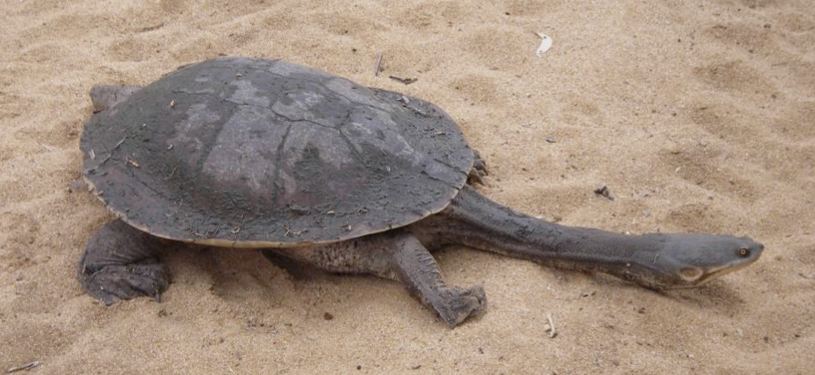 Gravid female Chelodina expansa negotiates a sandy dirt road in search of suitable nesting habitat, Paringa, South Australia, Australia.
Photo by Claire Treilibs.
Distribution: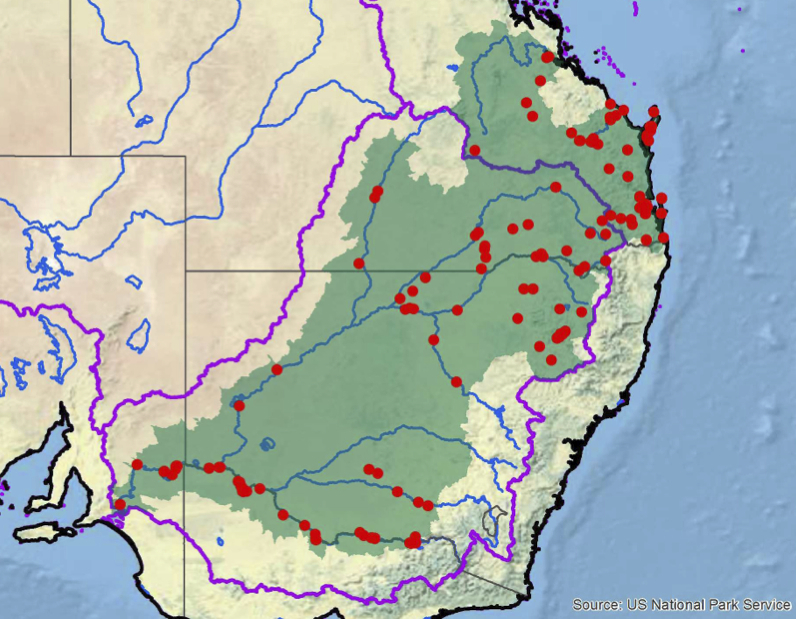 Distribution of Chelodina expansa in Australia. Purple lines = boundaries delimiting major watersheds (level 3 hydrologic unit compartments – HUCs); red dots = museum and literature occurrence records of native populations based on Iverson (1992), plus more recent and authors' data; green shading = projected native distribution based on GIS-defined HUCs constructed around verified localities and then adding HUCs that connect known point localities in the same watershed or physiographic region, and similar habitats and elevations as verified HUCs (Buhlmann et al. 2009), and adjusted based on authors' and others' subsequent data, including data provided by A. Georges of the Australian Ecology Research Group, University of Canberra.