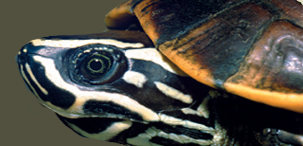 IUCN/SSC
Tortoise and Freshwater Turtle Specialist Group
Chelus fimbriata, 020
Chelus fimbriata (Schneider 1783) –
Matamata Turtle
Peter C.H. Pritchard1
1Chelonian Research Institute,
402 South Central Avenue, Oviedo, Florida 32765 USA [[email protected]]
Summary. – Chelus fimbriata, the matamata turtle (Family Chelidae), is the largest member of its pleurodiran family, and is surely the most bizarre turtle in the world. It has an exceedingly rough, tuberculate carapace, a greatly elongated and thickened neck, and a wide, triangular, extremely flattened head, with a tubular nasal extension, reduced anteriorly displaced eyes, and an extremely wide mouth. It is specialized for feeding upon live fish that it sweeps into its mouth by a rapid lateral strike of the neck and jaws, and a vigorous simultaneous expansion of the hyoid apparatus in the neck. It is distributed widely in South America, and currently does not appear to be threatened significantly anywhere in its range.
Distribution. – Bolivia, Brazil, Colombia, Ecuador, French Guiana, Guyana, Peru, Suriname?, Trinidad and Tobago, Venezuela. Distributed widely in lowland tropical rivers of northern South America, including the Amazon, Orinoco, Essequibo, and Oyapoque systems.
Synonymy. – Testudo terrestris Fermin 1765 (name suppressed), Testudo fimbriata Schneider 1783, Chelus fimbriata, Chelys fimbriata, Matamata fimbriata, Chelus fimbriatus, Testudo fimbria Gmelin 1789, Testudo matamata Bruguière 1792, Emydes matamata, Chelus matamata , Chelys matamata , Testudo bispinosa Daudin 1801, Chelys bispinosa, Matamata bispinosa, Chelys boulengerii Baur 1890.
Subspecies. – None recognized. Orinoco and Amazon populations have been identified as morphologically distinct from each other, but have not been named.
Status. – IUCN 2007 Red List: Not Listed (= Least Concern, LR/lc) (assessed 1996, needs updating); CITES: Not Listed. Colombia Red List: Near Threatened.
Citation:
Pritchard, P.C.H. 2008. Chelus fimbriata (Schneider 1783) – matamata turtle. In: Rhodin, A.G.J., Pritchard, P.C.H., van Dijk, P.P., Saumure, R.A., Buhlmann, K.A., and Iverson, J.B. (Eds.). Conservation Biology of Freshwater Turtles and Tortoises: A Compilation Project of the IUCN/SSC Tortoise and Freshwater Turtle Specialist Group. Chelonian Research Monographs No. 5, pp. 020.1-020.10, doi:10.3854/crm.5.020.fimbriata.v1.2008, //iucn-tftsg.org/cbftt/.
(Adobe Acrobat 6.0 or later required)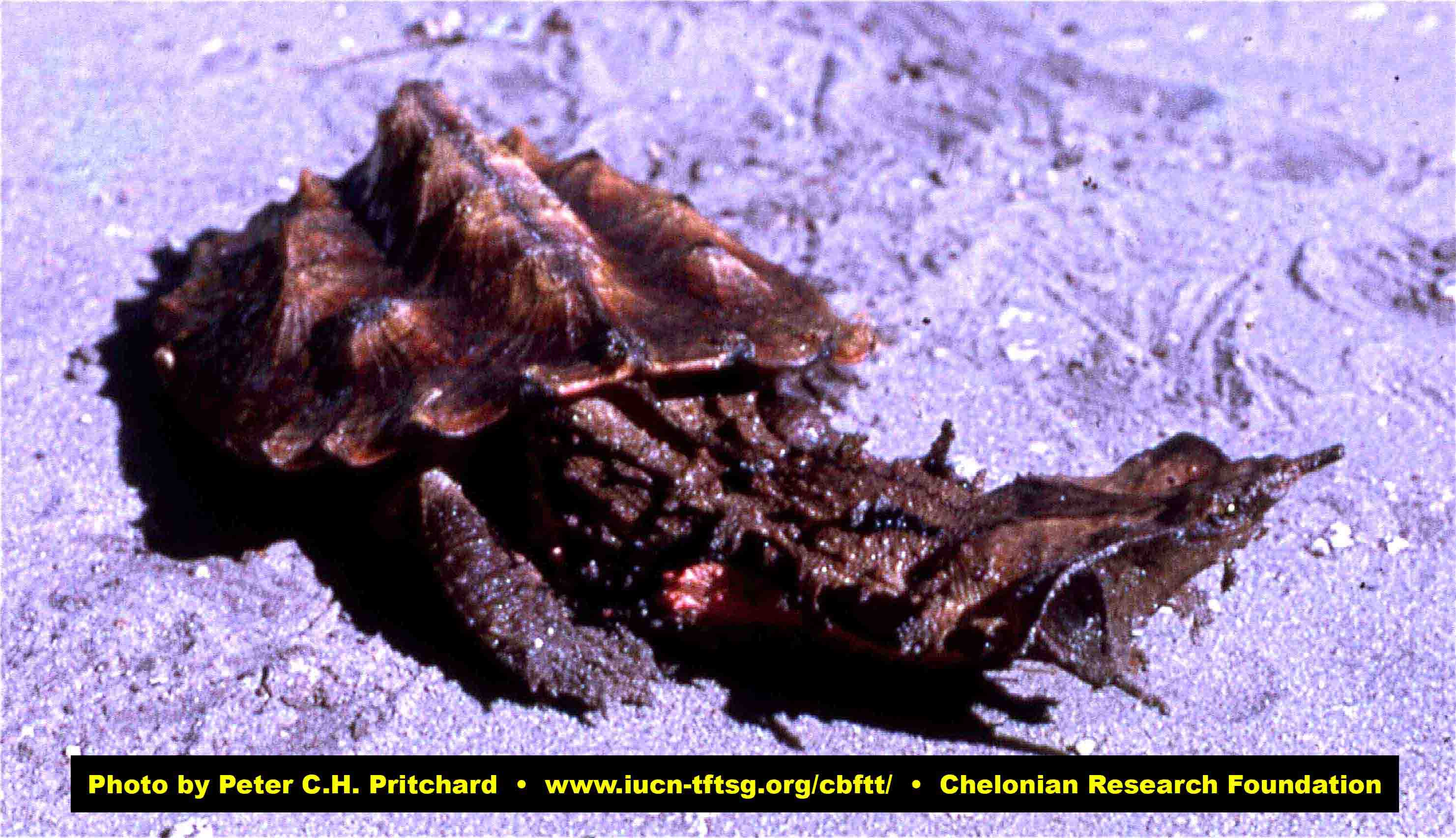 Chelus fimbriata from the Amazon basin in South America.
Photo by Peter C.H. Pritchard.
Distribution:
Distribution of Chelus fimbriata in northwestern South America. Red points = museum and literature occurrence records based on published records (Iverson 1992) plus more recent and author's data; green shading = projected distribution based on GIS-defined hydrologic unit compartments (HUCs) constructed around verified localities and then adding HUCs that connect known point localities in the same watershed or physiographic region, and similar habitats and elevations as verified HUCs (Buhlmann et al., unpubl. data), and adjusted based on author's data.