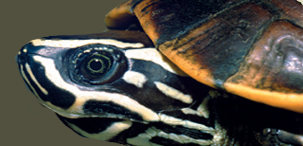 IUCN/SSC
Tortoise and Freshwater Turtle Specialist Group
Deirochelys reticularia, 014
Deirochelys reticularia (Latreille 1801) –
Chicken Turtle
Kurt A. Buhlmann1, J. Whitfield Gibbons1, and Dale R. Jackson2
1University of Georgia, Savannah River Ecology Lab, Drawer E, Aiken, South Carolina 29802 USA
[[email protected]; [email protected]];
2Florida Natural Areas Inventory, Florida State University,
1018 Thomasville Road, Suite 200-C, Tallahassee, Florida 32303 USA [[email protected]]
Summary. – The chicken turtle, Deirochelys reticularia (Family Emydidae), is a semi-aquatic turtle inhabiting temporary and permanent freshwater and adjacent terrestrial habitats throughout much of the Atlantic and Gulf Coastal Plains of the USA. Three subspecies are recognized: D. r. reticularia, D. r. chrysea, and D. r. miaria. Local population sizes are generally small; as such, chicken turtles are seldom the dominant species of turtle at any site. The species differs from most other North American turtles in having a nesting season that extends from fall to spring, followed by a long incubation period. Threats to this species come from the disruption, destruction, or isolation of freshwater wetlands, including small or temporary ones, and the elimination or alteration of surrounding terrestrial habitats. The species is not currently considered globally endangered, though some peripheral populations (e.g., those in Missouri and Virginia) are listed as locally endangered.
Distribution
. – USA. The range extends from North Carolina, through peninsular Florida, to eastern Texas, primarily in the coastal plain, and includes populations in Virginia and Oklahoma through Arkansas to southeastern Missouri.
Synonymy
. – Testudo reticularia Latreille 1801, Emys reticularia, Clemmys reticularia, Deirochelys reticularia, Testudo reticulata Daudin 1801
, Emys reticulata, Terrapene reticulata, Clemmys reticulata, Deirochelys reticulata, Chrysemys reticulata.
Subspecies. – Three recognized: Deirochelys reticularia reticularia (Eastern Chicken Turtle), Deirochelys reticularia chrysea Schwartz 1956 (Florida Chicken Turtle), and Deirochelys reticularia miaria Schwartz 1956 (Western Chicken Turtle).
Status. – IUCN 2007 Red List: Not Listed (= Least Concern, LR/lc) (assessed 1996, needs updating); CITES: Not Listed; US ESA: Not Listed.
Citation:
Buhlmann, K.A., Gibbons, J.W., and Jackson, D.R. 2008. Deirochelys reticularia (Latreille 1801) – chicken turtle. In: Rhodin, A.G.J., Pritchard, P.C.H., van Dijk, P.P., Saumure, R.A., Buhlmann, K.A., and Iverson, J.B. (Eds.). Conservation Biology of Freshwater Turtles and Tortoises: A Compilation Project of the IUCN/SSC Tortoise and Freshwater Turtle Specialist Group. Chelonian Research Monographs No. 5, pp. 014.1-014.6, doi:10.3854/crm.5.014.reticularia.v1.2008, //iucn-tftsg.org/cbftt/.
(Adobe Acrobat 6.0 or later required)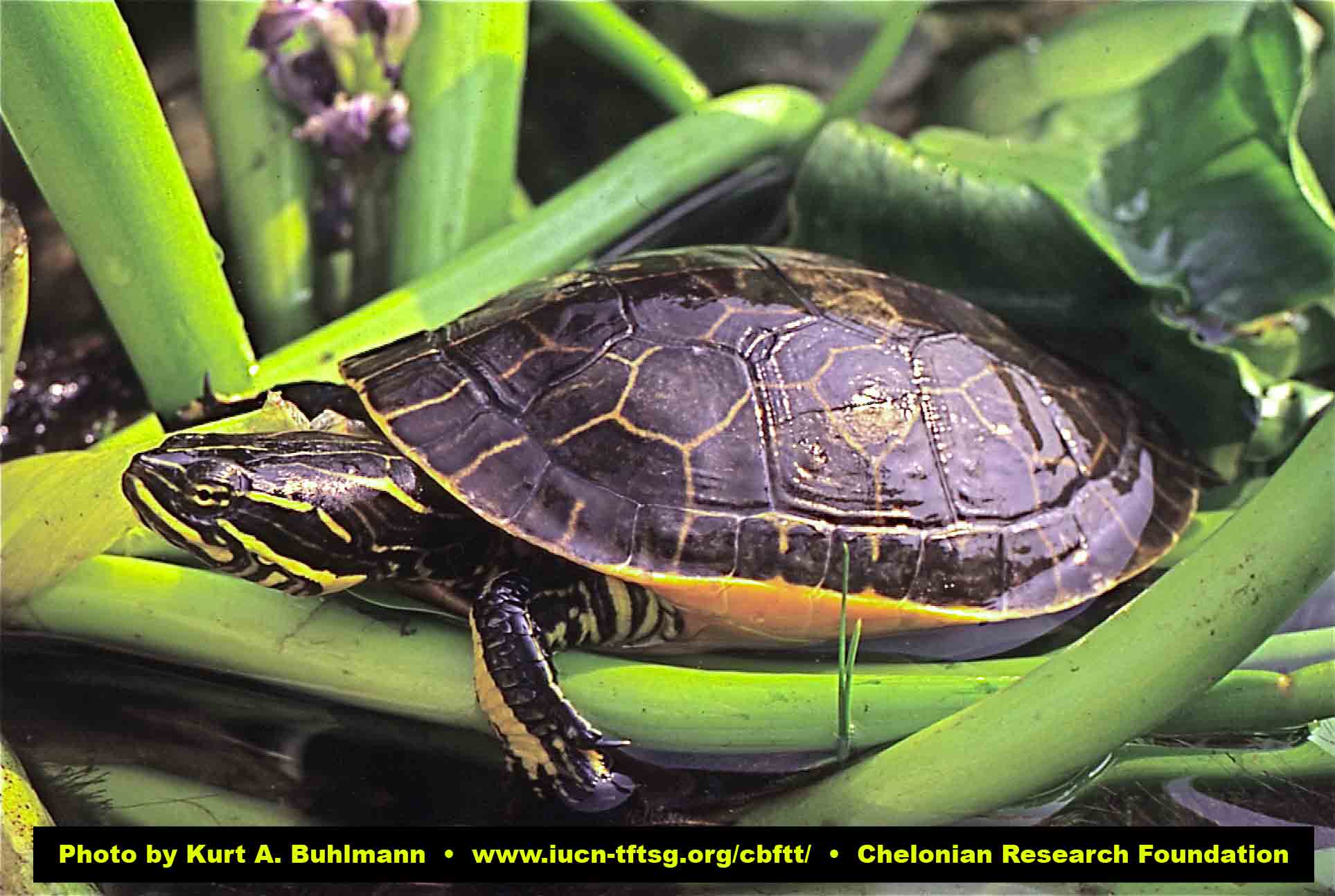 Adult Deirochelys reticularia from central Florida.
Photo by Kurt A. Buhlmann.
Distribution: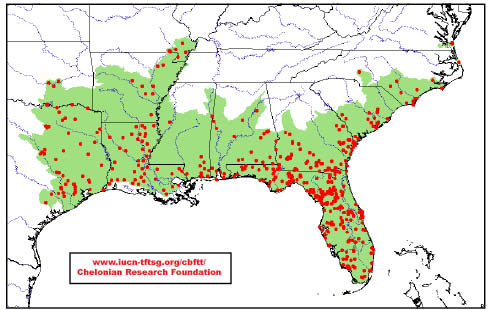 Distribution of Deirochelys reticularia in southeastern USA. Red points = museum and literature occurrence records based on published records plus more recent and authors' data; green shading = projected distribution based on GIS-defined hydrologic unit compartments (HUCs) constructed around verified localities and then adding HUCs that connect known point localities in the same watershed or physiographic region, and similar habitats and elevations as verified HUCs (Buhlmann et al., unpubl. data), and adjusted based on authors' data.