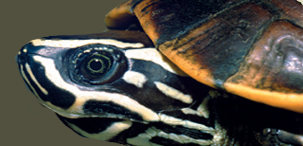 IUCN/SSC
Tortoise and Freshwater Turtle Specialist Group
Elseya lavarackorum, 082
Elseya lavarackorum (White and Archer 1994) –
Gulf Snapping Turtle, Gulf Snapper, Riversleigh Snapping Turtle, Lavarack's Turtle
Alastair Freeman1, Scott Thomson2, and John Cann3
1Threatened Species Branch, Environment and Heritage Protection,
P.O. Box 975, Atherton, Queensland 4883 Australia [[email protected]];
2Museu de Zoologia da Universidade de São Paulo, Divisão de Vertebrados (Herpetologia), Avenida Nazaré 481, Ipiranga, 04263–000, São Paulo, São Paulo, Brazil [[email protected]];
326 Yarra Road, Phillip Bay, New South Wales 2036 Australia [[email protected]]
Summary. – The Gulf Snapping Turtle, Elseya lavarackorum (Family Chelidae), is a medium to large-sized short-necked turtle (carapace length to ca. 350 mm, potentially to 500 mm), endemic to a small area of northern Australia in the vicinity of the Queensland – Northern Territory border. The species inhabits deep pools on permanently flowing spring-fed waterways in the upper to middle reaches of rivers, reaching its highest densities adjacent to intact native riparian vegetation. Adult E. lavarackorum are almost exclusively herbivorous, feeding predominantly on fruit, leaves, and algae. The species nests in the dry season (May–July), with a clutch size that varies from 6 to 9 eggs. Nests are laid in fine sand or alluvial substrate on banks close to the water. Primary threats are thought to be feral pig predation on nests and degradation of native riparian vegetation by weeds and fire. Large females, in particular, are subject to harvesting by traditional landowners, but this is not presently considered a significant conservation threat.
Distribution. – Australia. The species has a limited distribution in the upper and middle reaches of the Gregory–Nicholson and Calvert catchments, with unconfirmed reports from the Robinson River in northwest Queensland and northeastern Northern Territory.
Synonymy. – Emydura lavarackorum White and Archer 1994, Elseya lavarackorum, Elseya dentata lavarackorum.
Subspecies. – None currently known.
Status. – IUCN 2014 Red List: Not Evaluated (NE); TFTSG Draft Red List: Data Deficient (DD, assessed 2011); CITES: Not Listed; Australia: Environmental Protection and Biodiversity Conservation Act: Endangered; Territory Parks and Wildlife Conservation Act: Protected; Queensland Nature Conservation Act: Vulnerable.
Citation:
Freeman, A., Thomson, S., and Cann, J. 2014. Elseya lavarackorum (White and Archer 1994) – Gulf Snapping Turtle, Gulf Snapper, Riversleigh Snapping Turtle, Lavarack's Turtle. In: Rhodin, A.G.J., Pritchard, P.C.H., van Dijk, P.P., Saumure, R.A., Buhlmann, K.A., Iverson, J.B., and Mittermeier, R.A. (Eds.). Conservation Biology of Freshwater Turtles and Tortoises: A Compilation Project of the IUCN/SSC Tortoise and Freshwater Turtle Specialist Group. Chelonian Research Monographs 5(7):082.1–10, doi:10.3854/crm.5.082.lavarackorum.v1.2014, //iucn-tftsg.org/cbftt/.
(Adobe Acrobat 6.0 or later required)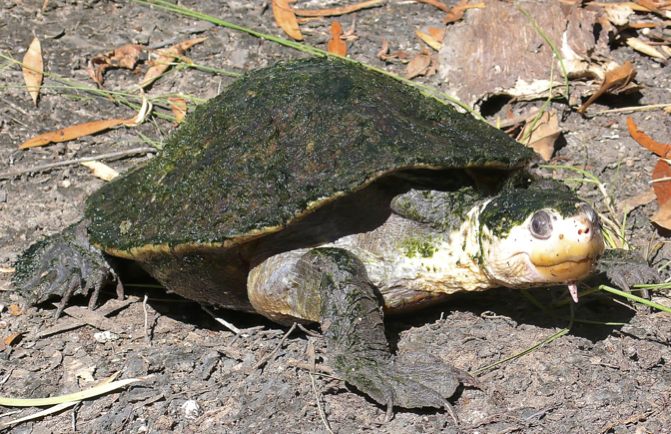 Adult female Elseya lavarackorum from the Gregory River, Riversleigh Station, Queensland.
Photo by John Cann.
Distribution: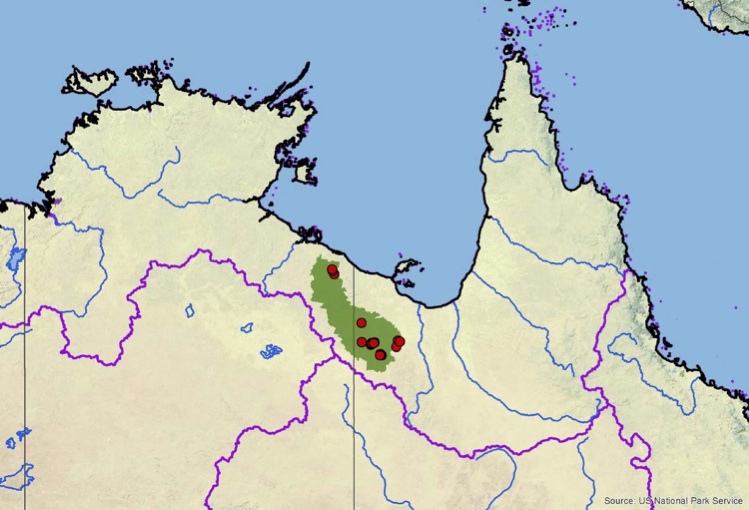 Distribution of Elseya lavarackorum in Northern Territory and Queensland, northern Australia. Purple lines = boundaries delimiting major watersheds (level 3 hydrologic unit compartments – HUCs); red dots = museum, literature, and field-based occurrence records of native populations based on recent and authors' data; green shading = projected native distribution based on GIS-defined HUCs constructed around verified localities and then adding HUCs that connect known point localities in the same watershed or physiographic region, and similar habitats and elevations as verified HUCs (Buhlmann et al. 2009; TTWG 2014), and adjusted based on authors' subsequent data.