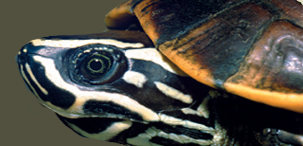 IUCN/SSC
Tortoise and Freshwater Turtle Specialist Group
Graptemys gibbonsi, 029
Graptemys gibbonsi Lovich and McCoy 1992 –
Pascagoula Map Turtle, Pearl River Map Turtle, Gibbons' Map Turtle
Jeffrey E. Lovich1, Will Selman2, and C.J. McCoy3
1U.S. Geological Survey, Southwest Biological Science Center,
2255 North Gemini Drive, MS-9394, Flagstaff, Arizona 86001 USA [[email protected]];
2The University of Southern Mississippi, Hattiesburg, Mississippi 39402 USA [[email protected]];
3Deceased
Summary. – The Pascagoula map turtle, Graptemys gibbonsi (Family Emydidae), is a large aquatic species endemic to the Pascagoula and Pearl River drainages of Mississippi and southeastern Louisiana. It was previously considered part of the composite species G. pulchra. Sexual dimorphism is pronounced, with adult females (carapace length to 295 mm) attaining more than twice the size of adult males (to 141 mm). Although the species is locally abundant, populations are threatened by habitat destruction, commercial collecting, and target practice by unethical people who shoot basking turtles. The current IUCN Red List status is Lower Risk/Near Threatened, but the status should be re-examined due to recent surveys indicating population declines or the disappearance of the species from previously documented localities. In addition, genetic and pattern differences between populations in the Pearl and Pascagoula rivers suggest that the two entities should be managed separately to protect significant biodiversity.
Distribution. – USA. Restricted to the Pascagoula and Pearl River systems of Mississippi and Louisiana, as well as the lower Escatawpa River of southeastern Mississippi.
Synonymy. – Graptemys gibbonsi Lovich and McCoy 1992, Graptemys pulchra gibbonsi.
Subspecies. – None recognized.
Status. – IUCN 2008 Red List Status: Lower Risk / Near Threatened (LR/NT) (assessed 1996, needs updating); CITES: Appendix III (all Graptemys spp.; USA); US ESA: Not Listed.
Citation:
Lovich, J.E., Selman, W., and McCoy, C.J. 2009. Graptemys gibbonsi Lovich and McCoy 1992 – Pascagoula map turtle, Pearl River map turtle, Gibbons' map turtle. In: Rhodin, A.G.J., Pritchard, P.C.H., van Dijk, P.P., Saumure, R.A., Buhlmann, K.A., Iverson, J.B., and Mittermeier, R.A. (Eds.). Conservation Biology of Freshwater Turtles and Tortoises: A Compilation Project of the IUCN/SSC Tortoise and Freshwater Turtle Specialist Group. Chelonian Research Monographs No. 5, pp. 029.1-029.8, doi:10.3854/crm.5.029.gibbonsi.v1.2009, //iucn-tftsg.org/cbftt/.
(Adobe Acrobat 6.0 or later required)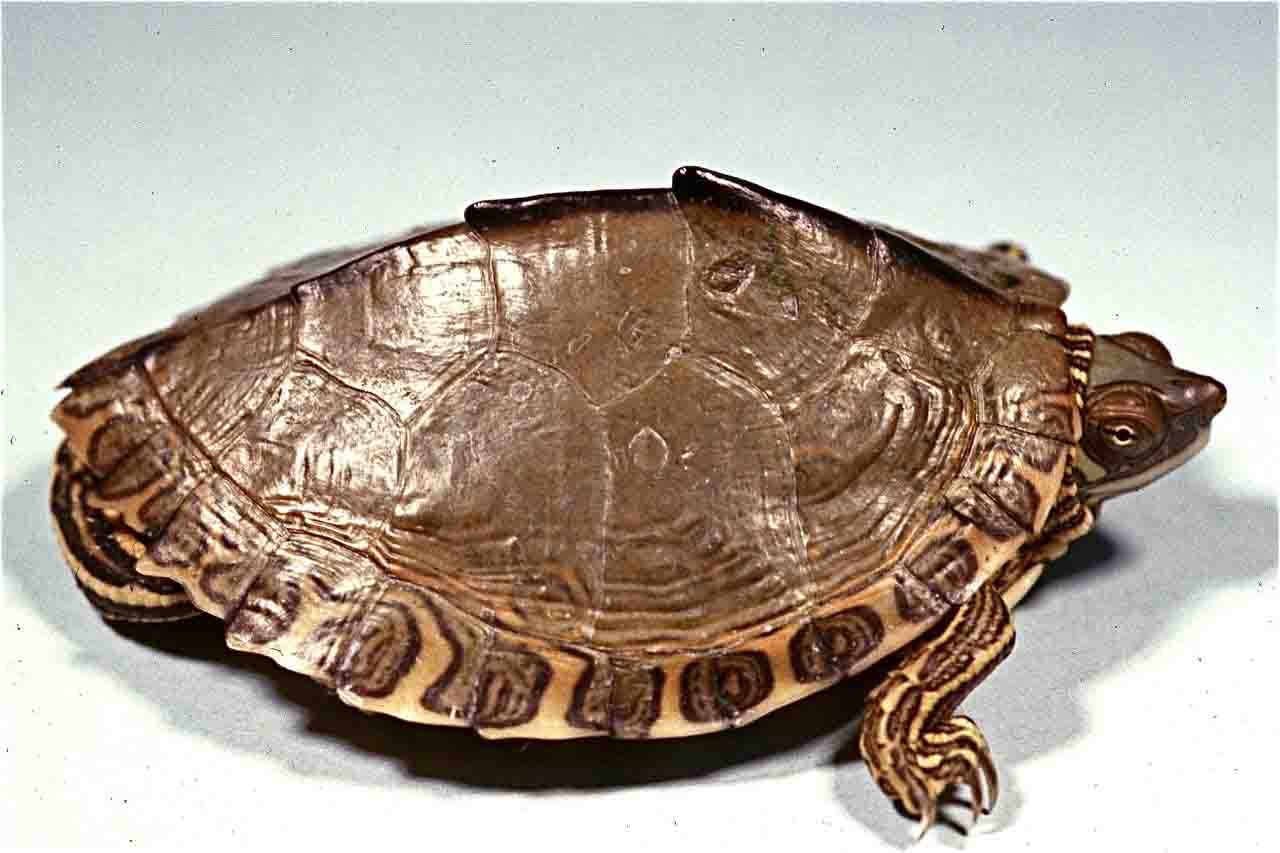 Adult male Graptemys gibbonsi from the Chickasawhay River, near Leakesville, Mississippi, USA.
Photo by Jeffrey Lovich.
Distribution: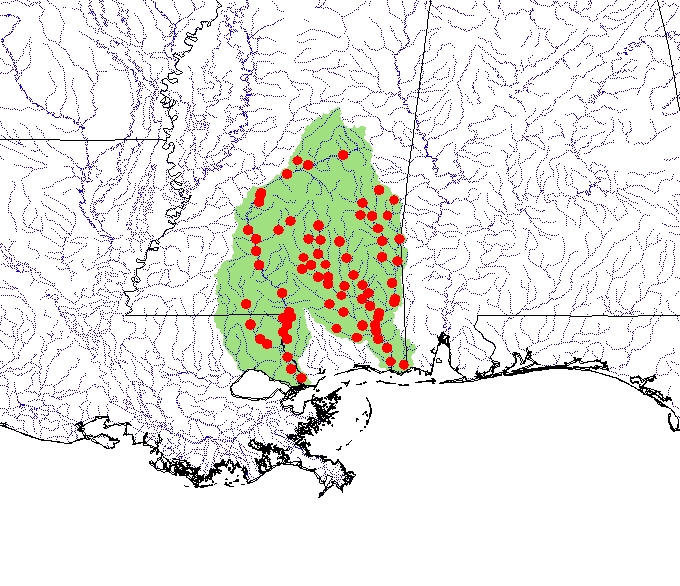 Distribution of Graptemys gibbonsi in the southeastern USA (Louisiana and Mississippi). Red points = museum and literature occurrence records based on Iverson (1992) plus more recent and authors' data; green shading = projected distribution based on GIS-defined hydrologic unit compartments (HUCs) constructed around verified localities and then adding HUCs that connect known point localities in the same watershed or physiographic region, and similar habitats and elevations as verified HUCs (Buhlmann et al., in press), and adjusted based on authors' data.