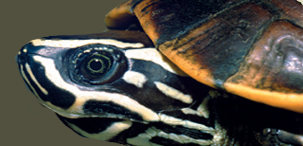 IUCN/SSC
Tortoise and Freshwater Turtle Specialist Group
Graptemys nigrinoda, 005
Graptemys nigrinoda Cagle 1954 –
Black-Knobbed Map Turtle, Black-Knobbed Sawback
Emmett L. Blankenship1, Brian P. Butterfield2, and James C. Godwin3
1224 Transart Pkwy, Canton, Georgia 30114 USA [[email protected]];
2Department of Biology, Freed-Hardeman University, Henderson, Tennessee 38340 USA [[email protected]];
3Alabama Natural Heritage Program, Environmental Institute,
1090 S. Donahue Drive, Auburn University, Alabama 36849 USA [[email protected]]
Summary. – The black-knobbed map turtle, Graptemys nigrinoda (Family Emydidae), is a medium-sized aquatic turtle of the southeastern United States. It is limited in its range to the Mobile Bay drainages of Alabama and Mississippi. The turtle prefers large to medium-sized river systems. Little information is available on the habits or life history of this species. The black-knobbed map turtle is listed as Endangered by the state of Mississippi and a Protected Nongame Species by the state of Alabama. The current IUNC Red List Status of G. nigrinoda is Near Threatened, but a revised status of Least Concern is recommended in light of recent surveys in which G. nigrinoda was the most commonly observed and collected species of emydid within its range.
Distribution. – USA. Restricted to Mobile Bay drainages of Alabama and Mississippi.
Synonymy. – Graptemys nigrinoda Cagle 1954, Graptemys oculifera nigrinoda, Malaclemys nigrinoda.
Subspecies. – Two recognized: Graptemys nigrinoda nigrinoda (Northern Black-Knobbed Map Turtle) and Graptemys nigrinoda delticola Folkerts and Mount 1969 (Southern Black-Knobbed Map Turtle).
Status. – IUCN 2007 Red List: Near Threatened (LR/nt) (assessed 1996, needs updating)
; CITES: Appendix III (Graptemys spp.; USA); US ESA: Not Listed.
Citation:
Blankenship, E.L., Butterfield, B.P., and Godwin, J.C. 2008. Graptemys nigrinoda Cagle 1954 – black-knobbed map turtle, black-knobbed sawback. In: Rhodin, A.G.J., Pritchard, P.C.H., van Dijk, P.P., Saumure, R.A., Buhlmann, K.A., and Iverson, J.B. (Eds.). Conservation Biology of Freshwater Turtles and Tortoises: A Compilation Project of the IUCN/SSC Tortoise and Freshwater Turtle Specialist Group. Chelonian Research Monographs No. 5, pp. 005.1-005.6, doi:10.3854/crm.5.005.nigrinoda.v1.2008, //iucn-tftsg.org/cbftt.
(Adobe Acrobat 6.0 or later required)
Adult male Graptemys nigrinoda from Alabama, USA.
Photo by James C. Godwin.
Distribution: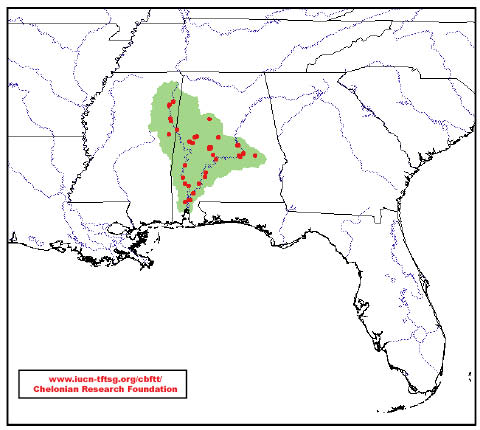 Distribution of Graptemys nigrinoda in southeastern USA. Red points = museum and literature occurrence records based on Iverson (1992) plus more recent and authors' data; green shading = projected distribution based on GIS-defined hydrologic unit compartments (HUCs) constructed around verified localities and then adding HUCs that connect known point localities in the same watershed or physiographic region, and similar habitats and elevations as verified HUCs (Buhlmann et al., unpubl. data), and adjusted based on authors' data.