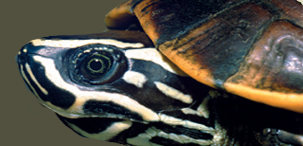 IUCN/SSC
Tortoise and Freshwater Turtle Specialist Group
Indotestudo travancorica, 054
Indotestudo travancorica (Boulenger 1907) –
Travancore Tortoise
V. Deepak1, Madhuri Ramesh2, S. Bhupathy3, and Karthikeyan Vasudevan1
1Wildlife Institute of India, P.O. Box 18, Dehradun 248001 India[[email protected], [email protected]];
2Ashoka Trust for Research in Ecology and the Environment, Royal Enclave, Sriramapura,
Jakkur Post, Bangalore 560064, India [[email protected]];
3Sálim Ali Centre for Ornithology and Natural History, Anaikatty P.O.,
Coimbatore 641108 India [[email protected]]
Summary. – The Travancore Tortoise, Indotestudo travancorica (Family Testudinidae) is a medium-sized tortoise (straight carapace length [SCL] up to 331 mm) endemic to the mountain ranges of the Western Ghats in southwestern India. The taxonomy of the genus Indotestudo has recently been revised, and I. travancorica is considered a distinct species. It is found in semi-evergreen, evergreen, moist deciduous, and bamboo forests, as well as in rubber and teak plantations, occurring mostly near streams and marshes, with a home range of 5.2–34 ha. Travancore Tortoises are omnivorous; their diet encompasses grasses to mollusks and they occasionally scavenge on dead animals. They breed from November to March in captivity, have a clutch size of 1–5 eggs, and hatchlings measure 55–60 mm SCL. The major threats to this species are hunting and habitat loss. Conservation measures should focus on protection, identification of crucial tortoise habitats, and increasing awareness among local communities.
Distribution. – India. Endemic to the Western Ghats, across the states of Kerala, Karnataka, and Tamil Nadu of southwestern India.
Synonymy. – Testudo travancorica Boulenger 1907, Testudo (Indotestudo) travancorica, Geochelone travancorica, Geochelone (Indotestudo) travancorica, Indotestudo travancorica.
Subspecies. – None recognized.
Status. – IUCN 2011 Red List: Vulnerable (VU A1cd) (assessed 2000); CITES: Appendix II, as Testudinidae spp.; Indian Wildlife (Protection) Act (1972): Schedule IV.
Citation:
Deepak, V., Ramesh, M., Bhupathy, S., and Vasudevan, K. 2011. Indotestudo travancorica (Boulenger 1907) – Travancore Tortoise. In: Rhodin, A.G.J., Pritchard, P.C.H., van Dijk, P.P., Saumure, R.A., Buhlmann, K.A., Iverson, J.B., and Mittermeier, R.A. (Eds.). Conservation Biology of Freshwater Turtles and Tortoises: A Compilation Project of the IUCN/SSC Tortoise and Freshwater Turtle Specialist Group. Chelonian Research Monographs No. 5, pp. 054.1–054.6, doi:10.3854/crm.5.054.travancorica.v1.2011, //iucn-tftsg.org/cbftt/.
(Adobe Acrobat 6.0 or later required)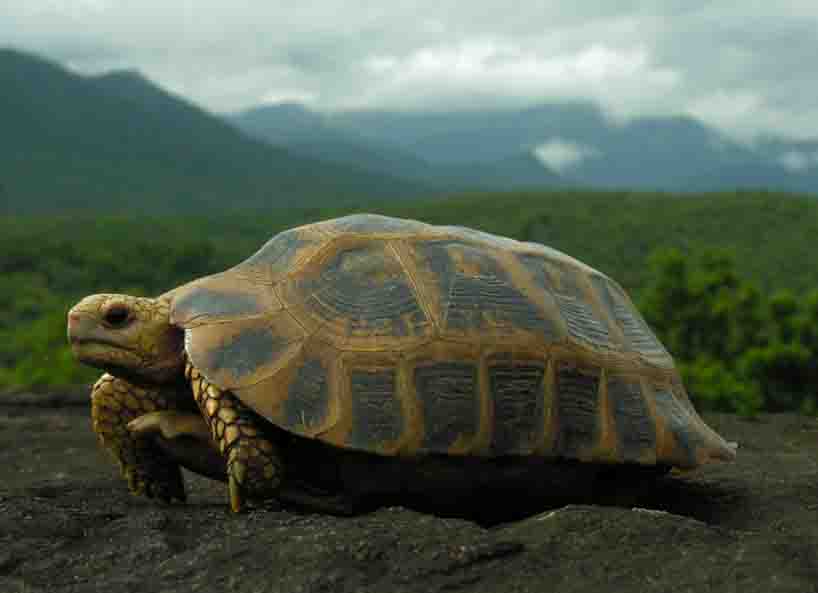 Female Indotestudo travancorica from the Anamalai hills, southern Western Ghats, India.
Photo by V. Deepak.
Distribution:
Distribution of Indotestudo travancorica in the Western Ghats of southwestern Peninsular India; the discontinuity in the range is the Palghat Gap. Red dots = museum and literature occurrence records of native populations based on Iverson (1992) plus more recent and authors' data; green shading = projected distribution based on GIS-defined hydrologic unit compartments (HUCs) constructed around verified localities and then adding HUCs that connect known point localities in the same watershed or physiographic region, and similar habitats and elevations as verified HUCs (Buhlmann et al. 2009), and adjusted based on authors' data.