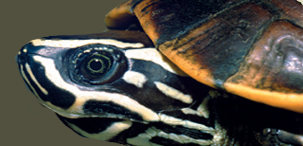 IUCN/SSC
Tortoise and Freshwater Turtle Specialist Group
Kinixys erosa, 084
Kinixys erosa (Schweigger 1812) –
Forest Hinge-back Tortoise, Serrated Hinge-back Tortoise, Serrated Hinged Tortoise
Luca Luiselli1,2 and Tomas Diagne3
1Niger Delta Ecology and Biodiversity Conservation Unit, Rivers State University
of Science and Technology, PMB 5080, Port Harcourt, Rivers State, Nigeria;
2Centre of Environmental Studies Demetra, Via Olona 7, I-00198 Rome, Italy [[email protected]];
3African Chelonian Institute, P.O. Box 449, Ngaparou, Mbour 33022, Senegal, West Africa [[email protected]]
Summary. – The Forest Hinge-back Tortoise, Kinixys erosa (Family Testudinidae), is a forest tortoise with considerable range over the continuous Guinea–Congo rainforest region in West and Central Africa. It is a medium-sized to large tortoise, with a carapace length reaching ca. 400 mm, and males larger than females. Tortoises of the genus Kinixys can close themselves entirely within their shells through a unique posterior carapacial hinge. Kinixys erosa inhabits the lowland evergreen forest, marshy areas, and forest galleries growing along rivers and streams, where it is locally threatened by clearance of forest for cultivation and hunting pressure. It has an omnivorous diet, with mushrooms being predominant. Population sizes are strongly depressed in areas where these tortoises are actively hunted by human populations. The main threats for this species include subsistence hunting by local people in desperately poor economic conditions, agricultural and industrial expansion with deforestation, and trade for the pet industry. There is a strong need for more field research on K. erosa ecology, abundance, and status. There are no known conservation actions for this species; however, there is a need to establish protected areas that include viable populations of these tortoises through their natural range.
Distribution. – Angola, Benin, Cameroon, Central African Republic, Congo (Democratic Republic of Congo–DRC), Congo (Republic of Congo–ROC), Equatorial Guinea, Gabon, Ghana, Guinea, Ivory Coast (Côte d'Ivoire), Liberia, Nigeria, Sierra Leone, Togo, Uganda. Widely distributed along coastal forested West Africa from Sierra Leone and Guinea through the Congo Basin of central Africa to northern Angola.
Synonymy. – Testudo erosa Schweigger 1812, Kinixys erosa, Cinixys erosa, Kinixys belliana erosa, Testudo schoepfii Fitzinger 1826 (nomen nudum), Kinixys castanea Bell 1827, Cinixys (Cinixys) castanea, Cinixys castanea.
Subspecies. – None recognized.
Status. – IUCN 2014 Red List: Data Deficient (DD, assessed 1996); TFTSG Draft Red List: Endangered (EN, assessed 2013); CITES: Appendix II, as Testudinidae spp.
Citation:
Luiselli, L. and Diagne, T. 2014. Kinixys erosa (Schweigger 1812) – Forest Hinge-back Tortoise, Serrated Hinge-back Tortoise, Serrated Hinged Tortoise. In: Rhodin, A.G.J., Pritchard, P.C.H., van Dijk, P.P., Saumure, R.A., Buhlmann, K.A., Iverson, J.B., and Mittermeier, R.A. (Eds.). Conservation Biology of Freshwater Turtles and Tortoises: A Compilation Project of the IUCN/SSC Tortoise and Freshwater Turtle Specialist Group. Chelonian Research Monographs 5(7):084.1–13, doi:10.3854/crm.5.084.erosa.v1.2014, //iucn-tftsg.org/cbftt/.
(Adobe Acrobat 6.0 or later required)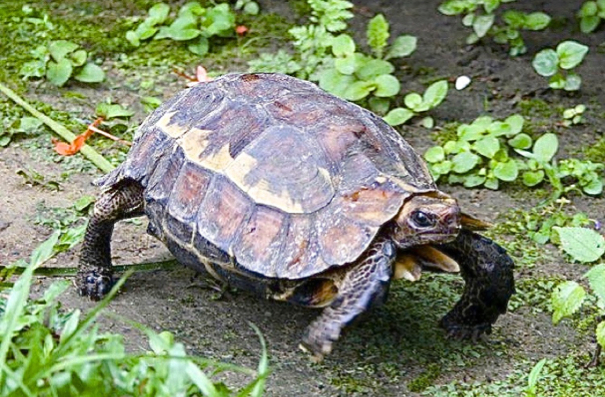 Adult female Kinixys erosa in Cameroon, central Africa.
Photo by Tomas Diagne.
Distribution: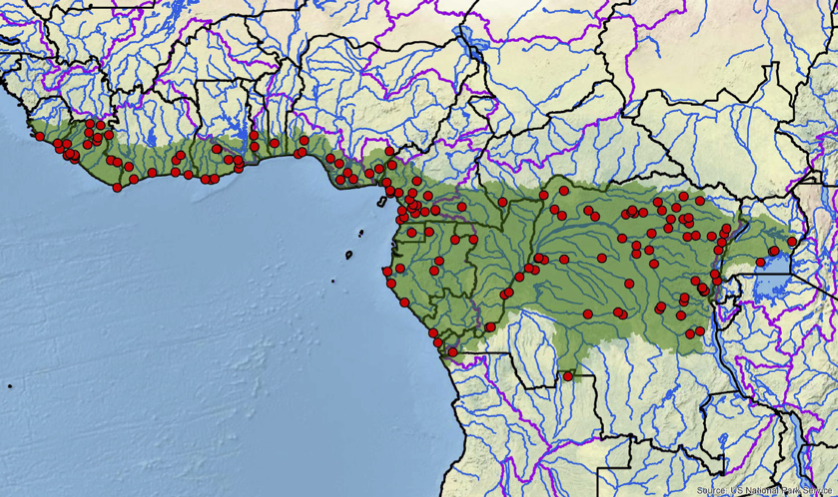 Distribution of Kinixys erosa in western and central Africa. Purple lines = boundaries delimiting major watersheds (level 3 hydrologic unit compartments – HUCs); red dots = museum and literature occurrence records of native populations based on Iverson (1992) plus more recent and authors' data; green shading = projected native distribution based on GIS-defined HUCs constructed around verified localities and then adding HUCs that connect known point localities in the same watershed or physiographic region, and similar habitats and elevations as verified HUCs (Buhlmann et al. 2009; TTWG 2014), and adjusted based on authors' subsequent data.