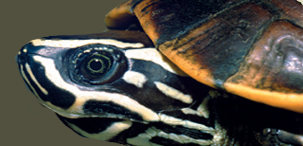 IUCN/SSC
Tortoise and Freshwater Turtle Specialist Group
Kinosternon acutum, 062
Kinosternon acutum Gray 1831 –
Tabasco Mud Turtle, Montera, Chechagua de Monte
John B. Iverson1 and Richard C. Vogt2
1Department of Biology, Earlham College, Richmond, Indiana 47374 USA [[email protected]];
2Coordinação de Biodiversidade, Instituto Nacional de Pesquisas da Amazônia (INPA),
Av. André Araújo 2936, Aleixo, CEP 69060-001, Manaus, Amazonas, Brazil [[email protected]]
Summary. – The Tabasco Mud Turtle, Kinosternon acutum (Family Kinosternidae) is a small turtle (carapace length in females to 120 mm and in males to 105 mm) that ranges from central Veracruz across the Tabasco lowlands of Mexico to northern Guatemala and Belize. It has previously been recognized as a highly derived member of the K. scorpioides species complex, but may actually be a member of the K. leucostomum complex. It lives in small streams, marshes, and ponds in forests and savannas, is carnivorous, and lays multiple clutches of 1 to 3 eggs each. Its former rarity in collections may be due to its secretive, nocturnal habits. Although it has a relatively restricted range, it is common at some sites. It is eaten locally, but inhabits some of the least disturbed regions of southeastern Mexico and northern Central America.
Distribution. – Belize, Guatemala, Mexico. Atlantic versant of southeast Mexico, Belize, and Guatemala, excluding the Yucatan peninsula.
Synonymy. – Kinosternon scorpioides acuta Gray 1831, Kinosternon acutum, Cinosternum berendtianum Cope 1865, Cinosternon berendtianum, Kinosternon berendtianum, Swanka maculata Gray 1869 (partim), Cinosternon effeldtii Peters 1873, Cinosternum effeldtii.
Subspecies. – There are no recognized subspecies.
Status. – IUCN 2011 Red List: Near Threatened (LR/nt) (assessed 1996, needs updating); CITES: Not Listed; Mexico: Norma Oficial Mexicana (NOM059 ECOL 2001): Special Protection.
Citation:
Iverson, J.B. and Vogt, R.C. 2011. Kinosternon acutum Gray 1831 – Tabasco Mud Turtle, Montera, Chechagua de Monte. In: Rhodin, A.G.J., Pritchard, P.C.H., van Dijk, P.P., Saumure, R.A., Buhlmann, K.A., Iverson, J.B., and Mittermeier, R.A. (Eds.). Conservation Biology of Freshwater Turtles and Tortoises: A Compilation Project of the IUCN/SSC Tortoise and Freshwater Turtle Specialist Group. Chelonian Research Monographs No. 5, pp. 062.1–062.6, doi:10.3854/crm.5.062.acutum.v1.2011, //iucn-tftsg.org/cbftt/.
(Adobe Acrobat 6.0 or later required)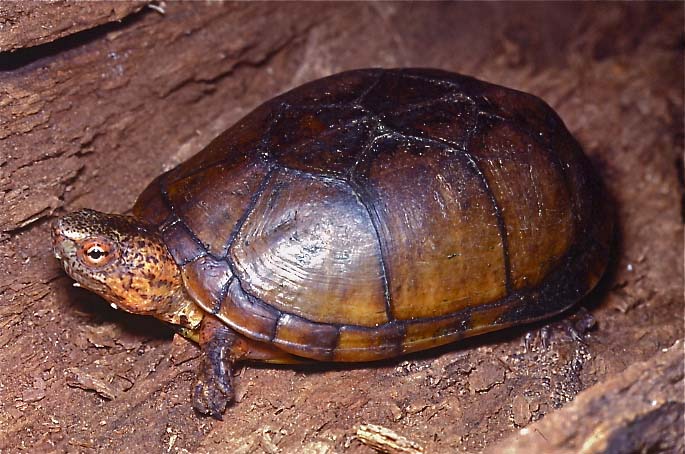 Adult female Kinosternon acutum from Belize.
Photo by John Iverson.
Distribution: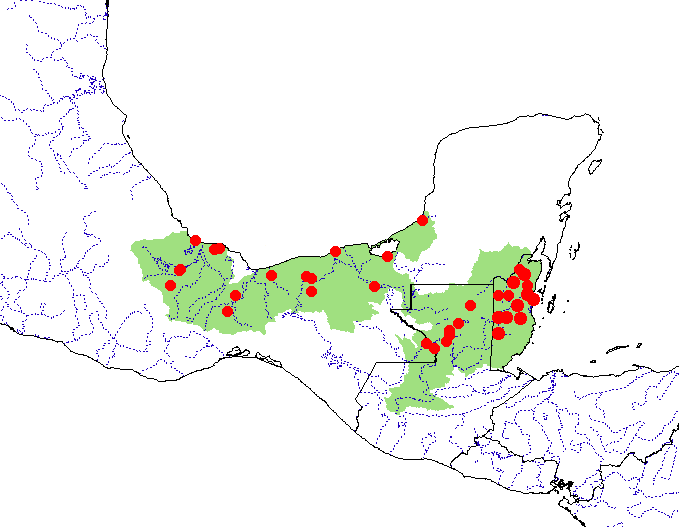 Distribution of Kinosternon acutum in southern Mexico, northern Guatemala, and Belize. Red dots = museum and literature occurrence records of native populations based on Iverson (1992), plus more recent and authors' data; green shading = projected native distribution based on GIS-defined hydrologic unit compartments (HUCs) constructed around verified localities and then adding HUCs that connect known point localities in the same watershed or physiographic region, and similar habitats and elevations as verified HUCs (Buhlmann et al. 2009), and adjusted based on authors' data.