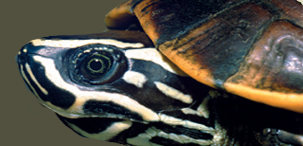 IUCN/SSC
Tortoise and Freshwater Turtle Specialist Group
Kinosternon scorpioides, 063
Kinosternon scorpioides (Linnaeus 1766) –
Scorpion Mud Turtle
James F. Berry1 and John B. Iverson2
1Department of Biology, Elmhurst College, Elmhurst, Illinois 60126 USA [[email protected]];
2Department of Biology, Earlham College, Richmond, Indiana 47374 USA [[email protected]]
Summary. – Kinosternon scorpioides, the Scorpion Mud Turtle (Family Kinosternidae), is a medium to large-sized mud turtle, with adult males in some populations regularly exceeding 200 mm in carapace length. The species occurs from the Mexican state of Tamaulipas in Gulf of Mexico drainages, southward throughout the Isthmus of Tehuantepec and the Yucatan Peninsula in Mexico, and throughout most of Central and South America in both Atlantic and Pacific drainages at least to the upper Río Paraná in northern Argentina. Four subspecies are currently recognized, which vary in morphology: K. s. scorpioides, K. s. abaxillare, K. s. albogulare, and K. s. cruentatum. Maximum size in various populations ranges from 150 to over 200 mm carapace length. Mature females lay up to five clutches of 1–8 eggs during an extended annual reproductive season. The species is exploited in parts of its range for tourist trinkets, pet trade, medicine, and food, but the greatest threats to its survival are from habitat degradation and alteration. Conservation measures should include expanded studies of the status of the species throughout its range, as well as detailed studies of its life history, habitat utilization, diseases, and the effects of habitat modification on individuals and populations across its range.
Distribution. – Argentina, Belize, Bolivia, Brazil, Colombia, Costa Rica, Ecuador, El Salvador, French Guiana, Guatemala, Guyana, Honduras, Mexico, Nicaragua, Panama, Paraguay, Peru, Suriname, Trinidad, Venezuela. Northeast and eastern Mexico through Central America and across northern and central South America to northern Argentina.
Synonymy. – Testudo scorpioides Linnaeus 1766, Emys scorpioides, Chersine scorpioides, Uronyx scorpioides, Terrapene scorpioides, Cinosternon scorpioides, Clemmys (Cinosternon) scorpioidea, Cinosternon scorpioideum, Kinosternum scorpioides, Cinosternum scorpioides, Thyrosternum scorpioides, Swanka scorpioides, Kinosternon scorpioides, Kinosternon scorpioides scorpioides, Testudo tricarinata Retzius in Schoepff 1792, Terrapene tricarinata, Testudo retzii Daudin 1801, Emys retzii, Kinosternon longicaudatum Spix 1824, Kinosternum longicaudatum, Cinosternon longicaudatum, Swanka longicaudata, Kinosternon brevicaudatum Spix 1824, Cinosternon brevicaudatum, Kinosternon shavianum Bell 1825, Cinosternon shavianum, Cinosternum shavianum, Thyrosternum shavianum, Monoclida retziana Rafinesque 1832, Cinosternum scorpioides integrum brasiliana Siebenrock 1907, Kinosternon scorpioides seriei Freiberg 1936, Kinosternon scorpioides pachyurum Müller and Hellmich 1936, Kinosternon panamensis Schmidt 1946, Kinosternon scorpioides carajasensis da Cunha 1970.
Subspecies. – Four are currently recognized: 1) Kinosternon scorpioides scorpioides (Scorpion Mud Turtle) (distribution: eastern Panama to northern South America and the Amazon basin to northern Argentina); 2) Kinosternon scorpioides abaxillare (Central Chiapas Mud Turtle) (synonymy: Kinosternon abaxillare Baur in Stejneger 1925) (distribution: central Chiapas, Mexico); 3) Kinosternon scorpioides albogulare (White-throated Mud Turtle) (synonymy: Cinosternon albogulare Duméril and Bocourt 1870, Cinosternum albogulare, Kinosternon cruentatum albogulare) (distribution: Honduras and El Salvador through Nicaragua and Costa Rica to western Panama); and 4) Kinosternon scorpioides cruentatum (Red-cheeked Mud Turtle) (synonymy: Cinosternon cruentatum Duméril and Bibron in Duméril and Duméril 1851, Kinosternum cruentatum, Kinosternon cruentatum, Swanka cruentata, Thyrosternum cruentatum, Kinosternon cruentatum, Kinosternon cruentatum cruentatum, Kinosternum mexicanum LeConte 1854, Cinosternon mexicanum, Kinosternon mexicanum, Swanka mexicana, Kinosternum triliratum LeConte 1859, Cinosternon triliratum, Swanka trilirata, Cinosternum triliratum, Kinosternon cruentatum consors Stejneger 1941) (distribution: Tamaulipas, Mexico, to southern Guatemala).
Status. – IUCN 2011 Red List: Not Listed (Least Concern, LR/lc) (assessed 1996, needs updating); CITES: Not Listed; Colombia Red Book of Endangered Reptiles: Vulnerable (D2).
Citation:
Berry, J.F. and Iverson, J.B. 2011. Kinosternon scorpioides (Linnaeus 1766) – Scorpion Mud Turtle. In: Rhodin, A.G.J., Pritchard, P.C.H., van Dijk, P.P., Saumure, R.A., Buhlmann, K.A., Iverson, J.B., and Mittermeier, R.A. (Eds.). Conservation Biology of Freshwater Turtles and Tortoises: A Compilation Project of the IUCN/SSC Tortoise and Freshwater Turtle Specialist Group. Chelonian Research Monographs No. 5, pp. 063.1–063.15, doi:10.3854/crm.5.063.scorpioides.v1.2011, //iucn-tftsg.org/cbftt/.
(Adobe Acrobat 6.0 or later required)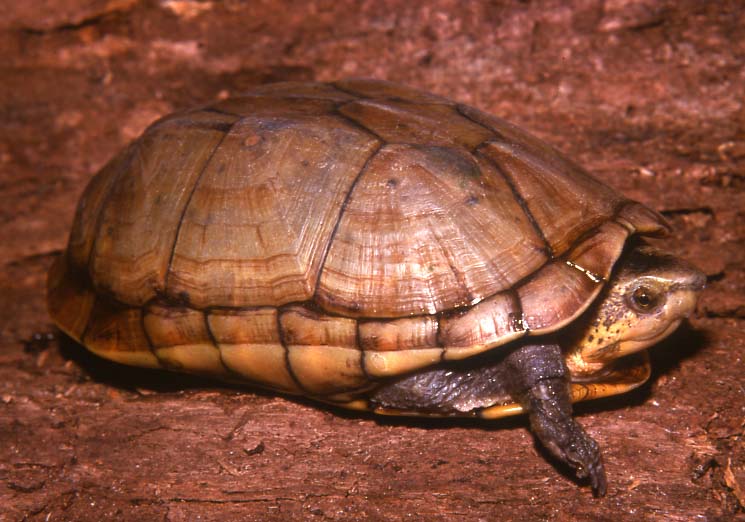 Adult female Kinosternon scorpioides scorpioides from Cojedes, Venezuela.
Photo by John Iverson.
Distribution: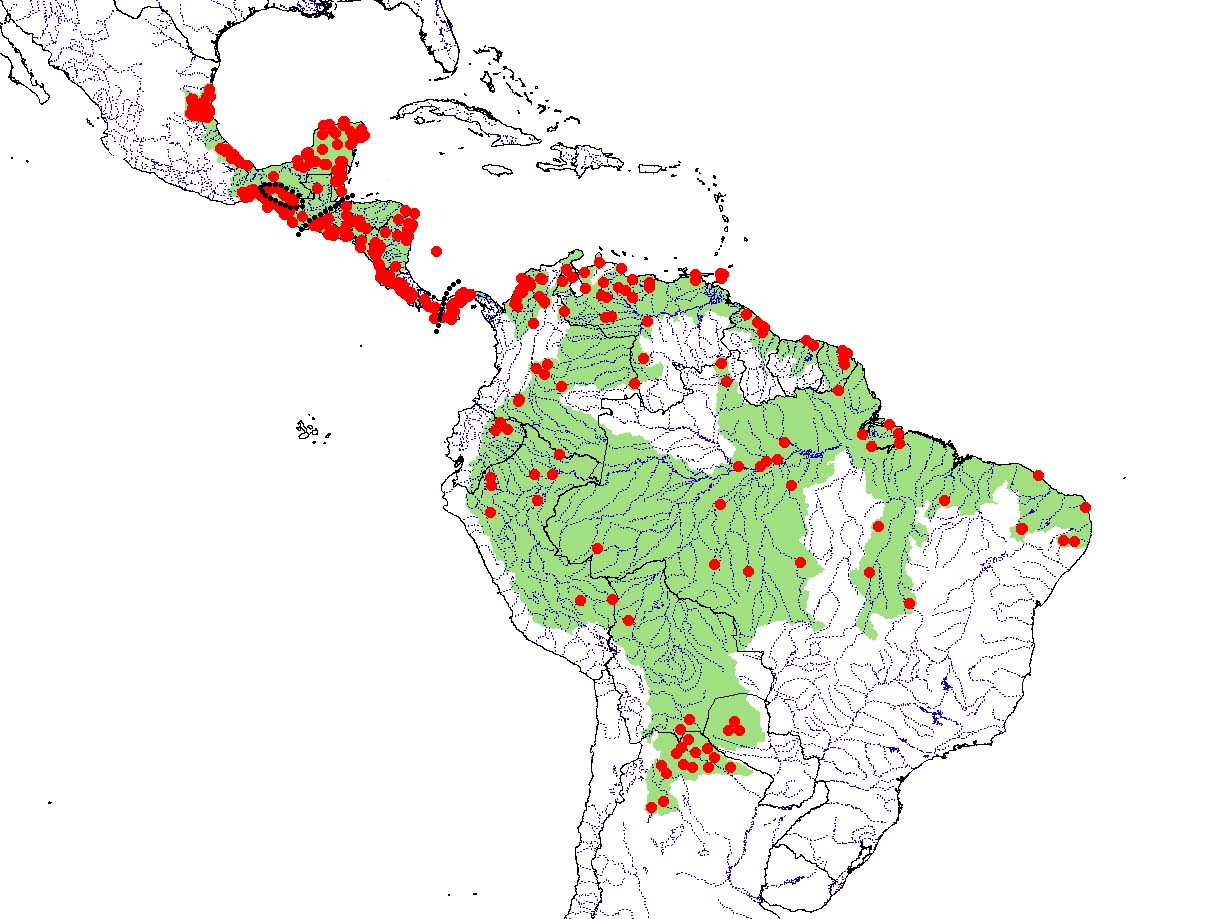 Distribution of Kinosternon scorpioides in Central and South America; dotted lines delimit the distribution of subspecies: K. s. cruentatum from Mexico to Guatemala, K. s. abaxillare as an enclave in central Chiapas, Mexico, K. s. albogulare from Honduras and El Salvador to Panama, and K. s. scorpioides from Panama to Argentina. Red dots = museum and literature occurrence records of native populations based on Iverson (1992), plus more recent and authors' data; green shading = projected native distribution based on GIS-defined hydrologic unit compartments (HUCs) constructed around verified localities and then adding HUCs that connect known point localities in the same watershed or physiographic region, and similar habitats and elevations as verified HUCs (Buhlmann et al. 2009), and adjusted based on authors' data.