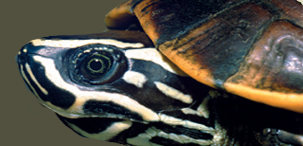 IUCN/SSC
Tortoise and Freshwater Turtle Specialist Group
Kinosternon subrubrum, 101
Kinosternon subrubrum (Bonnaterre 1789) –
Eastern Mud Turtle
Walter E. Meshaka, Jr.1, J. Whitfield Gibbons2,
Daniel F. Hughes3, Michael W. Klemens4, and John B. Iverson5
1State Museum of Pennsylvania, 300 North Street, Harrisburg, Pennsylvania 17120 USA [[email protected]];
2Savannah River Ecology Lab, Drawer E, Aiken, South Carolina 29802 USA [[email protected]];
3University of Texas at El Paso, El Paso, Texas 79968 USA [[email protected]];
4Department of Herpetology, American Museum of Natural History,
Central Park West at 79th Street, New York, New York 10024 USA [[email protected]];
5Department of Biology, Earlham College, Richmond, Indiana 47374 USA [[email protected]]
Summary. — The Eastern Mud Turtle, Kinosternon subrubrum (Family Kinosternidae), is a small (carapace length 85 to 120 mm) polytypic species of the eastern and central United States. All three historically recognized subspecies (K. s. subrubrum, K. s. steindachneri, and K. s. hippocrepis) are semi-aquatic turtles that inhabit much of the U.S. Atlantic and Gulf Coastal Plains. The Florida taxon (K. s. steindachneri) appears to represent a distinct species, but we continue to treat it as a subspecies for the purposes of this account. Nesting seasons are shorter and clutch sizes (range: 1–8, modal: 2–3 eggs) larger in northern populations of the species, with up to four clutches annually in the South. Populations vary greatly in size and may comprise only a small segment or major portion of an aquatic turtle assemblage. Population declines are well documented in the Northeast and Midwest (K. s. subrubrum). Major threats to this species come from the disruption or destruction of freshwater and surrounding terrestrial habitats as well as road mortality, but it is not considered globally threatened at this time.
Distribution. — USA. Distributed in the eastern coastal plain from New York in the northeast throughout the Gulf Coast Plain to Texas in the southwest, north in the Mississippi Valley to Illinois and Indiana, and south through peninsular Florida.
Synonymy. — Testudo subrubra Lacepède 1788 (nomen suppressum), Testudo subrubra Bonnaterre 1789, Kinosternon subrubrum, Kinosternon subrubrum subrubrum, Testudo pensilvanica Gmelin 1789, Emydes pensilvanica, Kinosternon pensilvanicum, Cinosternum pensilvanicum, Emys pensylvanica Schweigger 1812 (nomen novum), Terrapene pensylvanica, Cistuda pensylvanica, Sternotherus pensylvanica, Kinosternum pensylvanicum, Cinosternon pensylvanicum, Clemmys (Cinosternon) pensylvanica, Kinosternon pensylvanicum, Cinosternum pensylvanicum, Kinosternon pennsylvanicum Bell 1825 (nomen novum), Emys (Kinosternon) pennsylvanica, Kinosternum pennsylvanicum, Cinosternon pennsylvanicum, Cinosternum pennsylvanicum, Cistudo pennsylvanica, Terrapene pennsylvanica, Thyrosternum pennsylvanicum, Kinosternon (Kinosternon) doubledayii Gray 1844, Kinosternon doubledayii, Kinosternum doubledayii, Cinosternum doubledayii, Cinosternon doubledayii, Kinosternon (Kinosternon) oblongum Gray 1844, Kinosternon oblongum, Cinosternum oblongum, Kinosternon punctatum Gray 1856, Cinosternum punctatum, Swanka fasciata Gray 1869.
Subspecies. — Three have until recently been recognized: 1) Kinosternon subrubrum subrubrum (Eastern Mud Turtle) (distribution: eastern coastal plains from New York to northern Florida, west to the Mississippi River and north to Illinois and Indiana); 2) K. s. hippocrepis (Mississippi Mud Turtle) (distribution: generally west of the Mississippi River from eastern Texas to southern Illinois) (synonymy: Kinosternon hippocrepis Gray 1856, Cinosternum hippocrepis, Cinosternon hippocrepis, Kinosternon subrubrum hippocrepis, Kinosternon louisianae Baur 1893, Cinosternum louisianae); and 3) K. s. steindachneri (Florida Mud Turtle) (distribution: peninsular Florida) (synonymy: Cinosternum steindachneri Siebenrock 1906, Kinosternon steindachneri, Kinosternon subrubrum steindachneri).
Status. — IUCN 2017 Red List: Least Concern (LC, assessed 2011); CITES: Not Listed; ESA: Not Listed; FNAI: G5 (Demonstrably Secure).
Citation:
Meshaka, W.E., Jr., Gibbons, J.W., Hughes, D.F., Klemens, M.W., and Iverson, J.B. 2017. Kinosternon subrubrum (Bonnaterre 1789) – Eastern Mud Turtle. In: Rhodin, A.G.J., Iverson, J.B., van Dijk, P.P., Buhlmann, K.A., Pritchard, P.C.H., and Mittermeier, R.A. (Eds.). Conservation Biology of Freshwater Turtles and Tortoises: A Compilation Project of the IUCN/SSC Tortoise and Freshwater Turtle Specialist Group. Chelonian Research Monographs 5(10):101.1–16. doi: 10.3854/crm.5.101.subrubrum.v1.2017; iucn-tftsg.org/cbftt/.
(Adobe Acrobat 6.0 or later required)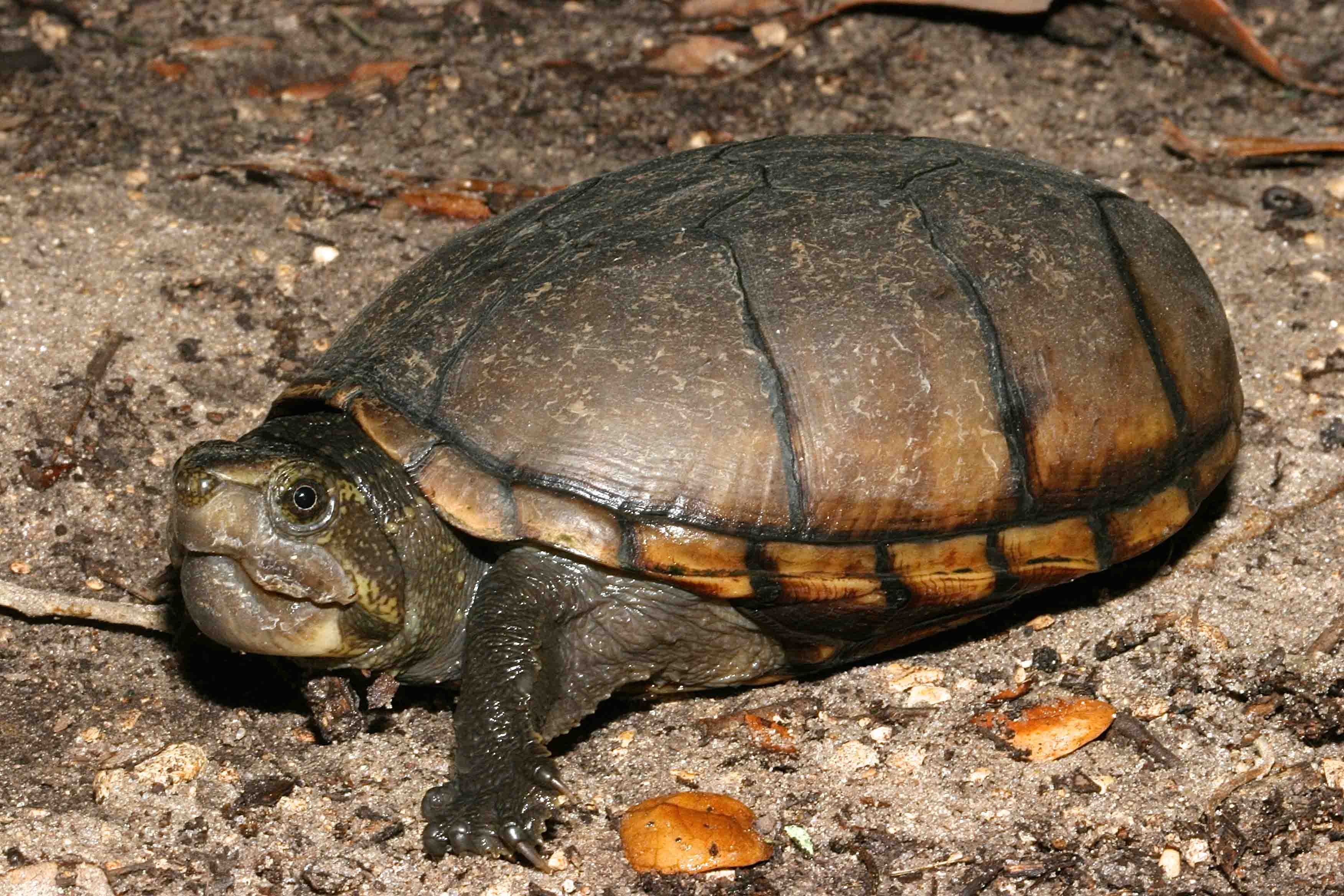 Kinosternon subrubrum subrubrum, Apalachicola National Forest, Florida, USA.
Photo by R.D. Bartlett.
Distribution: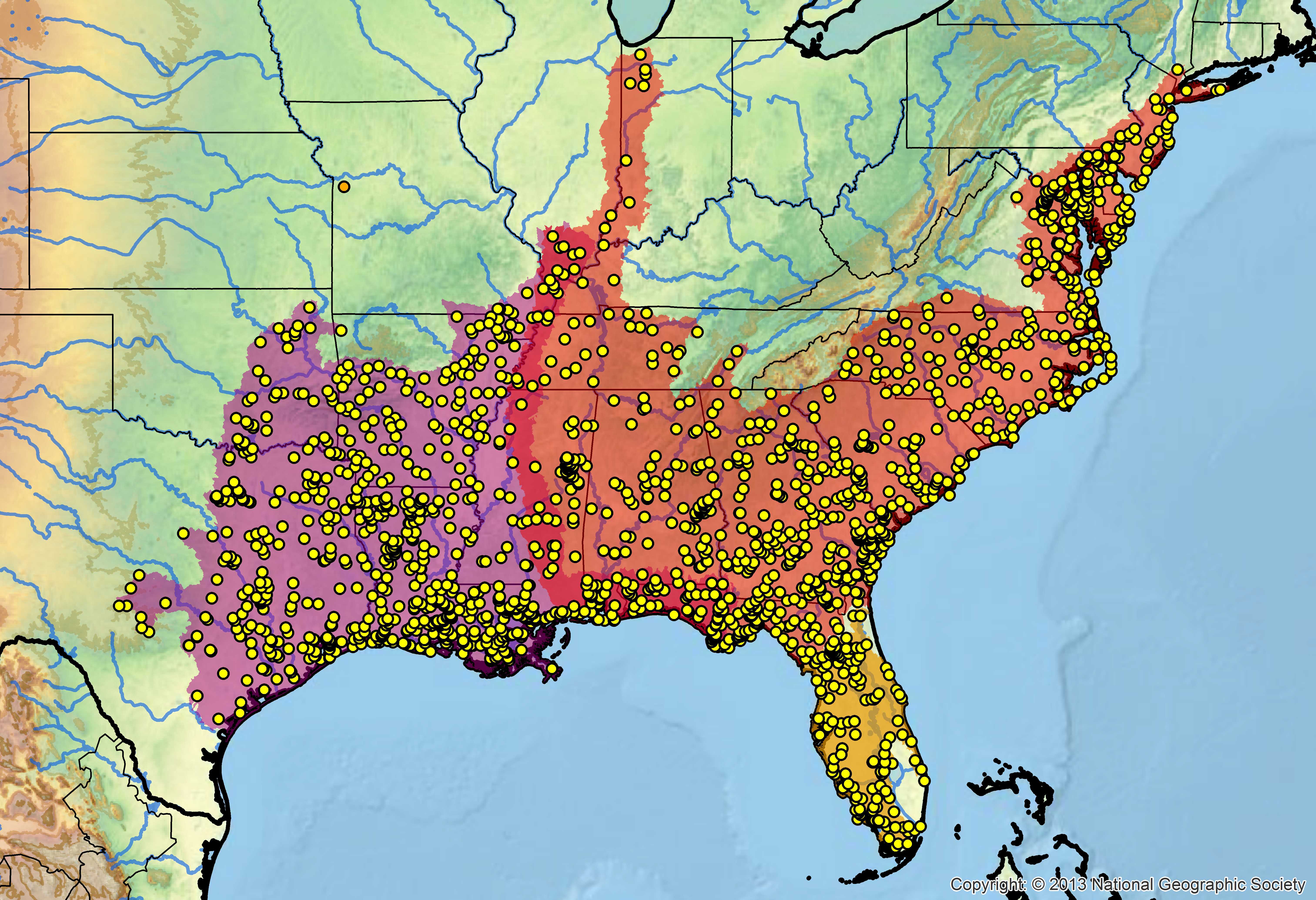 Historic distribution of Kinosternon subrubrum in eastern USA. Yellow dots = museum and literature occurrence records of native populations based on Iverson (1992), plus more recent and authors' data; orange dot = possibly introduced population; red shading = projected historic distribution of K. s. subrubrum; purple shading = K. s. hippocrepis; orange shading = K. s. steindachneri; overlap = intergrades. Distribution based on GIS-defined level 10 HUCs (hydrologic unit compartments) constructed around verified localities and then adding HUCs that connect known point localities in the same watershed or physiographic region, and similar habitats and elevations as verified HUCs (Buhlmann et al. 2009; TTWG 2014), and adjusted based on authors' subsequent data.