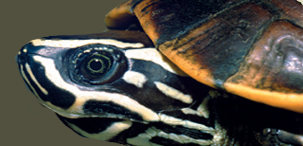 IUCN/SSC
Tortoise and Freshwater Turtle Specialist Group
Malayemys macrocephala, 108
Malayemys macrocephala (Gray 1859) –
Malayan Snail-Eating Turtle, Rice-Field Terrapin
Jeffrey E. Dawson1, Flora Ihlow2, Stephan Ettmar3,
Peter Paul van Dijk4,5, and Kumthorn Thirakhupt6
1
Saint Louis Zoo, 1 Government Drive, St. Louis, Missouri 63110 USA [[email protected]];
2Museum of Zoology, Senckenberg Dresden, Königsbrücker Landstrasse 159,
3
ZooCon – Zoological Consulting, Schönbergerweg 4, 7201 Neudörfl, Austria [[email protected]];
4
Global Wildlife Conservation, PO Box 129, Austin, Texas 78767 USA [[email protected]];
5Turtle Conservancy, 49 Bleecker Street, New York, New York 10012 USA;
6Department of Biology, Faculty of Science, Chulalongkorn University,
Summary. – The Malayan Snail-eating Turtle, Malayemys macrocephala (family Geoemydidae), is a small (carapace length generally under 200 mm) aquatic turtle native to the west-central Indochinese Peninsula and northern Malay Peninsula. Shortly after description, the species was synonymized with M. subtrijuga and only recently regained taxonomic acceptance. Sexual dimorphism is pronounced, with females growing considerably larger than males. Individuals have large heads and other specializations for a diet of predominantly molluscs. The species frequently inhabits rice fields, canals, and other lowland habitats modified by human activity. Clutches of 10 eggs or fewer are laid early in the dry season and the eggs may take several months to hatch. Despite considerable exploitation in the past, and moderate levels of collection and other threats at present, the species appears to remain relatively abundant and widespread. Additional research, including field surveys and population monitoring, in addition to abatement of water pollution and continued reduction of exploitation, are recommended conservation measures.
Distribution. – Thailand, Malaysia. Extends from northern Thailand through northern Peninsular (West) Malaysia; possibly also occurs marginally in western Laos, western Cambodia, and southeastern Myanmar.
Synonymy. – Geoclemys macrocephala Gray 1859, Clemmys macrocephala, Emys macrocephala, Damonia macrocephala, Geoclemmys macrocephala, Malayemys macrocephala, Emys megacephala Gray 1870 (nomen nudum), Damonia megacephala.
Subspecies. – None currently recognized.
Status. – IUCN 2018 Red List: Not Evaluated (NE); TFTSG Draft Red List: Least Concern (LC, assessed 2018); CITES: Appendix II.
Citation:
Dawson, J.E., Ihlow, F., Ettmar, S., van Dijk, P.P., and Thirakhupt, K. 2018. Malayemys macrocephala (Gray 1859) – Malayan Snail-eating Turtle, Rice-field Terrapin. In: Rhodin, A.G.J., Iverson, J.B., van Dijk, P.P., Stanford, C.B., Goode, E.V., Buhlmann, K.A., Pritchard, P.C.H., and Mittermeier, R.A. (Eds.). Conservation Biology of Freshwater Turtles and Tortoises: A Compilation Project of the IUCN/SSC Tortoise and Freshwater Turtle Specialist Group. Chelonian Research Monographs 5(12):108.1–16. doi: 10.3854/crm.5.108.macrocephala.v1.2018; iucn-tftsg.org/cbftt/.
(Adobe Acrobat 6.0 or later required)
Adult Malayemys macrocephala from Phetchaburi Province, Thailand.
Photo by F. Ihlow.
Distribution:
Distribution of Malayemys macrocephala in Thailand and northern Peninsular Malaysia. Yellow dots = museum and literature occurrence records of native populations based on Iverson (1992) plus more recent and authors' data; orange dots = uncertain native or trade or introduced specimens; red shading = projected historic distribution. Distribution based on GIS-defined level 10 HUCs (hydrologic unit compartments) constructed around verified localities and then adding HUCs that connect known point localities in the same watershed or physiographic region, and similar habitats and elevations as verified HUCs (Buhlmann et al. 2009; TTWG 2017), and adjusted based on authors' subsequent data.