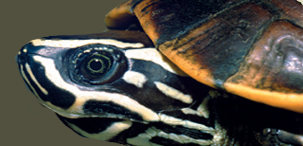 IUCN/SSC
Tortoise and Freshwater Turtle Specialist Group
Mauremys annamensis, 081
Mauremys annamensis (Siebenrock 1903) –
Vietnamese Pond Turtle, Annam Pond Turtle, Rùa Trung B?
Timothy E.M. McCormack1, Jeffrey E. Dawson2,6, Douglas B. Hendrie3, Michael A. Ewert4,8, John B. Iverson5, Ronnie E. Hatcher2,7, and J. Michael Goode2,8
1Asian Turtle Program, Room 1301, Thanh Cong Tower, 57 Lang Ha Street, Hanoi, Vietnam
[[email protected]];
2Columbus Zoo and Aquarium, P.O. Box 400, Powell, Ohio 43065 USA;
3Education for Nature – Vietnam, Office 1701, 17F, Building 17T5, Hoang Dao Thuy Street, Hanoi, Vietnam [[email protected]];
4Department of Biology, Indiana University, Bloomington, Indiana 47405 USA;
5Department of Biology, Earlham College, Richmond, Indiana 47374 USA [[email protected]];
6Present Address: Saint Louis Zoo, 1 Government Drive, St. Louis, Missouri 63110 USA [[email protected]];
7Present Address: 721 S. Warren Avenue, Columbus, Ohio 43204 USA [[email protected]];
8Deceased
Summary. – The Vietnamese Pond Turtle, Mauremys annamensis (Family Geoemydidae), is a medium-sized (carapace length to 285 mm in females, 232 mm in males), highly aquatic turtle known only from the lowland wetlands of central Vietnam. Field records are limited and the natural history of M. annamensis is poorly known, in part due to the difficulty in conducting research within the species' native range as a result of conflict and political isolation during much of the period since its description. Recent work has delimited the historical distribution and gathered evidence for the historical abundance of M. annamensis, but also indicates that the species has largely been extirpated across its range and is now extremely rare in the wild. Over-collection and habitat loss are the greatest contributors to the species' decline, while pollution and interspecific hybridization may represent additional threats. Substantial international trade in M. annamensis occurred in the past, and despite national and international protection for the species, surviving populations continue to be threatened by intensive collection efforts. In captivity, the species acclimates well and breeds readily, with females capable of producing several clutches of eggs per year. Current conservation efforts include greater enforcement of trade restrictions, the establishment of a protected habitat area, and planning for future reintroductions from captive stocks. Continued research and conservation measures are required to save this critically endangered species.
Distribution. – Vietnam. Historically ranged across central Vietnam coastal lowlands from the municipality of Da Nang and Quang Nam Province south to Phu Yen Province and west into the low-lying inland areas of Gia Lai and Dak Lak provinces.
Synonymy. – Cyclemys annamensis Siebenrock 1903, Cuora (Cyclemys) annamensis, Cuora annamensis, Annamemys annamensis, Mauremys annamensis, Annamemys annamemys (ex errore), Cathaiemys annamensis, Annamemys merkleni Bourret 1940, Annamemys mekleni (ex errore), Clemmys guangxiensis Qin 1992 (partim, hybrid), Mauremys guangxiensis, Ocadia glyphistoma McCord and Iverson 1994 (partim, hybrid).
Subspecies. – None.
Status. – IUCN 2014 Red List: Critically Endangered (CR A1d+2d, assessed 2000); TFTSG Draft Red List: Critically Endangered (CR, assessed 2011); CITES: Appendix II with zero quota for commercial purpose; Vietnam: Decree No. 32/2006/ND-CP.
Citation:
McCormack, T.E.M., Dawson, J.E., Hendrie, D.B., Ewert, M.A., Iverson, J.B., Hatcher, R.E., and Goode, J.M. 2014. Mauremys annamensis (Siebenrock 1903) – Vietnamese Pond Turtle, Annam Pond Turtle, Rùa Trung B?. In: Rhodin, A.G.J., Pritchard, P.C.H., van Dijk, P.P., Saumure, R.A., Buhlmann, K.A., Iverson, J.B., and Mittermeier, R.A. (Eds.). Conservation Biology of Freshwater Turtles and Tortoises: A Compilation Project of the IUCN/SSC Tortoise and Freshwater Turtle Specialist Group. Chelonian Research Monographs 5(7):081.1–14, doi:10.3854/crm.5.081.annamensis.v1.2014, //iucn-tftsg.org/cbftt/.
(Adobe Acrobat 6.0 or later required)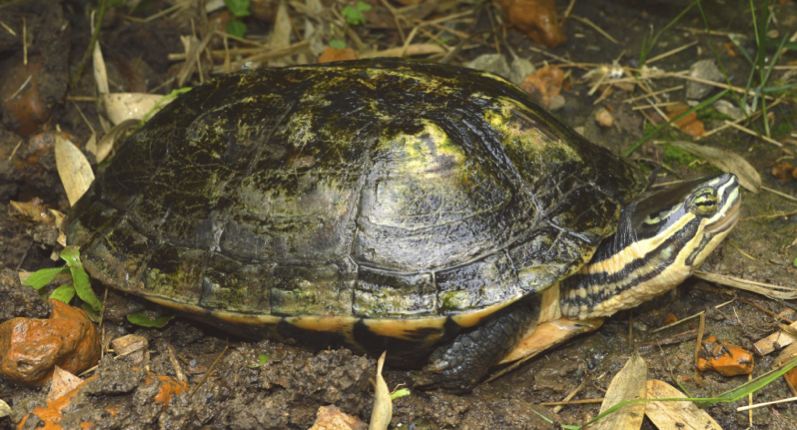 Captive adult female Mauremys annamensis.
Photo by Jeffrey E. Dawson.
Distribution: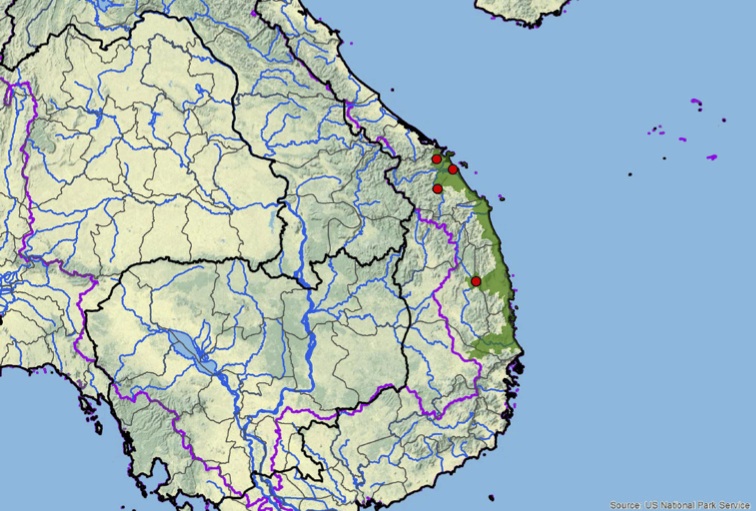 Historic distribution of Mauremys annamensis in central Vietnam in southeast Asia. Purple lines = boundaries delimiting major watersheds (level 3 hydrologic unit compartments – HUCs); red dots = museum and literature occurrence records of native populations based on Iverson (1992) plus more recent and authors' data; green shading = projected native historic distribution based on GIS-defined HUCs constructed around verified localities and then adding HUCs that connect known point localities in the same watershed or physiographic region, and similar habitats and elevations as verified HUCs (Buhlmann et al. 2009; TTWG 2014), and adjusted based on authors' subsequent data.