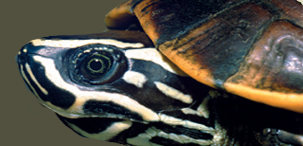 IUCN/SSC
Tortoise and Freshwater Turtle Specialist Group
Morenia petersi, 045
Morenia petersi Anderson 1879 –
Indian Eyed Turtle

Indraneil Das1 and Saibal Sengupta2
1Institute of Biodiversity and Environmental Conservation,
Universiti Malaysia Sarawak, 94300 Kota Samarahan, Sarawak, Malaysia
[[email protected]];
2Department of Zoology, Arya Vidyapeeth College, Guwahati 781 016, Assam, India
[[email protected]]

Summary. – The Indian eyed turtle, Morenia petersi (Family Geoemydidae), is a small freshwater turtle (carapace length to 222 mm) with a fairly restricted distribution in northern, eastern, and northeastern India, southern Nepal, and Bangladesh. The species may be locally common in some areas, especially in Bangladesh. It is exclusively herbivorous in the wild, with jaw surfaces highly specialized for folivory. It nests in winter, laying a single clutch of 6–10 elongate, slightly tapered eggs, measuring about 50 x 20 mm. The species appears to be threatened by heavy exploitation in Bangladesh.
Distribution. – Bangladesh, India, Nepal. Distributed across northern India, southern Nepal, and Bangladesh.
Synonymy. – Batagur (Morenia) petersi Anderson 1879, Morenia petersi.
Subspecies. – None recognized.
Status. – IUCN 2010 Red List: Vulnerable (A1cd+2d) (assessed 2000); CITES: Not Listed.
Citation:
Das, I. and Sengupta, S. 2010. Morenia petersi Anderson 1879 – Indian eyed turtle. In: Rhodin, A.G.J., Pritchard, P.C.H., van Dijk, P.P., Saumure, R.A., Buhlmann, K.A., Iverson, J.B., and Mittermeier, R.A. (Eds.). Conservation Biology of Freshwater Turtles and Tortoises: A Compilation Project of the IUCN/SSC Tortoise and Freshwater Turtle Specialist Group. Chelonian Research Monographs No. 5, pp. 045.1–045.5, doi:10.3854/crm.5.045.petersi.v1.2010, //iucn-tftsg.org/cbftt/.
(Adobe Acrobat 6.0 or later required)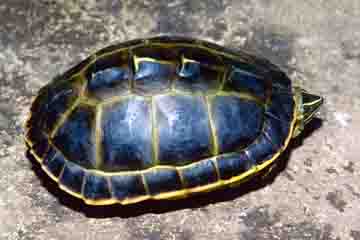 Morenia petersi, adult female from Sylhet, Bangladesh.
Photo by Indraneil Das.

Distribution: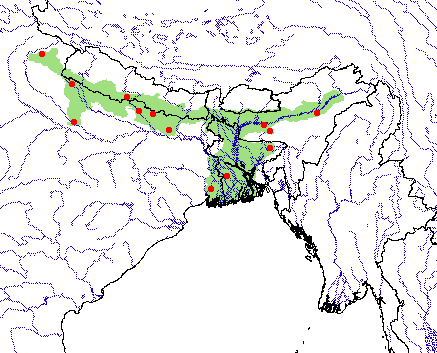 Distribution of Morenia petersi in India, Nepal, and Bangladesh. Red points = museum and literature occurrence records based on Iverson (1992) plus more recent and authors' data; green shading = projected distribution based on GIS-defined hydrologic unit compartments (HUCs) constructed around verified localities and then adding HUCs that connect known point localities in the same watershed or physiographic region, and similar habitats and elevations as verified HUCs (Buhlmann et al. 2009), and adjusted based on authors' data.