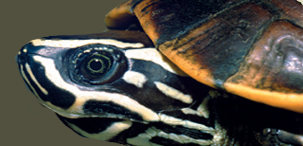 IUCN/SSC
Tortoise and Freshwater Turtle Specialist Group
Nilssonia leithii, 075
Nilssonia leithii (Gray 1872) –
Leith's Softshell Turtle
Indraneil Das1, Shashwat Sirsi2,
Karthikeyan Vasudevan3, and B.H.C.K. Murthy4
1Institute of Biodiversity and Environmental Conservation,
Universiti Malaysia Sarawak, 94300 Kota Samarahan, Sarawak, Malaysia [[email protected]];
2Turtle Survival Alliance-India, D-1/316 Sector F, Janakipuram, Lucknow 226 021, India [[email protected]];
3Laboratory for Conservation of Endangered Species, Centre for Cellular and Molecular Biology,
Pillar 162, PVNR Expressway, Hyderguda, Hyderabad 500 048, India [[email protected]];
4Zoological Survey of India, J.L. Nehru Road, Kolkata 700 016, India [[email protected]]
Summary. – Leith's Softshell Turtle, Nilssonia leithii (Family Trionychidae), is a large turtle, known to attain at least 720 mm in carapace length (bony disk plus fibrocartilage flap), and possibly as much as 1000 mm. The species inhabits the rivers and reservoirs of southern peninsular India, replacing the more familiar Indian Softshell Turtle, N. gangetica, of northern India. The turtle is apparently rare within its range, even within protected areas, which is suspected to be due to a past history of exploitation. Fish, crabs, freshwater molluscs, and mosquito larvae are taken as food, and some numbers are kept in temple tanks, where they are often fed on Hibiscus flowers. At least two clutches of eggs, which are spherical, are suspected to be produced per year.
Distribution. – India. Restricted to southern peninsular India (Andhra Pradesh, Karnataka, Kerala, Madhya Pradesh, Maharashtra, Orissa, and Tamil Nadu) in the Cauvery, Thungabhadra, Ghataprabha, Bhavani, Godavari, and Moyar drainages.
Synonymy. – Testudo gotaghol Buchanan-Hamilton in Gray 1831 (nomen nudum), Trionyx leithii Gray 1872, Isola leithii, Aspideretes leithii, Amyda leithii, Nilssonia leithii, Aspilus gataghol Gray 1872; Trionyx sulcifrons Annandale 1915.
Subspecies. – None described.
Status. – IUCN 2013 Red List: Vulnerable (VU, A1c) (assessed 2000); TFTSG Draft: Critically Endangered (CR, assessed 2011); CITES: Appendix II; Indian Wildlife (Protection) Act: Schedule IV.
Citation:
Das, I., Sirsi, S., Vasudevan, K., and Murthy, B.H.C.K. 2014. Nilssonia leithii (Gray 1872) – Leith's Softshell Turtle. In: Rhodin, A.G.J., Pritchard, P.C.H., van Dijk, P.P., Saumure, R.A., Buhlmann, K.A., Iverson, J.B., and Mittermeier, R.A. (Eds.). Conservation Biology of Freshwater Turtles and Tortoises: A Compilation Project of the IUCN/SSC Tortoise and Freshwater Turtle Specialist Group. Chelonian Research Monographs No. 5, pp. 075.1–5, doi:10.3854/crm.5.075.leithii.v1.2014, //iucn-tftsg.org/cbftt/.
(Adobe Acrobat 6.0 or later required)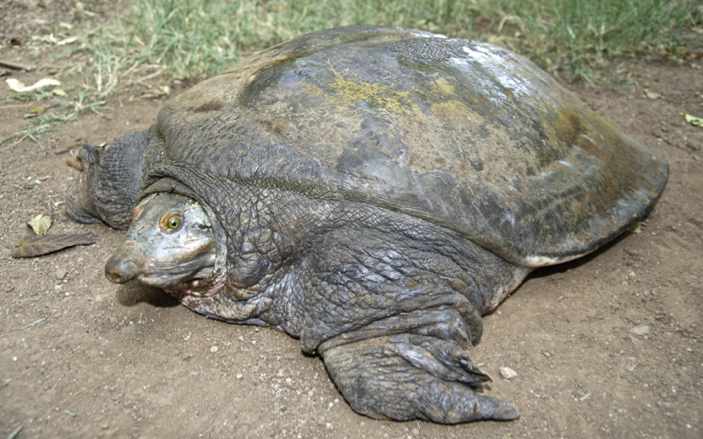 Adult female Nilssonia leithii from Godavari River near Nashik, Maharashtra, India.
Photo by Rahul Naik.
Distribution: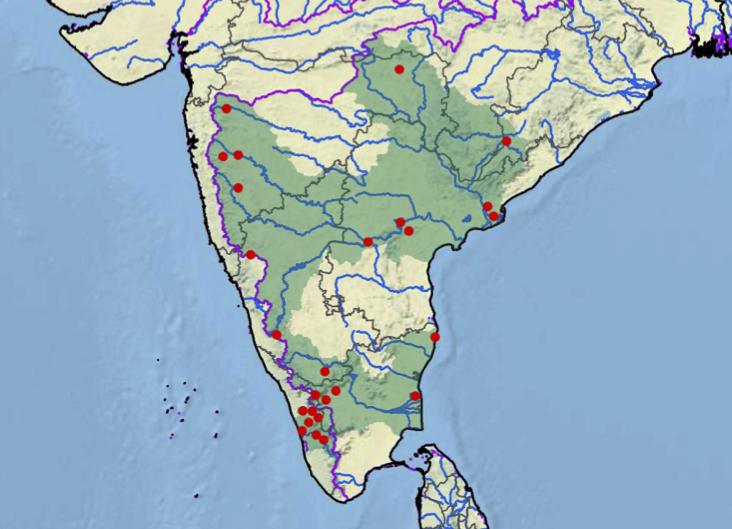 Distribution of Nilssonia leithii in India, south Asia. Purple lines = boundaries delimiting major watersheds (level 3 hydrologic unit compartments – HUCs); red dots = museum and literature occurrence records of native populations based on Iverson (1992), plus more recent and authors' data; green shading = projected native distribution based on GIS-defined HUCs constructed around verified localities and then adding HUCs that connect known point localities in the same watershed or physiographic region, and similar habitats and elevations as verified HUCs (Buhlmann et al. 2009), and adjusted based on authors' subsequent data.