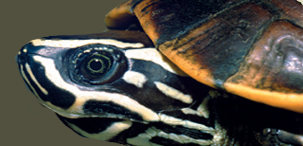 IUCN/SSC
Tortoise and Freshwater Turtle Specialist Group
Pelomedusa subrufa, 007
Pelomedusa subrufa (Lacépède 1788) –
Helmeted Turtle, Helmeted Terrapin

Richard C. Boycott1 and Ortwin Bourquin2
1P.O. Box 5245, Mbabane, Swaziland [[email protected]];
2P.O. Box 1226, Columbus, Montana 59019 USA [[email protected]]
Summary. – The helmeted turtle, Pelomedusa subrufa (Family Pelomedusidae), is a medium-sized species with a continental distribution in Africa south of the Palaearctic Region. The species appears to be very successful, common, and under no threat. In the more arid regions of southern Africa, and probably elsewhere, the species appears to be expanding its range as a result of the construction of farm dams and reservoirs.
Distribution. – Angola, Benin, Botswana, Burkina Faso, Burundi, Cameroon, Central African Republic, Chad, Congo (DRC), Congo (ROC), Eritrea, Ethiopia, Gambia, Ghana, Guinea, Ivory Coast, Kenya, Lesotho, Madagascar, Malawi, Mali, Mozambique, Namibia, Nigeria, Rwanda, Saudi Arabia, Senegal, Sierra Leone, Somalia, South Africa, Sudan, [South Sudan], Swaziland, Tanzania, Togo, Uganda, Yemen, Zambia, Zimbabwe. Distributed widely throughout Africa from Somalia and Ethiopia in the northeast (including the southwestern Arabian Peninsula) to Senegal and Mali in the northwest, southwards through central and eastern Africa to southern Africa, as far south as the Cape Peninsula and Madagascar.
Synonymy. – Testudo subrufa Lacépède 1788, Emys subrufa, Pelomedusa subrufa, Chelys (Hydraspis) subrufa, Hydraspis subrufa, Pelomedusa galeata subrufa, Pelomedusa subrufa subrufa, Testudo galeata Schoepff 1792, Emys galeata, Hydraspis galeata, Pelomedusa galeata, Pentonyx galeata, Hydraspis (Pelomedusa) galeata, Pelomedusa galeata galeata, Testudo badia Donndorff 1798, Testudo rubicunda Suckow 1798, Emys olivacea Schweigger 1812, Hydraspis (Pelomedusa) olivacea, Pelomedusa subrufa olivacea, Pentonyx capensis Duméril and Bibron 1835, Emys (Emys) capensis, Pentonyx gehafie Rüppell 1835, Pelomedusa galeata gehafie, Pelomedusa subrufa gehafie, Pentonyx americana Cornalia 1849, Pelomedusa nigra Gray 1863, Pelomedusa galeata nigra, Pelomedusa subrufa nigra, Pelomedusa gasconi Rochebrune 1884, Pelomedusa galeata disjuncta Vaillant and Grandidier 1910, Pelomedusa galeata damarensis Hewitt 1935, Pelomedusa subrufa damarensis, Pelomedusa galeata devilliersi Hewitt 1935, Pelomedusa galeata orangensis Hewitt 1935, Pelomedusa subrufa orangensis, Pelomedusa subrufa wettsteini Mertens 1937.
Subspecies. – None currently recognized; previously three: P. s. subrufa (Common African Helmeted Turtle), P. s. olivacea (North African Helmeted Turtle), and P. s. nigra (Black Helmeted Turtle).
Status. – IUCN 2007 Red List: Not Listed (= Least Concern, LR/lc) (assessed 1996, needs updating); CITES: Not Listed, previously Appendix III (Ghana).
Citation:
Boycott, R.C. and Bourquin, O. 2008. Pelomedusa subrufa (Lacépède 1788) – helmeted turtle, helmeted terrapin. In: Rhodin, A.G.J., Pritchard, P.C.H., van Dijk, P.P., Saumure, R.A., Buhlmann, K.A., and Iverson, J.B. (Eds.). Conservation Biology of Freshwater Turtles and Tortoises: A Compilation Project of the IUCN/SSC Tortoise and Freshwater Turtle Specialist Group. Chelonian Research Monographs No. 5, pp. 007.1-007.6, doi:10.3854/crm.5.007.subrufa.v1.2008, //iucn-tftsg.org/cbftt.
(Adobe Acrobat 6.0 or later required)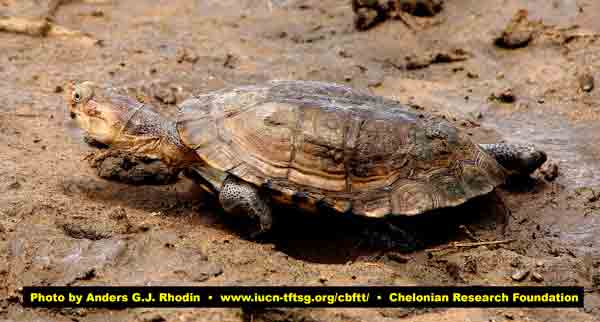 Adult male Pelomedusa subrufa, north of Cap Ste. Marie, southern Madagascar, January 2007.
Photo by Anders G.J. Rhodin.
Distribution: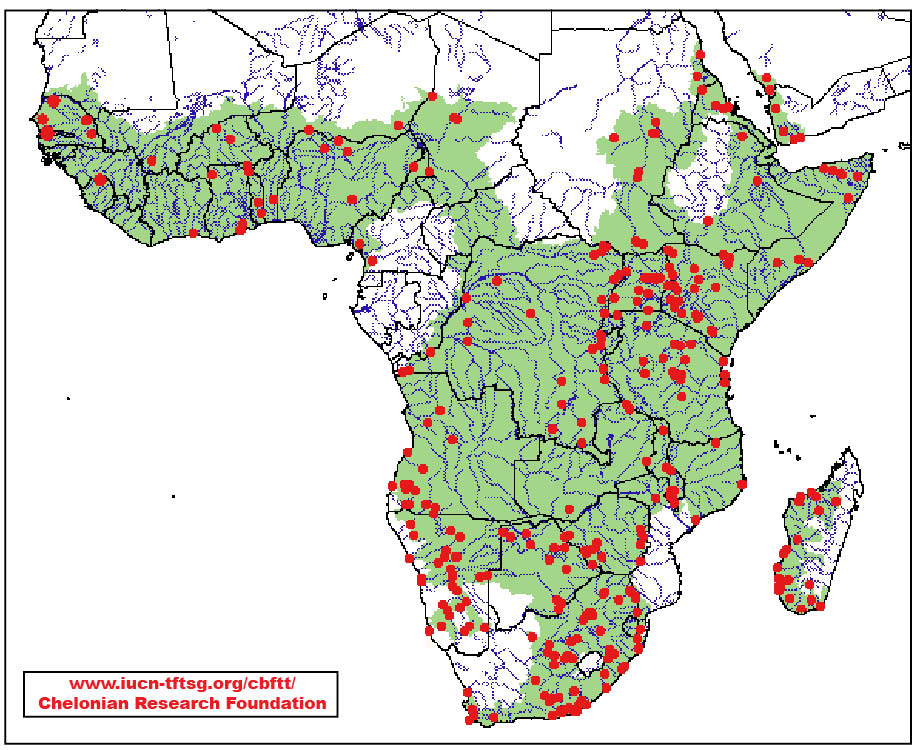 Distribution of Pelomedusa subrufa in Africa. Red points = museum and literature occurrence records based on Iverson (1992) plus more recent and authors' data; green shading = projected distribution based on GIS-defined hydrologic unit compartments (HUCs) constructed around verified localities and then adding HUCs that connect known point localities in the same watershed or physiographic region, and similar habitats and elevations as verified HUCs (Buhlmann et al., unpubl. data), and adjusted based on authors' data.