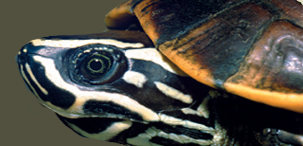 IUCN/SSC
Tortoise and Freshwater Turtle Specialist Group
Pelusios adansonii, 017
Pelusios adansonii (Schweigger 1812) –
Adanson's Mud Turtle
Roger Bour1
1Laboratoire des Reptiles et Amphibiens, Muséum National d'Histoire Naturelle,
25 rue Cuvier, 75005 Paris, France [[email protected]]
Summary. – Pelusios adansonii (Family Pelomedusidae), is a moderate-sized freshwater turtle of up to 238 mm carapace length, identified by its keeled carapace with tawny and ornate radiating dark brown spots and dashes, and by the long forelobe of the yellow plastron. The species occurs in sub-Saharan Africa in the Sahelo-Sudanese belt and, at present, does not appear to be under any major threat.
Distribution. – Benin (probably), Cameroon, Central African Republic, Chad, Ethiopia, Mali, Mauritania, Niger, Nigeria, Senegal, Sudan, [South Sudan]. Occurs in three largely disjunct populations in sub-Saharan Africa along the relatively arid Sahelo-Sudanese belt from Senegal to Sudan.
Synonymy. – Emys adansonii Schweigger 1812, Hydraspis adansonii, Pelomedusa adansonii, Sternotherus adansonii, Sternothaerus adansonii, Pentonyx adansonii, Pelusios adansonii, Pelusios adansonii adansonii.
Subspecies. – None currently recognized. Some authorities in the past recognized two subspecies, including Pelusios adansonii nanus Laurent 1956, but that taxon is now considered a distinct species, Pelusios nanus.
Status. – IUCN 2007 Red List: Not Listed (= Least Concern, LR/lc) (assessed 1996, needs updating); CITES: Not Listed (previously on Appendix III for Ghana).
Citation:
Bour, R. 2008. Pelusios adansonii (Schweigger 1812) – Adanson's mud turtle. In: Rhodin, A.G.J., Pritchard, P.C.H., van Dijk, P.P., Saumure, R.A., Buhlmann, K.A., and Iverson, J.B. (Eds.). Conservation Biology of Freshwater Turtles and Tortoises: A Compilation Project of the IUCN/SSC Tortoise and Freshwater Turtle Specialist Group. Chelonian Research Monographs No. 5, pp. 017.1-017.4, doi:10.3854/crm.5.017.adansonii.v1.2008, //iucn-tftsg.org/cbftt/.
(Adobe Acrobat 6.0 or later required)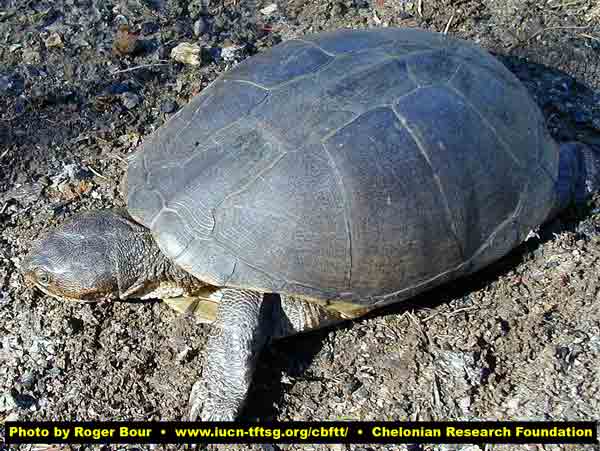 Pelusios adansonii from Lac de Guiers, Senegal.
Photo by Roger Bour.
Distribution: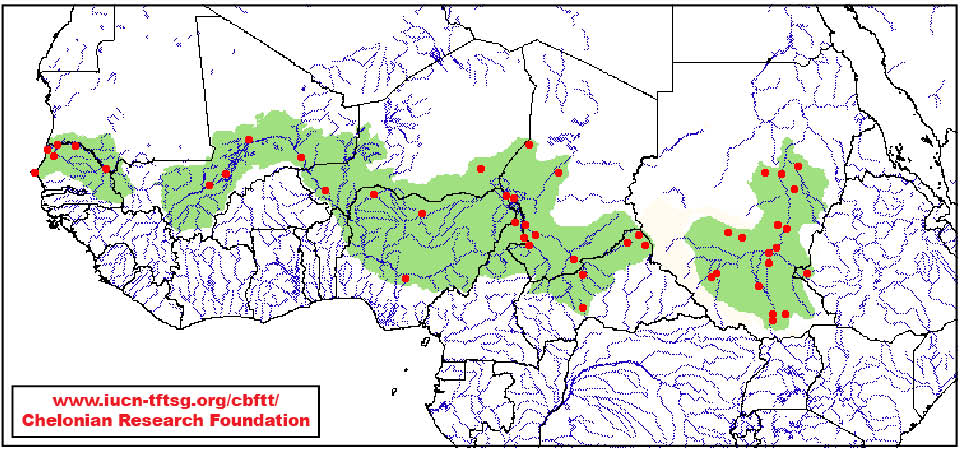 Distribution of Pelusios adansonii in sub-Saharan Africa. Red points = museum and literature occurrence records based on Iverson (1992) plus more recent and author's data; green shading = projected distribution based on GIS-defined hydrologic unit compartments (HUCs) constructed around verified localities and then adding HUCs that connect known point localities in the same watershed or physiographic region, and similar habitats and elevations as verified HUCs (Buhlmann et al., unpubl. data), and adjusted based on author's data.