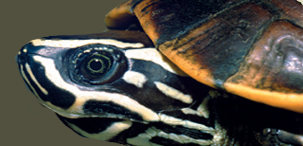 IUCN/SSC
Tortoise and Freshwater Turtle Specialist Group
Pelusios rhodesianus, 004
Pelusios rhodesianus Hewitt 1927 –
Variable Mud Turtle, Variable Hinged Terrapin

Donald G. Broadley1 and Richard C. Boycott2
1Biodiversity Foundation for Africa, P.O. Box FM 730, Famona, Bulawayo, Zimbabwe [[email protected]];
2P.O. Box 5245, Mbabane, Swaziland [[email protected]]
Summary. – The variable hinged terrapin, Pelusios rhodesianus (Family Pelomedusidae), is a moderate-sized species that inhabits weedy shallow dams and backwaters from Lake Victoria south to KwaZulu-Natal, South Africa. The populations in the main part of the species' range seem to be in good shape and the construction of storage dams provides additional suitable habitats for P. rhodesianus. However, some of the peripheral southern populations in South Africa (KwaZulu-Natal) are threatened or extinct.
Distribution. – Angola, Botswana, Burundi, Congo (DRC), Mozambique, Namibia, Rwanda, South Africa, Tanzania, Uganda, Zambia, Zimbabwe. Central and Eastern Africa from Congo in the northwest to Lake Victoria region in the northeast, south to eastern South Africa.
Synonymy. – Pelusios nigricans rhodesianus Hewitt 1927, Pelusios subniger rhodesianus, Pelusios rhodesianus, Pelusios castaneus rhodesianus, Pelusios rhodesianus rhodesianus.
Subspecies. – None recognized. Morphology suggests possible north-south geographic variation.
Status. – IUCN 2007 Red List: Least Concern (LR/lc) (assessed 1996, needs updating); CITES: Not Listed.
Citation:
Broadley, D.G. and Boycott, R.C. 2008. Pelusios rhodesianus Hewitt 1927 – variable mud turtle, variable hinged terrapin. In: Rhodin, A.G.J., Pritchard, P.C.H., van Dijk, P.P., Saumure, R.A., Buhlmann, K.A., and Iverson, J.B. (Eds.). Conservation Biology of Freshwater Turtles and Tortoises: A Compilation Project of the IUCN/SSC Tortoise and Freshwater Turtle Specialist Group. Chelonian Research Monographs No. 5, pp. 004.1-004.3, doi:10.3854/crm.5.004.rhodesianus.v1.2008, //iucn-tftsg.org/cbftt.
(Adobe Acrobat 6.0 or later required)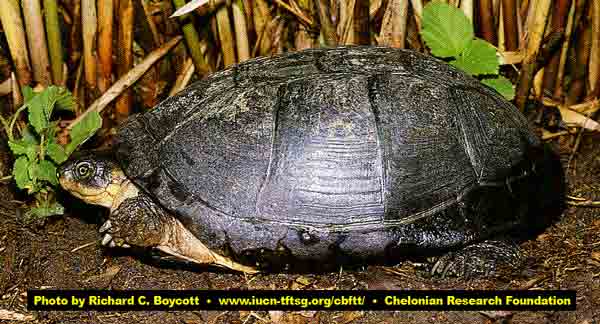 Pelusios rhodesianus: an adult from the Lake St. Lucia area, KwaZulu-Natal, South Africa.
Photo by Richard C. Boycott.
Distribution: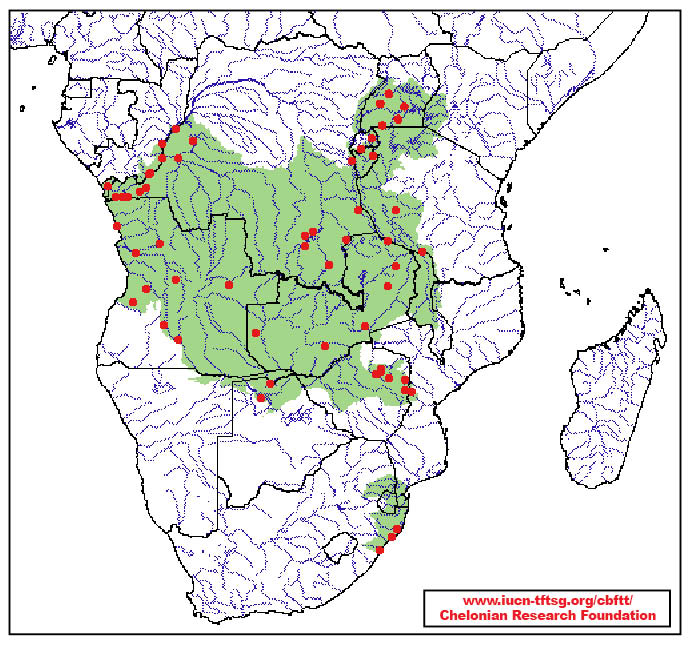 Distribution of Pelusios rhodesianus in Africa. Red points = museum and literature occurrence records based on Iverson (1992) plus more recent and authors' data; green shading = projected distribution based on GIS-defined hydrologic unit compartments (HUCs) constructed around verified localities and then adding HUCs that connect known point localities in the same watershed or physiographic region, and similar habitats and elevations as verified HUCs (Buhlmann et al., unpubl. data), and adjusted based on authors' data.