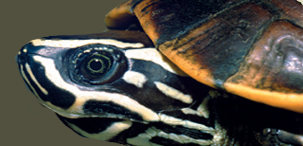 IUCN/SSC
Tortoise and Freshwater Turtle Specialist Group
Pelusios seychellensis, 018
Pelusios seychellensis (Siebenrock 1906) –
Seychelles Mud Turtle
Roger Bour1 and Justin Gerlach2
1Laboratoire des Reptiles et Amphibiens, Muséum National d'Histoire Naturelle,
25 rue Cuvier, 75005 Paris, France [[email protected]];
2133 Cherry Hinton Road, Cambridge CB1 7BX, United Kingdom [[email protected]]
Summary. – Pelusios seychellensis (Family Pelomedusidae) is a small species similar to P. castaneus, distinguishable from other Seychelles mud turtles by its black carapace and plastron. It is known from only three specimens collected in the Seychelles on Mahé Island at the end of the 19th century, probably in an inland highland marsh. The species is currently classified by the IUCN Red List as Extinct, though one or a few specimens could conceivably still persist.
Distribution. – Seychelles. Distribution restricted to Mahé Island, now probably extinct.
Synonymy. – Sternothaerus nigricans seychellensis Siebenrock 1906, Pelusios subniger seychellensis, Sternothaerus castaneus seychellensis, Pelusios castaneus seychellensis, Pelusios seychellensis.
Status. – IUCN 2007 Red List: Extinct (EX) (assessed 2003); CITES: Not Listed.
Citation:
Bour, R. and Gerlach, J. 2008. Pelusios seychellensis (Siebenrock 1906) – Seychelles mud turtle. In: Rhodin, A.G.J., Pritchard, P.C.H., van Dijk, P.P., Saumure, R.A., Buhlmann, K.A., and Iverson, J.B. (Eds.). Conservation Biology of Freshwater Turtles and Tortoises: A Compilation Project of the IUCN/SSC Tortoise and Freshwater Turtle Specialist Group. Chelonian Research Monographs No. 5, pp. 018.1-018.3, doi:10.3854/crm.5.018.seychellensis.v1.2008, //iucn-tftsg.org/cbftt/.
(Adobe Acrobat 6.0 or later required)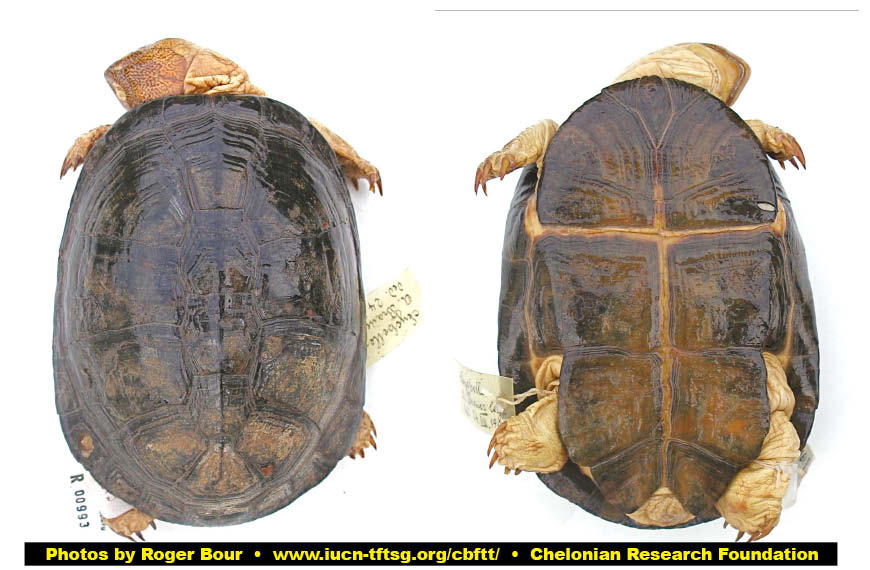 Female Pelusios seychellensis, one of three known specimens, collected 1895 on Mahé, Seychelles.
Photos by Roger Bour.
Distribution: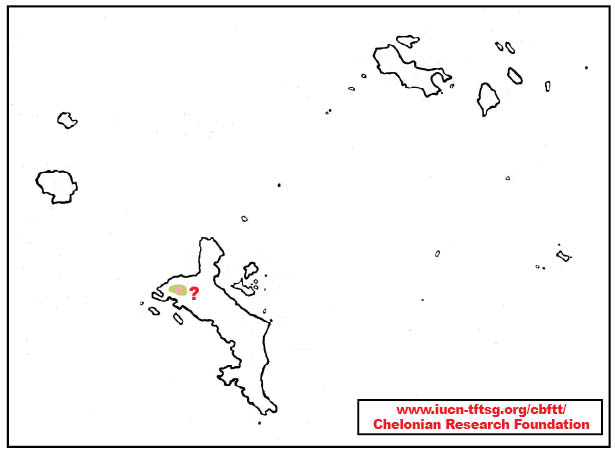 Distribution of Pelusios seychellensis in the Seychelles islands, east of Africa in the Indian Ocean. Pink point = probable location of extirpated population; olive shading = probable area of extirpated distribution.