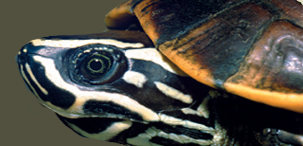 IUCN/SSC
Tortoise and Freshwater Turtle Specialist Group
Pseudemys alabamensis, 019
Pseudemys alabamensis Baur 1893 –
Alabama Red-Bellied Cooter, Alabama Red-Bellied Turtle
Christopher J. Leary1, James L. Dobie2, Thomas M. Mann3,
Peter S. Floyd4, and David H. Nelson5
1Department of Biology, University of Utah,
257 South 1400 East, Salt Lake City, Utah 84112 USA [[email protected]];
2211 South Spanish Oak Trail, Kerrville, Texas 78028 USA [[email protected]];
3Mississippi Museum of Natural Science, Mississippi Department of Wildlife, Fisheries, and Parks,
2148 Riverside Drive, Jackson, Mississippi 39202 USA [[email protected]];
4Field Associate, Mississippi Museum of Natural Science, 515 Hague Street, Pascagoula, Mississippi 39567 USA;
5Department of Biological Sciences, University of South Alabama,
Mobile, Alabama 36688 USA [[email protected]]
Summary. – The Alabama red-bellied cooter, Pseudemys alabamensis (Family Emydidae), is a poorly known aquatic species, most closely allied with members of the P. rubriventris complex. It is an Alabama and Mississippi endemic, found in the lower part of the Mobile Bay Drainage Basin in Mobile and Baldwin counties, Alabama, as well as the Pascagoula River and Back Bay of Biloxi watersheds in Harrison and Jackson counties, Mississippi. The species was designated as Endangered by the U.S. Fish and Wildlife Service in 1987 and as Endangered by the IUCN Red List. Threats to the species include predation by hogs, raccoons, crows, and fire ants; harvesting and collecting (including human consumption of eggs); destruction of submerged vegetation beds by dredging; pollution and development; destruction of nesting habitat; bulkheading of bayous (preventing access of females to upland nesting sites); incidental capture by recreational fishermen on baited hooks; and injury from boat propellers and vehicular traffic. A recovery plan for the species was approved in 1990. Pseudemys alabamensis is the Official State Reptile of Alabama.
Distribution. – USA. Restricted to the lower Mobile Bay drainage of southwestern Alabama and the Biloxi drainage of southeastern Mississippi.
Synonymy. – Pseudemys alabamensis Baur 1893, Pseudemys rubriventris alabamensis, Chrysemys (Pseudemys) alabamensis, Chrysemys rubriventris alabamensis.
Subspecies. – None recognized. The southeastern Mississippi population differs slightly morphologically but is not recognized as a distinct taxon; genetic phylogeographic analysis is needed.
Status. – IUCN 2007 Red List: Endangered (EN B1+2c) (assessed 1996, needs updating); CITES: Not Listed; US ESA: Endangered.
Citation:
Leary, C.J., Dobie, J.L., Mann, T.M., Floyd, P.S., and Nelson, D.H. 2008. Pseudemys alabamensis Baur 1893 – Alabama red-bellied cooter, Alabama red-bellied turtle. In: Rhodin, A.G.J., Pritchard, P.C.H., van Dijk, P.P., Saumure, R.A., Buhlmann, K.A., and Iverson, J.B. (Eds.). Conservation Biology of Freshwater Turtles and Tortoises: A Compilation Project of the IUCN/SSC Tortoise and Freshwater Turtle Specialist Group. Chelonian Research Monographs No. 5, pp. 019.1-019.9, doi:10.3854/crm.5.019.alabamensis.v1.2008, //iucn-tftsg.org/cbftt/.
(Adobe Acrobat 6.0 or later required)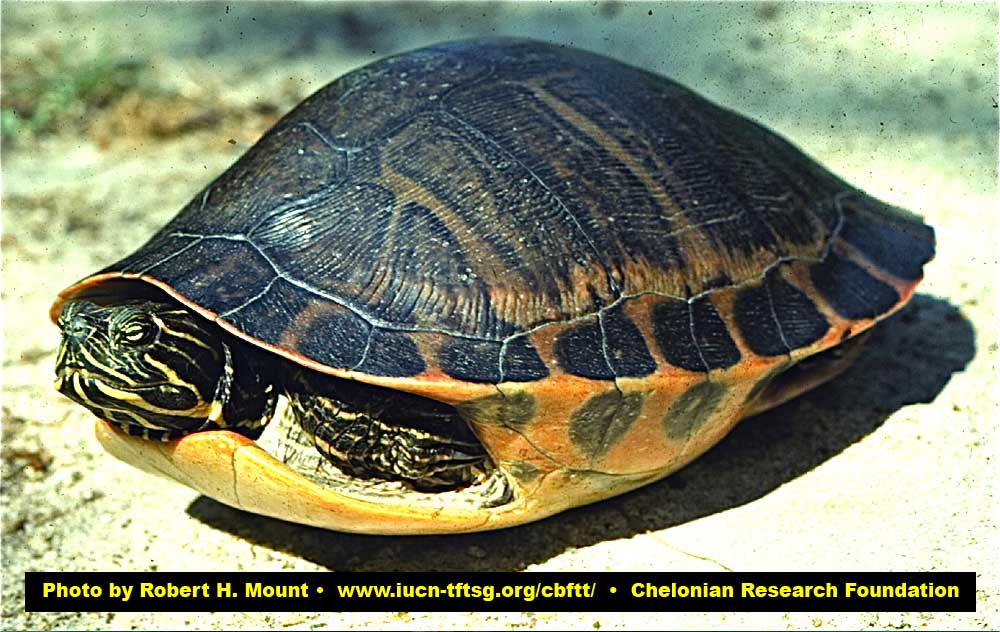 Adult female Pseudemys alabamensis.
Photo by Robert H. Mount.
Distribution: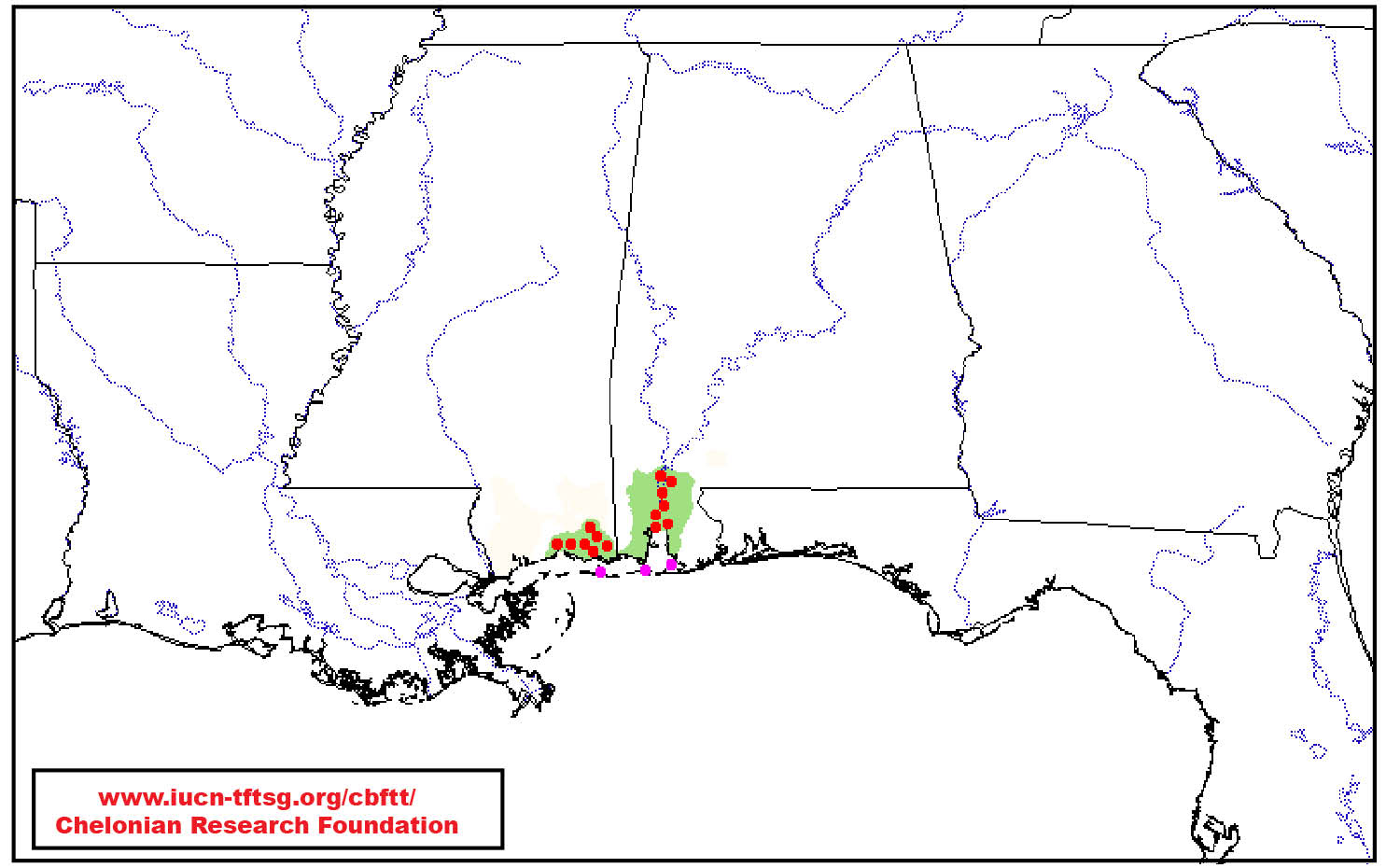 Distribution of Pseudemys alabamensis in southeastern USA. Red points = museum and literature occurrence records based on Iverson (1992) plus more recent and authors' data; purple points = waifs reported from offshore islands, not representing actual populations; green shading = projected distribution based on GIS-defined hydrologic unit compartments (HUCs) constructed around verified localities and then adding HUCs that connect known point localities in the same watershed or physiographic region, and similar habitats and elevations as verified HUCs (Buhlmann et al., unpubl. data), and adjusted based on authors' data.