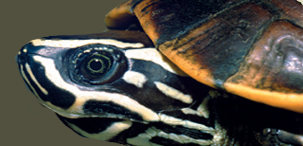 IUCN/SSC
Tortoise and Freshwater Turtle Specialist Group
Pseudemys concinna, 006
Pseudemys concinna (LeConte 1830) –
River Cooter

Joseph P. Ward1 and Dale R. Jackson2
16899 South Highway A1A, Melbourne Beach, Florida 32951 USA [[email protected]];
2Florida Natural Areas Inventory, Florida State University,
1018 Thomasville Road, Suite 200-C, Tallahassee, Florida 32303 USA [[email protected]]
Summary. – Pseudemys concinna (Family Emydidae) is a large, riverine turtle that occurs in relatively dense populations throughout the eastern and southern parts of the United States. Currently generally recognized subspecies include P. c. concinna and P. c. suwanniensis. Studies of diet, reproduction, and population demography have focused chiefly on Florida populations. There is little reason to be concerned about the species' survival, although no definitive studies have been conducted to establish population dynamics or statistics across its entire distribution. Further study is necessary to determine whether specific protective measures beyond those already in place in some states are needed.
Distribution. – USA. Southeastern USA from Virginia through Florida to eastern Texas.
Synonymy. – Testudo concinna LeConte 1830, Emys (Testudo) concinna, Terrapene concinna, Clemmys (Clemmys) concinna, Pseudemys concinna, Ptychemys concinna, Chrysemys concinna, Emys annulifera Gray 1830, Trachemys annulifera, Emys hieroglyphica Holbrook 1836, Pseudemys hieroglyphica, Ptychemys hieroglyphica, Clemmys hieroglyphica, Chrysemys hieroglyphica, Pseudemys floridana hieroglyphica, Pseudemys concinna hieroglyphica, Chrysemys concinna hieroglyphica, Emys mobilensis Holbrook 1838, Emys mobiliensis, Ptychemys mobiliensis, Clemmys mobilensis, Pseudemys mobiliensis, Pseudemys mobilensis, Chrysemys mobiliensis, Clemmys mobiliensis, Pseudemys floridana mobiliensis, Pseudemys concinna mobilensis, Pseudemys floridana mobilensis, Pseudemys concinna mobiliensis, Chrysemys concinna mobilensis, Emys labyrinthica Duméril and Bibron 1851, Clemmys labyrinthica, Pseudemys labyrinthica, Chrysemys labyrinthica, Ptychemys hoyi Agassiz 1857, Pseudemys concinna hoyi, Pseudemys floridana hoyi, Chrysemys floridana hoyi, Emys orthonyx Wied 1865, Pseudemys elonae Brimley 1928, Pseudemys vioscana Brimley 1928, Pseudemys concinna metteri Ward 1984.
Subspecies. – Two currently recognized: Pseudemys concinna concinna (Eastern River Cooter) (synonyms: Pseudemys floridana concinna, Chrysemys concinna concinna); and Pseudemys concinna suwanniensis (Suwannee Cooter) (synonymy: Pseudemys floridana suwanniensis Carr 1937, Chrysemys concinna suwanniensis, Pseudemys suwanniensis).
Status. – IUCN 2007 Red List: Not Listed (= Least Concern, LR/lc) (assessed 1996, needs updating); CITES: Not Listed; US ESA: Not Listed.
Citation:
Ward, J.P. and Jackson, D.R. 2008. Pseudemys concinna (Le Conte 1830) – river cooter. In: Rhodin, A.G.J., Pritchard, P.C.H., van Dijk, P.P., Saumure, R.A., Buhlmann, K.A., and Iverson, J.B. (Eds.). Conservation Biology of Freshwater Turtles and Tortoises: A Compilation Project of the IUCN/SSC Tortoise and Freshwater Turtle Specialist Group. Chelonian Research Monographs No. 5, pp. 006.1-006.7, doi:10.3854/crm.5.006.concinna.v1.2008, //iucn-tftsg.org/cbftt.
(Adobe Acrobat 6.0 or later required)
Adult female Pseudemys concinna concinna from Spring Creek, Decatur Co., Georgia, USA.
Photo by Peter A. Meylan.
Distribution:
Distribution of Pseudemys concinna in southeastern USA. Red points = museum and literature occurrence records based on Iverson (1992) plus more recent and authors' data; green shading = projected distribution based on GIS-defined hydrologic unit compartments (HUCs) constructed around verified localities and then adding HUCs that connect known point localities in the same watershed or physiographic region, and similar habitats and elevations as verified HUCs (Buhlmann et al., unpubl. data), and adjusted based on authors' data.