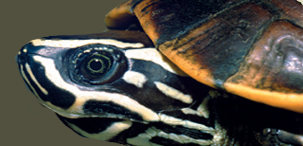 IUCN/SSC
Tortoise and Freshwater Turtle Specialist Group
Rhinoclemmys areolata, 022
Rhinoclemmys areolata (Duméril and Bibron 1851) –
Furrowed Wood Turtle, Black-Bellied Turtle, Mojena
Richard C. Vogt1, Steven G. Platt2, and Thomas R. Rainwater3
1CPBA/INPA, Caixa Postal 478, Petropolis, Manaus, AM 69011-970, Brazil [[email protected]];
2Department of Biology, P.O. Box C-64, Sul Ross State University, Alpine, Texas 79832 USA [[email protected]];
3The Institute of Environmental and Human Health, Department of Environmental Toxicology, Texas Tech University, P.O. Box 764, Jefferson, Texas, 75657 USA [[email protected]]
Summary. – Rhinoclemmys areolata (Family Geoemydidae) is a medium-sized, semi-terrestrial turtle common to southeastern Mexico and the Yucatan Peninsula, the Petén region of Guatemala, Belize, and northwestern Honduras. Rhinoclemmys areolata feeds primarily on herbaceous plants, but also consumes fruits, insects, and occasionally carrion. This species is characterized by a small clutch of 1 to 2 large eggs. Populations do not seem to be threatened at this time.
Distribution. – Belize, Guatemala, Honduras, Mexico. Distributed from southern Veracruz southwards through the Yucatan Peninsula in Mexico, northern Guatemala, throughout Belize, and northwestern Honduras.
Synonymy. – Emys areolata Duméril and Bibron 1851, Malaclemmys concentrica areolata, Malaclemys concentrica areolata, Clemmys areolata, Chelopus areolatus, Nicoria punctularia areolata, Geoemyda punctularia areolata, Geoemyda areolata, Geomyda punctularia areolata, Geomyda areolata, Rhinoclemys areolata, Rhinoclemmys areolata, Callopsis areolata.
Subspecies. – None recognized.
Status. – IUCN 2008 Red List: Near Threatened (LR/nt) (assessed 2007); CITES: Not Listed.
Citation:
Vogt, R.C., Platt, S.G., and Rainwater, T.R. 2009. Rhinoclemmys areolata (Duméril and Bibron 1851) – furrowed wood turtle, black-bellied turtle, mojena. In: Rhodin, A.G.J., Pritchard, P.C.H., van Dijk, P.P., Saumure, R.A., Buhlmann, K.A., Iverson, J.B., and Mittermeier, R.A. (Eds.). Conservation Biology of Freshwater Turtles and Tortoises: A Compilation Project of the IUCN/SSC Tortoise and Freshwater Turtle Specialist Group. Chelonian Research Monographs No. 5, pp. 022.1-022.7, doi:10.3854/crm.5.022.areolata.v1.2009, //iucn-tftsg.org/cbftt/.
(Adobe Acrobat 6.0 or later required)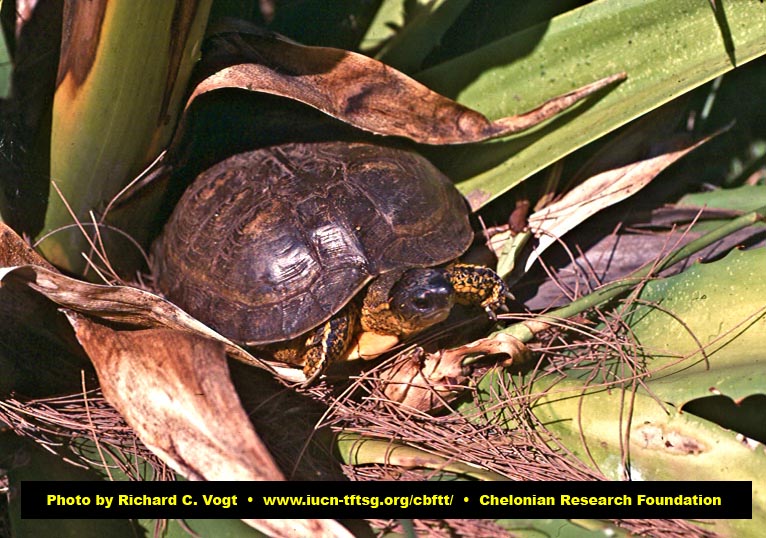 Rhinoclemmys areolata from Lerdo de Tejada, Veracruz, Mexico. Photo by Richard C. Vogt.
Distribution: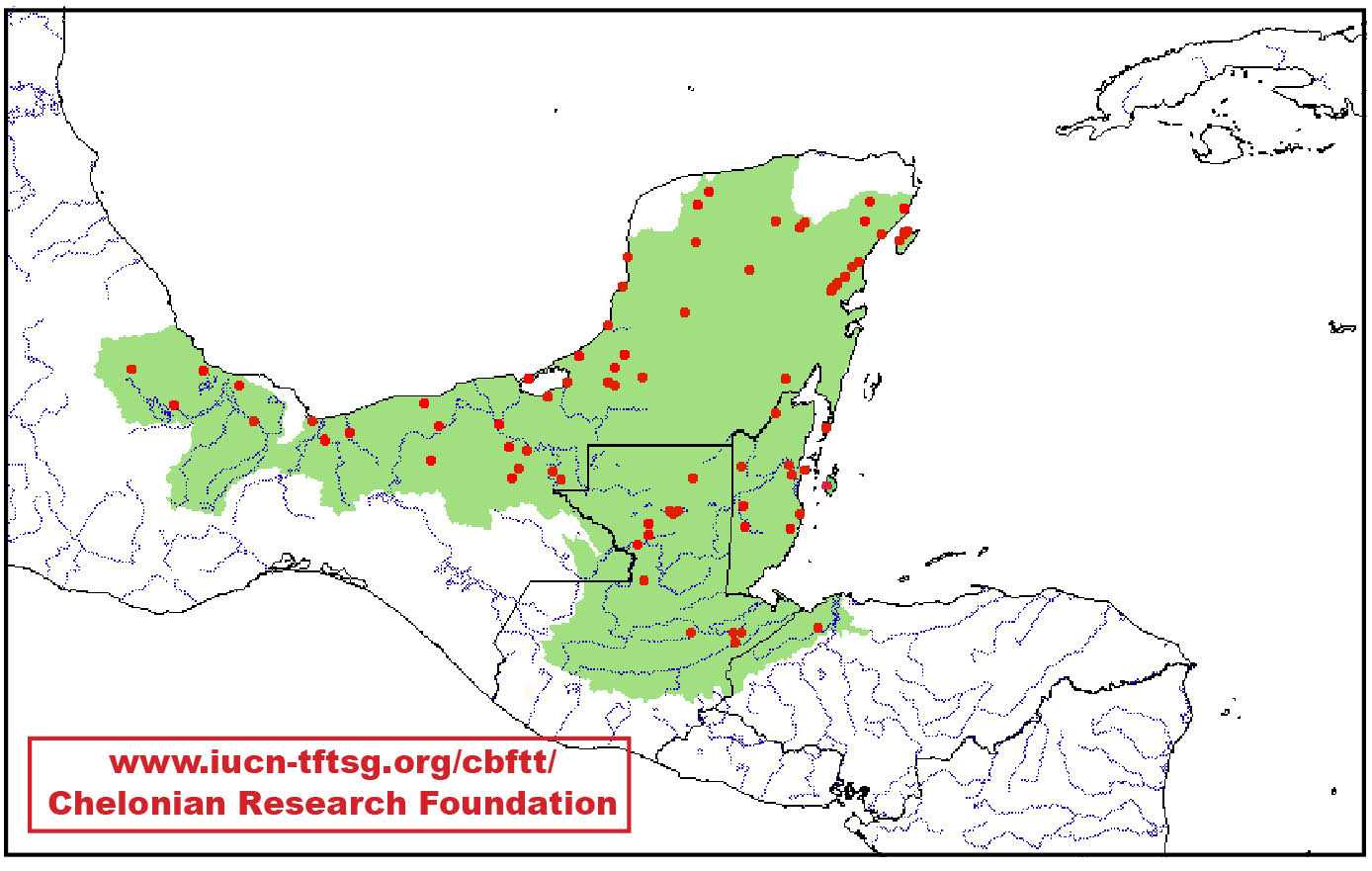 Distribution of Rhinoclemmys areolata in southern Mexico and northern Central America. Red points = museum and literature occurrence records based on Iverson (1992) plus more recent and authors' data; green shading = projected distribution based on GIS-defined hydrologic unit compartments (HUCs) constructed around verified localities and then adding HUCs that connect known point localities in the same watershed or physiographic region, and similar habitats and elevations as verified HUCs (Buhlmann et al., unpubl. data), and adjusted based on authors' data.