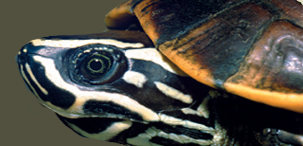 IUCN/SSC
Tortoise and Freshwater Turtle Specialist Group
Rhinoclemmys nasuta, 034
Rhinoclemmys nasuta (Boulenger 1902) –
Large-Nosed Wood Turtle, Chocoan River Turtle
John L. Carr1,2 and Alan Giraldo2
1University of Louisiana at Monroe, Department of Biology and
Museum of Natural History, Monroe, Louisiana 71209-0520 USA [[email protected]];
2Universidad del Valle, Facultad de Ciencias, Departamento de Biología, Sección de Zoología,
Grupo de Investigación en Ecología Animal, A.A. 25360, Cali, Colombia [[email protected]]
Summary. – The large-nosed wood turtle, Rhinoclemmys nasuta (Family Geoemydidae), is a small to medium-sized aquatic turtle (carapace length to 228 mm) found in a variety of northwestern South American water bodies, including small streams and rivers. It has a restricted distribution in the Chocoan rain forest of Pacific coastal Colombia and Ecuador. The species is known to have a primarily herbivorous diet, but small invertebrates are also eaten. Females lay one large egg per clutch. Adults exhibit female-biased sexual size dimorphism, and growth to maturity is protracted, with estimates varying from 12 to 14 years for males and females, respectively. Although its conservation status has not been studied thoroughly, the species is eaten on a subsistence basis, but it is not thought to be threatened by commercialization. Deforestation within the species range has not been studied with respect to its effect on this highly aquatic species. This species occurs in one protected area in Ecuador and may occur in others in Colombia.
Distribution. – Colombia, Ecuador. Confined to the Chocoan rainforest area in Pacific coastal drainages of northwestern Ecuador and western Colombia, and the middle and upper portion of the Caribbean-draining Río Atrato basin in northwestern Colombia.
Synonymy. – Nicoria nasuta Boulenger 1902, Geoemyda nasuta, Geoemyda punctularia nasuta, Rhinoclemmys punctularia nasuta, Rhinoclemmys nasuta, Callopsis punctularia nasuta, Callopsis nasuta.
Subspecies. – There are no recognized subspecies.
Status. – IUCN 2009 Red List Status: Near Threatened (LR/nt) (assessed 1996, needs updating); CITES: Not Listed; Colombian Red Data Book: Data Deficient.
Citation:
Carr, J.L. and Giraldo, A. 2009. Rhinoclemmys nasuta (Boulenger 1902) – large-nosed wood turtle, Chocoan river turtle. In: Rhodin, A.G.J., Pritchard, P.C.H., van Dijk, P.P., Saumure, R.A., Buhlmann, K.A., Iverson, J.B., and Mittermeier, R.A. (Eds.). Conservation Biology of Freshwater Turtles and Tortoises: A Compilation Project of the IUCN/SSC Tortoise and Freshwater Turtle Specialist Group. Chelonian Research Monographs No. 5, pp. 034.1-034.6, doi:10.3854/crm.5.034.nasuta.v1.2009, //iucn-tftsg.org/cbftt/.
(Adobe Acrobat 6.0 or later required)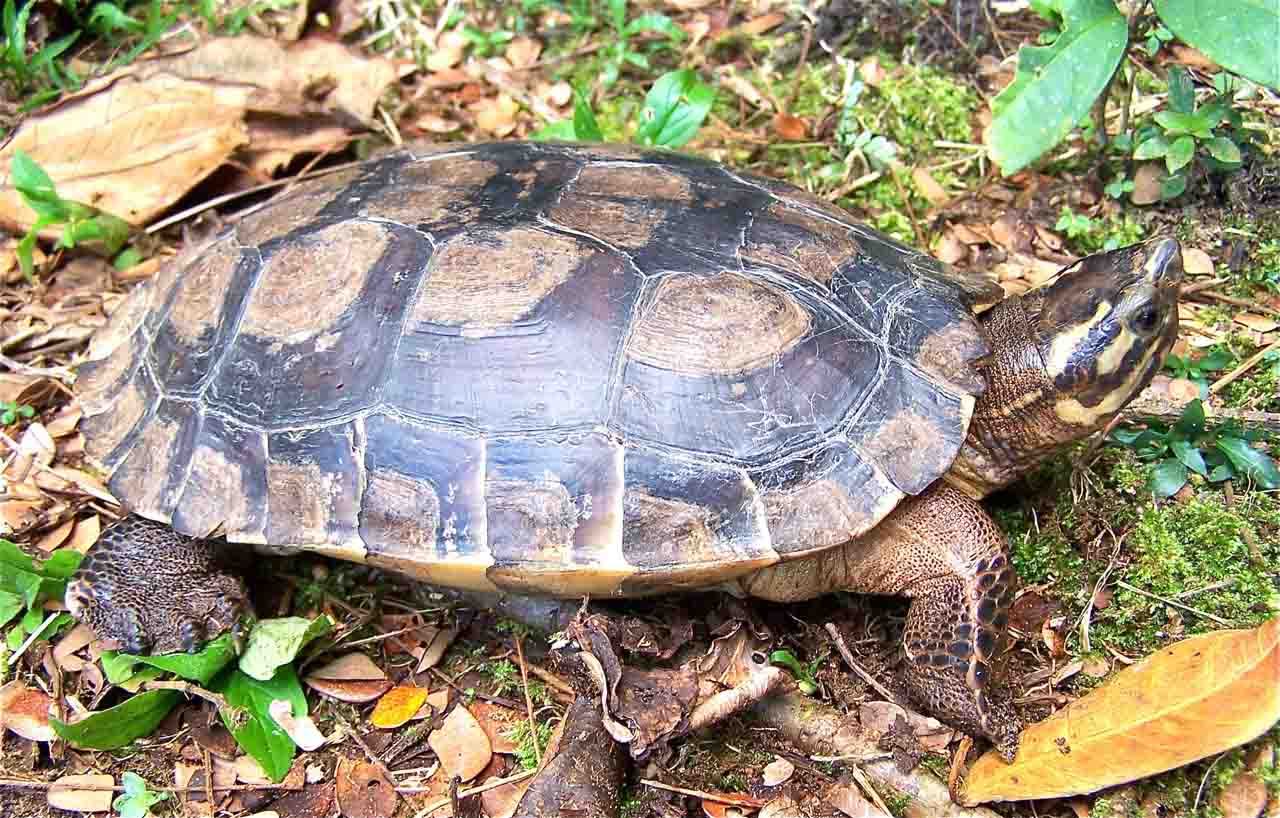 Adult female Rhinoclemmys nasuta from Isla Palma, Departamento del Valle, Colombia.
Photo by José Vicente Rueda-Almonacid.
Distribution: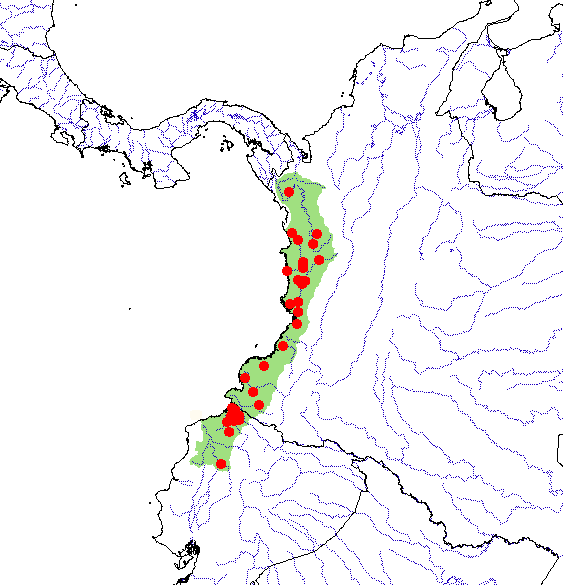 Distribution of Rhinoclemmys nasuta in Ecuador and Colombia, northwestern South America. Red points = museum and literature occurrence records based on Carr and Almendáriz (1990), Iverson (1992), Vargas and Bolaños (2000), Castaño-Mora et al. (2004), and Ortega and Regalado-Sotelo (in press), plus more recent and authors' data; green shading =  projected distribution based on GIS-defined hydrologic unit compartments (HUCs) constructed around verified localities and then adding HUCs that connect known point localities in the same watershed or physiographic region, and similar habitats and elevations as verified HUCs (Buhlmann et al., in press), and adjusted based on authors' data.