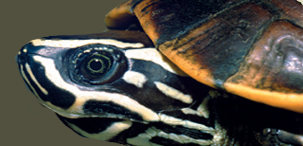 IUCN/SSC
Tortoise and Freshwater Turtle Specialist Group
Sternotherus carinatus, 012
Sternotherus carinatus (Gray 1856) –
Razorback Musk Turtle, Razor-Backed Musk Turtle
Peter V. Lindeman1
1Department of Biology and Health Services, 150 Cooper Hall,
Edinboro University of Pennsylvania, Edinboro, Pennsylvania 16444 USA
[[email protected]]
Summary
. – Sternotherus carinatus (Family Kinosternidae) is a poorly-known species by the standards of the North American chelonian literature. It inhabits medium to large streams and associated aquatic habitats in portions of six states of the south-central USA. Little note has been made of the species being a conservation concern, and indeed, it appears abundant and stable in parts of its range. Further studies on abundance in different types of habitats, response to river impoundments, and the demographic impact of collection for the pet trade are necessary to determine whether there is a need for conservation actions regarding this species. A study of interdrainage genetic variation would also be useful for the conservation of this species.
Distribution. – USA. Restricted to six south-central states, from the Brazos River drainage in eastern Texas eastward to the Pascagoula River drainage in southeastern Mississippi and Mobile County in southwestern Alabama.
Synonymy. – Aromochelys carinata Gray 1856, Aromochelys carinatum, Aromochelys carinatus, Goniochelys carinata, Cinosternum carinatum, Kinosternon carinatum, Sternotherus carinatus, Sternothaerus carinatus
, Kinosternon carinatus, Goniochelys triquetra Agassiz 1857.
Subspecies. – None recognized.
Status. – IUCN 2007 Red List: Not Listed (= Least Concern, LR/lc) (assessed 1996, needs updating); CITES: Not Listed; US ESA: Not Listed.
Citation:
Lindeman, P.V. 2008. Sternotherus carinatus Gray 1856 – razorback musk turtle, razor-backed musk turtle. In: Rhodin, A.G.J., Pritchard, P.C.H., van Dijk, P.P., Saumure, R.A., Buhlmann, K.A., and Iverson, J.B. (Eds.). Conservation Biology of Freshwater Turtles and Tortoises: A Compilation Project of the IUCN/SSC Tortoise and Freshwater Turtle Specialist Group. Chelonian Research Monographs No. 5, pp. 012.1-012.6, doi:10.3854/crm.5.012.carinatus.v1.2008, //iucn-tftsg.org/cbftt/.
(Adobe Acrobat 6.0 or later required)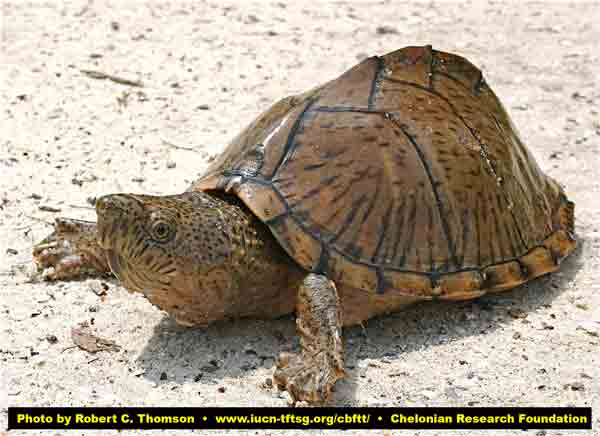 Adult Sternotherus carinatus on a beach on the Pascagoula River, Mississippi.
Photo by Robert C. Thomson.
Distribution: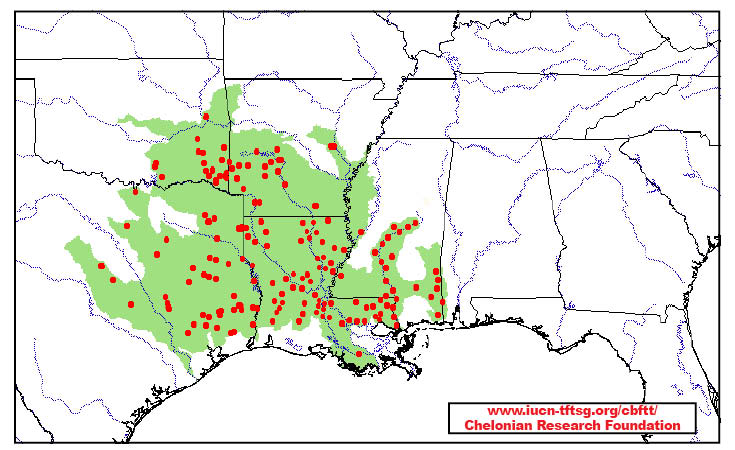 Distribution of Sternotherus carinatus in southeastern USA. Red points = museum and literature occurrence records based on published records plus more recent and author's data; green shading = projected distribution based on GIS-defined hydrologic unit compartments (HUCs) constructed around verified localities and then adding HUCs that connect known point localities in the same watershed or physiographic region, and similar habitats and elevations as verified HUCs (Buhlmann et al., unpubl. data), and adjusted based on author's data.