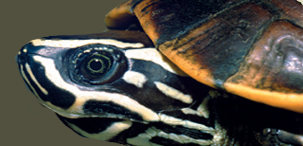 IUCN/SSC
Tortoise and Freshwater Turtle Specialist Group
Sternotherus depressus, 013
Sternotherus depressus Tinkle and Webb 1955 –
Flattened Musk Turtle
C. Kenneth Dodd, Jr.1
1Department of Wildlife Ecology and Conservation, University of Florida,
Gainesville, Florida 32611 USA [[email protected]]
Summary. – Sternotherus depressus (Family Kinosternidae) is a crevice-adapted species endemic to clear, clean streams and rivers of the upper Warrior River Basin, north-central Alabama. It is threatened by habitat alteration and degradation, disease, and possibly by collecting. The turtle is protected by United States federal and Alabama state law. Conservation measures should include research on life history, habitat use, demography, genetics of fragmented populations, and the effects of disease (if still present) on both individual turtles and affected populations. Historical locations, especially important sites sampled from 1981 to 2003, should be re-sampled and designated permanent monitoring sites. Local efforts to restore stream quality in the Warrior River Basin need to be undertaken, adjacent riparian habitats must be protected, laws and regulations should be enforced, and government agencies and non-governmental organizations should promote an understanding of the importance of biodiversity and endangered species management to residents and county officials.
Distribution. – USA. Restricted to the upper Warrior River Basin, north-central Alabama.
Synonymy. – Sternotherus depressus Tinkle and Webb 1955, Sternothaerus depressus, Sternotherus minor depressus, Kinosternon depressum.
Subspecies. – None recognized.
Status. – IUCN 2007 Red List: Vulnerable (VU B1+2c) (assessed 1996, needs updating); CITES: Not Listed; US ESA: Threatened.
Citation:
Dodd, C.K., Jr. 2008. Sternotherus depressus Tinkle and Webb 1955 – flattened musk turtle. In: Rhodin, A.G.J., Pritchard, P.C.H., van Dijk, P.P., Saumure, R.A., Buhlmann, K.A., and Iverson, J.B. (Eds.). Conservation Biology of Freshwater Turtles and Tortoises: A Compilation Project of the IUCN/SSC Tortoise and Freshwater Turtle Specialist Group. Chelonian Research Monographs No. 5, pp. 013.1-013.7, doi:10.3854/crm.5.013.depressus.v1.2008, //iucn-tftsg.org/cbftt/.
(Adobe Acrobat 6.0 or later required)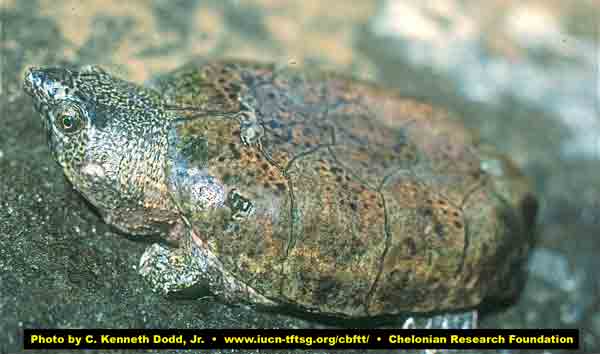 Old adult Sternotherus depressus from Gurley Creek, Alabama.
Photo by C. Kenneth Dodd, Jr.
Distribution: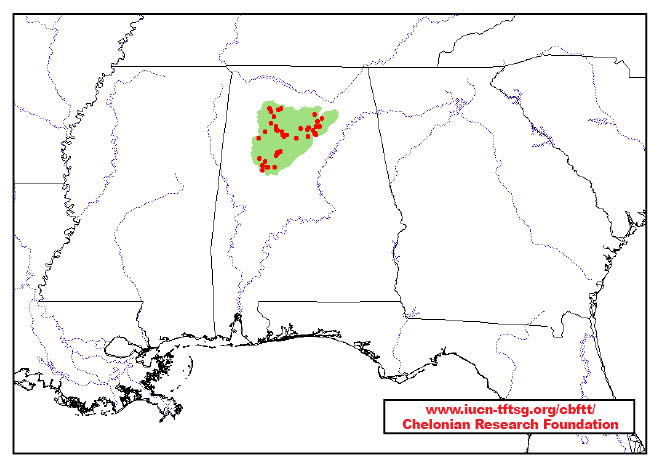 Distribution of Sternotherus depressus in Alabama, USA. Red points = museum and literature occurrence records based on published records plus more recent and author's data; green shading = projected distribution based on GIS-defined hydrologic unit compartments (HUCs) constructed around verified localities and then adding HUCs that connect known point localities in the same watershed or physiographic region, and similar habitats and elevations as verified HUCs (Buhlmann et al., unpubl. data), and adjusted based on author's data.