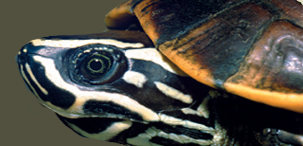 IUCN/SSC
Tortoise and Freshwater Turtle Specialist Group
Turtles in Trouble 2007
Turtles in Trouble: The World's Top 25 Most Endangered Tortoises and Freshwater Turtles – 2007
(arranged in estimated hierarchical order)
IUCN/SSC Tortoise and Freshwater Turtle Specialist Group


1 Chelonoidis (=Geochelone) nigra abingdonii
2 Cuora yunnanensis*
3 Rafetus swinhoei
4 Batagur (=Kachuga) trivittata
5 Geochelone platynota
6 Heosemys depressa
7 Cuora trifasciata
8 Chitra chitra
9 Astrochelys (=Geochelone) yniphora
10 Mauremys annamensis
11 Chelodina mccordi
12 Batagur baska
13 Testudo kleinmanni
14 Pyxis planicauda
15 Leucocephalon yuwonoi
16 Erymnochelys madagascariensis
17 Pseudemydura umbrina
18 Cuora aurocapitata*
19 Terrapene coahuila*
20 Batagur (=Callagur) borneoensis
21 Elusor macrurus
22 Psammobates geometricus
23 Chitra indica*
24 Dermatemys mawii
25 Siebenrockiella leytensis

* = new species added in 2007 that were not on the 2003 list.

——————————-

Notes:

• Cuora yunnanensis was not listed in 2003 because it was at that time believed to be Extinct, but two live specimens were found recently in markets and their genetic identity has now been confirmed.

• Though Chelonoidis (=Geochelone) nigra abingdonii is represented by only a single individual living in captivity (Lonesome George) and could be considered functionally Extinct, recent work in the Galápagos has demonstrated the presence of mixed abingdonii genotypes in some tortoises from the Volcan Wolf area of Isabela, raising hope that a compatible mate might eventually be located and the taxon possibly saved.
————————————-
• 2007 Regional Lists: Using the data reviewed in 2007 to determine the Global Top 25 List presented above, the TFTSG also compiled Regional Top Threatened Lists to provide rough hierarchical rankings of the currently most threatened species of tortoises and freshwater turtles for various geographic regions. These lists are documented here. The species on these lists also included on the list of the Top 25 globally threatened species are indicated in bold type.
• Links below indicate those taxa for which accounts have been published on this website in the TFTSG project on Conservation Biology of Freshwater Turtles and Tortoises.
————————————–
Turtles in Trouble: Africa's Most Endangered Tortoises and Freshwater Turtles – 2007
1 Astrochelys (=Geochelone) yniphora
2 Pyxis planicauda
3 Erymnochelys madagascariensis
4 Psammobates geometricus
5 Homopus signatus cafer
6 Pelusios castanoides intergularis
7 Pelusios subniger parietalis
8 Centrochelys (=Geochelone) sulcata
9 Astrochelys (=Geochelone) radiata
10 Malacochersus tornieri
11 Pyxis arachnoides
————————————–
Turtles in Trouble: Asia's Most Endangered Tortoises and Freshwater Turtles – 2007
1 Cuora yunnanensis
2 Rafetus swinhoei
3 Batagur (=Kachuga) trivittata
4 Geochelone platynota
5 Heosemys depressa
6 Cuora trifasciata
7 Chitra chitra
8 Mauremys annamensis
9 Batagur baska
10 Leucocephalon yuwonoi
11 Cuora aurocapitata
12 Batagur (=Callagur) borneoensis
13 Chitra indica
14 Siebenrockiella leytensis
15 Cuora galbinifrons
16 Cuora zhoui
17 Manouria emys
18 Chitra vandijki
19 Cuora bourreti
20 Cuora picturata
21 Cuora mccordi
22 Cuora pani
23 Batagur (=Kachuga) kachuga
24 Indotestudo forstenii
25 Mauremys nigricans
26 Pelochelys cantorii
27 Nilssonia (=Aspideretes) leithii
28 Nilssonia (=Aspideretes) nigricans
29 Batagur (=Kachuga) dhongoka
30 Mauremys mutica
31 Mauremys reevesii
32 Cuora flavomarginata
33 Cuora mouhotii
34 Geoemyda japonica
35 Geoemyda spengleri
36 Heosemys annandalii
37 Heosemys spinosa
38 Indotestudo elongata
39 Mauremys sinensis
40 Orlitia borneensis
41 Nilssonia formosa
42 Palea steindachneri
43 Pangshura sylhetensis
44 Platysternon megacephalum
45 Sacalia bealei
46 Sacalia quadriocellata
47 Vijayachelys silvatica
————————————–
Turtles in Trouble: Australasia's Most Endangered Tortoises and Freshwater Turtles – 2007
1 Chelodina mccordi
2 Pseudemydura umbrina
3 Elusor macrurus
4 Elseya bellii
5 Rheodytes leukops
6 Carettochelys insculpta
7 Elseya albagula
————————————–
Turtles in Trouble: The Mediterranean Region's Most Endangered Tortoises and Freshwater Turtles – 2007
1 Testudo kleinmanni
2 Rafetus euphraticus
3 Testudo graeca nikolskii
————————————–
Turtles in Trouble: MesoAmerica's Most Endangered Tortoises and Freshwater Turtles – 2007
1 Terrapene coahuila
2 Dermatemys mawii
3 Gopherus flavomarginatus
4 Apalone spinifera atra
5 Terrapene nelsoni
6 Trachemys taylori
7 Kinosternon angustipons
8 Trachemys terrapen
————————————–
Turtles in Trouble: North America's Most Endangered Tortoises and Freshwater Turtles – 2007
1 Glyptemys muhlenbergii
2 Pseudemys alabamensis
3 Graptemys gibbonsi
4 Pseudemys gorzugi
5 Graptemys flavimaculata
6 Graptemys oculifera
7 Gopherus agassizii
8 Sternotherus depressus
9 Macrochelys temminckii
10 Glyptemys insculpta
11 Gopherus polyphemus

————————————–
Turtles in Trouble: South America's Most Endangered Tortoises and Freshwater Turtles – 2007
1 Chelonoidis (=Geochelone) nigra abingdonii
2 Mesoclemmys (=Phrynops) hogei
3 Podocnemis lewyana
4 Hydromedusa maximiliani
5 Kinosternon dunni
6 Mesoclemmys (=Phrynops) zuliae
7 Chelonoidis (=Geochelone) nigra hoodensis
8 Chelonoidis (=Geochelone) nigra duncanensis
9 Chelonoidis (=Geochelone) nigra darwini
10 Chelonoidis (=Geochelone) nigra porteri
11 Chelonoidis (=Geochelone) nigra vicina
12 Trachemys adiutrix
13 Podocnemis expansa
14 Mesoclemmys (=Phrynops) dahli