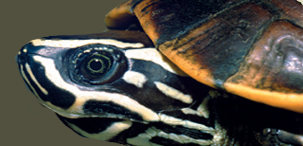 IUCN/SSC
Tortoise and Freshwater Turtle Specialist Group
Chelodina mccordi, 008
Chelodina mccordi Rhodin 1994 –
Roti Island Snake-Necked Turtle, McCord's Snake-Necked Turtle, Kura-Kura Rote
Anders G.J. Rhodin1, Bonggi R. Ibarrondo2,4, and Gerald Kuchling3
1Chelonian Research Foundation, 168 Goodrich Street, Lunenburg, Massachusetts 01462 USA [[email protected]];
2Indonesian Turtle Conservation Group, Kelompok Konservasi Kura-kura Indonesia,
Bogor 16000, Indonesia [[email protected]];
3Department of Zoology, University of Western Australia,
Nedlands, Western Australia, 6009 Australia [[email protected]]
4Present Address: Barrio Valcaba No. 18, 39807 Soba, Cantabria, Spain
Summary . – Chelodina mccordi (Family Chelidae) is a moderate-sized snake-necked turtle endemic to the tiny island of Roti (= Rote) in southeastern Indonesia. It has an extremely limited distribution and has been subjected to intense collection pressure for the international pet trade market, which has driven it into virtual commercial extinction. Recent field surveys have documented extremely depleted remaining populations still being impacted by persistent collection efforts, with remaining habitat areas also being reduced by agricultural development and conversion of swamps and marshland to rice fields. No major protected areas exist on Roti in C. mccordi habitat, but a previously proposed area, Tanjung Pukuwatu on the Tapuafu Peninsula, provides significant potential for critical habitat protection for some remnant turtle populations, and we strongly urge that Tanjung Pukuwatu be formally gazetted as a Wildlife (Game) Reserve (Suaka Margasatwa ). Captive breeding efforts through ex-situ assurance colonies also provide some hope for saving the species, but improved control of persistent illegal trade and creation of secure protected areas on Roti are urgently needed to prevent C. mccordi from becoming extinct in the wild.
Distribution. – Indonesia. Restricted to the small island of Roti southwest of Timor in the Lesser Sunda islands.
Synonymy. – Chelodina mccordi Rhodin 1994b, Chelodina mccordi mccordi.
Subspecies. – Two currently recognized: Chelodina mccordi mccordi (Western Roti Island Snake-Necked Turtle) and Chelodina mccordi roteensis McCord, Joseph-Ouni, and Hagen 2007b (Eastern Roti Island Snake-Necked Turtle). A third taxon from Timor-Leste, described as the subspecies Chelodina mccordi timorlestensis Kuchling, Rhodin, Ibarrondo, and Trainor 2007 was also described a few months earlier as the species Chelodina timorensis McCord, Joseph-Ouni, and Hagen 2007a; the systematic relationships of C. mccordi with this new taxon remain unresolved.
Status. – IUCN 2007 Red List: Critically Endangered (CR A1d, B1+2e) (assessed 2000); CITES: Appendix II.
Citation:
Rhodin, A.G.J., Ibarrondo, B.R., and Kuchling, G. 2008. Chelodina mccordi Rhodin 1994 – Roti Island snake-necked turtle, McCord's snake-necked turtle, kura-kura rote. In: Rhodin, A.G.J., Pritchard, P.C.H., van Dijk, P.P., Saumure, R.A., Buhlmann, K.A., and Iverson, J.B. (Eds.). Conservation Biology of Freshwater Turtles and Tortoises: A Compilation Project of the IUCN/SSC Tortoise and Freshwater Turtle Specialist Group. Chelonian Research Monographs No. 5, pp. 008.1-008.8, doi:10.3854/crm.5.008.mccordi.v1.2008, //iucn-tftsg.org/cbftt.
(Adobe Acrobat 6.0 or later required)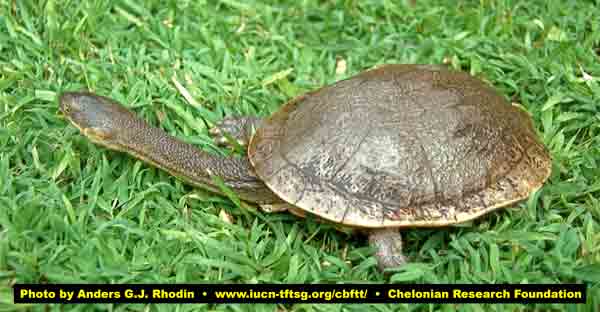 Adult male Chelodina mccordi from mid-central Roti Island, Indonesia, near Busalangga, April 1993.
Photo by Anders G.J. Rhodin.
Distribution: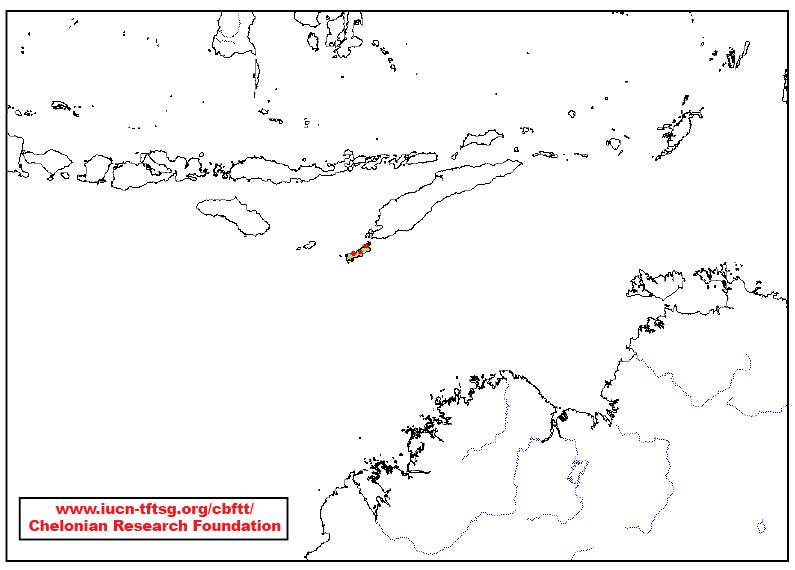 Distribution of Chelodina mccordi in southeastern Indonesia on Roti Island. Red points = museum and literature occurrence records based on published records plus more recent and authors' data; green shading = projected distribution based on authors' data.