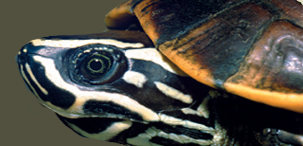 IUCN/SSC
Tortoise and Freshwater Turtle Specialist Group
Graptemys geographica, 104
Graptemys geographica (LeSueur 1817) –
Northern Map Turtle, Common Map Turtle
Richard C. Vogt1, Grégory Bulté2, and John B. Iverson3
1Coordinação de Biodiversidade, Instituto Nacional de Pesquisas da Amazônia (INPA), Ave. André Araujo 2936, Aleixo, Manaus, 69.067-375 Amazonas, Brazil [[email protected]];
2Department of Biology, Carleton University, Ottawa, Ontario, K1S 5B6 Canada [[email protected]];
3Department of Biology, Earlham College, Richmond, Indiana 47374 USA [[email protected]]
Summary. – The Northern Map Turtle, Graptemys geographica (Family Emydidae), is a medium-sized sexually dimorphic freshwater turtle species (female carapace length to 292 mm, males to 160 mm) and the sister taxon to all other map turtle species. It is often common in rivers and lakes within its North American range. The turtles make extensive movements within their habitats for nesting, basking, and feeding. Mating occurs in fall and spring; hibernation lasts from October to mid-April in northern regions, and most hatchlings overwinter in the nest. Northern Map Turtles are primarily carnivorous, feeding predominately on snails, bivalves (including invasive dreisennid mussels), and aquatic insect larvae. Two to three clutches of 6 to 20 eggs are laid each year between late May and mid-July. Because males mature after about 4 years and females require about 10 years, adult sex ratios are often skewed towards males. Sex ratios are also influenced by nest temperatures, with warmer nests producing females and cool nests producing males. Direct and indirect human activities, including fisheries by-catch mortality, appear to be responsible for some population declines of this species in some regions, but G. geographica is not at this time considered Threatened.
Distribution. – Canada, USA. Southwestern Quebec and southeastern Ontario to central Alabama, northern Louisiana, west to central Minnesota and eastern Kansas and Arkansas, with scattered isolated populations in the northeastern USA in Vermont, New York, New Jersey, and Pennsylvania.
Synonymy. – Testudo geographica LeSueur 1817, Emys geographica, Terrapene geographica, Graptemys geographica, Clemmys geographica, Malacoclemmys geographica, Malaclemys geographica, Malaclemys geographicus, Malaclemmys geographicus, Graptemys geographicus, Emys lesueurii Gray 1830, Graptemys lesueurii, Malacoclemmys lesueurii, Malaclemys lesueurii, Malaclemys lesueurii lesueurii, Emys megacephala Holbrook 1836, Emys macrocephala Agassiz 1857 (nomen novum).
Subspecies. – None recognized.
Status. – IUCN 2017 Red List: Least Concern (LC, assessed 2010); CITES: Appendix III (USA) as Graptemys spp.; US ESA: Special Concern; Canada Species at Risk Act: Special Concern.
Citation:
Vogt, R.C., Bulté, G., and Iverson, J.B. 2018. Graptemys geographica (LeSueur 1817) – Northern Map Turtle, Common Map Turtle. In: Rhodin, A.G.J., Iverson, J.B., van Dijk, P.P., Buhlmann, K.A., Pritchard, P.C.H., and Mittermeier, R.A. (Eds.). Conservation Biology of Freshwater Turtles and Tortoises: A Compilation Project of the IUCN/SSC Tortoise and Freshwater Turtle Specialist Group. Chelonian Research Monographs 5(11):104.1–18. doi: 10.3854/crm.5.104.geographica.v1.2018; iucn-tftsg.org/cbftt/.
(Adobe Acrobat 6.0 or later required)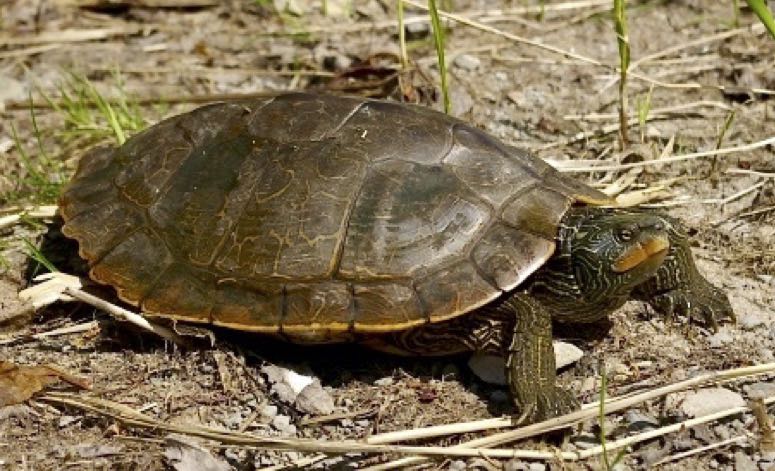 Graptemys geographica female, Quebec, Canada.
Photo by M. Ouellette.
Distribution: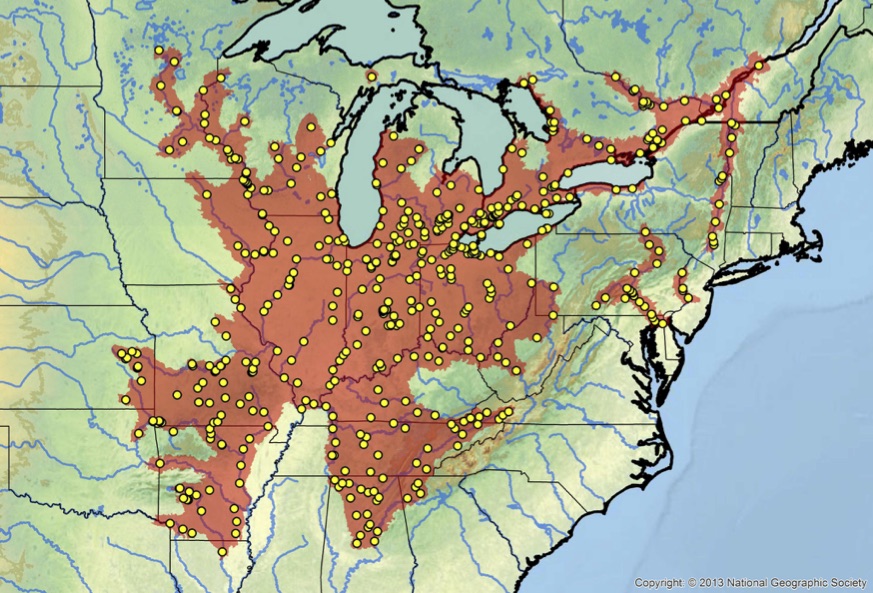 Historic distribution of Graptemys geographica in eastern USA. Yellow dots = museum and literature occurrence records of native populations based on Iverson (1992) and Lindeman (2013), plus more recent and authors' data; red shading = projected historic distribution. Distribution based on GIS-defined level 12 HUCs (hydrologic unit compartments) constructed around verified localities and then adding HUCs that connect known point localities in the same watershed or physiographic region, and similar habitats and elevations as verified HUCs (Buhlmann et al. 2009; TTWG 2017), and adjusted based on authors' subsequent data.