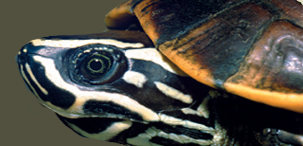 IUCN/SSC
Tortoise and Freshwater Turtle Specialist Group
Mauremys rivulata, 080
Mauremys rivulata (Valenciennes in Bory de Saint-Vincent 1833) –
Western Caspian Turtle, Balkan Terrapin
Georgia Mantziou1,3 and Lina Rifai2
1Natural History Museum of Crete, University of Crete, Knossou Ave., 71409 Irakleio, Crete, Greece;
2Department of Biology, School of Sciences, Indiana University Kokomo,
2300 S. Washington St., P.O. Box 9003, Kokomo, Indiana 46904 USA [[email protected]];
3Present Address: 9 Edington Grove, Wellington 6037, New Zealand [[email protected]]
Summary. – Mauremys rivulata (Family Geoemydidae) is a medium-sized freshwater turtle (carapace length to ca. 240 mm in females, ca. 185 mm in males) inhabiting various natural and man-made habitats, including rivers, seasonal ponds, lakes, brackish coastal lagoons, irrigation canals, and reservoirs. It is adapted to a warm Mediterranean climate and is common and widespread and can be found in high densities; it is not considered particularly threatened. Habitat destruction and degradation has lead to some population declines, however, and in some cases, extirpation of marginal and island populations. Preservation of its habitats and control of the introduced species Trachemys scripta are recommended for the conservation of the species.
Distribution. – Albania, Bosnia and Herzegovina, Bulgaria, Croatia, Cyprus, Greece, Israel, Jordan, Lebanon, Macedonia, Montenegro, Palestine, Serbia, Syria, Turkey. Occurs in the Balkan region of southeastern Europe and the eastern Mediterranean, including southern coastal Turkey and the western Middle East.
Synonymy. – Emys rivulata Valenciennes in Bory de Saint-Vincent 1833, Clemmys caspica rivulata, Mauremys caspica rivulata, Mauremys rivulata, Mauremys rivulata rivulata, Emmenia rivulata, Emys tristrami Gray 1869, Mauremys rivulata tristrami, Emys caspica arabica Gray 1870, Emys pannonica Gray 1870, Clemmys caspica orientalis Bedriaga 1881, Clemmys caspica obsoleta Schreiber 1912, Clemmys caspica cretica Mertens 1946, Mauremys caspica cretica, Mauremys rivulata cretica.
Subspecies. – None.
Status. – IUCN 2014 Red List: Not Evaluated (NE); TFTSG Draft Red List: Least Concern (LC, assessed 2011); CITES: Not Listed; EU Council: Annex II, IV; Bern Convention: Appendix II.
Citation:
Mantziou, G. and Rifai, L. 2014. Mauremys rivulata (Valenciennes in Bory de Saint-Vincent 1833) – Western Caspian Turtle, Balkan Terrapin. In: Rhodin, A.G.J., Pritchard, P.C.H., van Dijk, P.P., Saumure, R.A., Buhlmann, K.A., Iverson, J.B., and Mittermeier, R.A. (Eds.). Conservation Biology of Freshwater Turtles and Tortoises: A Compilation Project of the IUCN/SSC Tortoise and Freshwater Turtle Specialist Group. Chelonian Research Monographs 5(7):080.1–9, doi:10.3854/crm.5.080.rivulata.v1.2014, //iucn-tftsg.org/cbftt/.
(Adobe Acrobat 6.0 or later required)
Adult Mauremys rivulata from Crete, Greece.
Photo by Apostolis Trichas, Natural History Museum of Crete.
Distribution: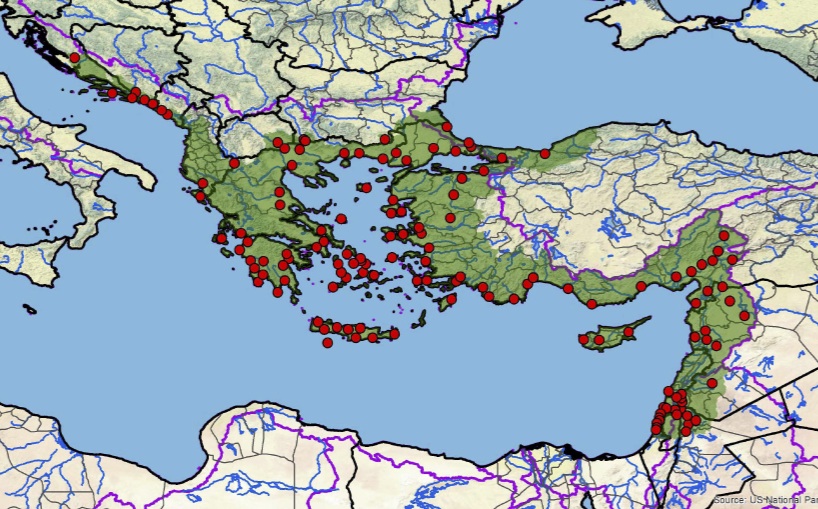 Distribution of Mauremys rivulata in the Balkans of southeastern Europe and the eastern Mediterranean. Purple lines = boundaries delimiting major watersheds (level 3 hydrologic unit compartments – HUCs); red dots = museum and literature occurrence records of native populations based on Iverson (1992) plus more recent and authors' data; green shading = projected native distribution based on GIS-defined HUCs constructed around verified localities and then adding HUCs that connect known point localities in the same watershed or physiographic region, and similar habitats and elevations as verified HUCs (Buhlmann et al. 2009; TTWG 2014), and adjusted based on authors' subsequent data.