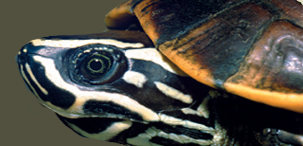 IUCN/SSC
Tortoise and Freshwater Turtle Specialist Group
Pelusios castanoides intergularis, 010
Pelusios castanoides intergularis Bour 1983 –
Seychelles Yellow-Bellied Mud Turtle, Seychelles Chestnut-Bellied Terrapin
Justin Gerlach1

1133 Cherry Hinton Road, Cambridge CB1 7BX, United Kingdom [[email protected]]
Summary. – The Seychelles subspecies of yellow-bellied mud turtle, Pelusios castanoides intergularis (Family Pelomedusidae), is restricted to six islands of the Seychelles group. Four breeding populations remain and the extant wild population was estimated at only 120 adults in 2005. Populations continue to decline due to ongoing marsh drainage and river canalization. Legal protection of wetland habitats is urgently required, and ongoing reintroductions to protected areas need to continue to secure the future of this species.
Distribution. – Seychelles. Found only in the granitic Seychelles on Mahé, Cerf, Silhouette, Praslin, La Digue, and Fregate islands.
Synonymy. – Pelusios castanoides intergularis Bour 1983.
Status. – IUCN 2007 Red List: Critically Endangered (CR A2c; B2ab(ii,iii)) (assessed 2003); CITES: Not Listed; Seychelles WAPR: Protected.
Citation:
Gerlach, J. 2008. Pelusios castanoides intergularis Bour 1983 – Seychelles yellow-bellied mud turtle, Seychelles chestnut-bellied terrapin. In: Rhodin, A.G.J., Pritchard, P.C.H., van Dijk, P.P., Saumure, R.A., Buhlmann, K.A., and Iverson, J.B. (Eds.). Conservation Biology of Freshwater Turtles and Tortoises: A Compilation Project of the IUCN/SSC Tortoise and Freshwater Turtle Specialist Group. Chelonian Research Monographs No. 5, pp. 010.1-010.4, doi:10.3854/crm.5.010.intergularis.v1.2008, //iucn-tftsg.org/cbftt/.
(Adobe Acrobat 6.0 or later required)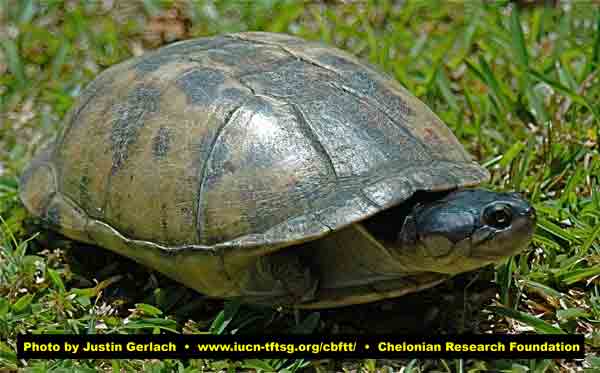 Pelusios castanoides intergularis: an adult from the Seychelles.
Photo by Justin Gerlach.
Distribution: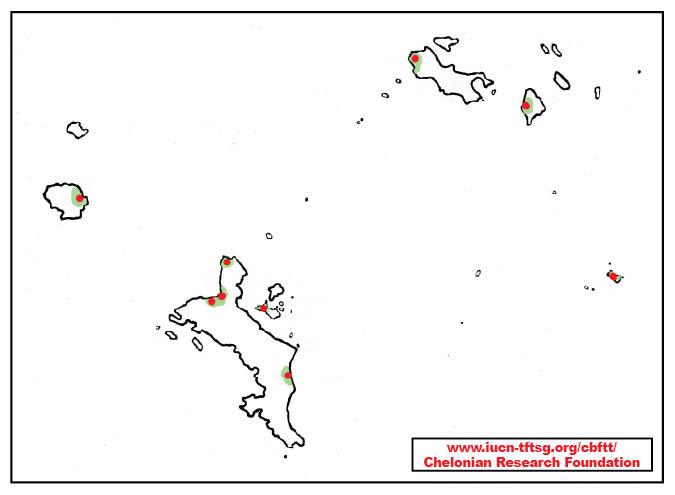 Distribution of Pelusios castanoides intergularis in the Seychelles islands, east of Africa in the Indian Ocean. Red points = museum and literature occurrence records based on recent and current author's data; green shading = projected distribution based on author's data.